Currently more than half of human beings live in cities and the forecasts point to the year 2050, 7 out of 10 people will have their home in a large city.
Teemu Alexander Puutio, a researcher at the University of Turku, Finland, has studied the subject for years and among his findings projects that cities will play a much more important role than they have today.
In conversation with BBC, Puutio raises a rather optimistic vision of the long-term future of large cities.
According to the researcher, geography will not be an impediment to generating "powerful international urban alliances ", jobs are created that do not yet exist, entrepreneurs found their own "micro-multinationals" and increased "urban sovereignty" to curb corruption.
These are some of his predictions for the future.
1- "Generation C" will reinvent the work

Copyright of the 

GETTY IMAGES 

image

Image caption 
The so-called "Generation C", also known as connected generation, includes those who were born in a digital world and spend a large part of their time online .
Some say that it is about the successors of the millennials and other specialists consider that this classification has nothing to do with age, but rather, with the level of production of digital content that uploads to the network.
In any case, Generation C will work online , something that will impact the functioning and design of the cities.
Some of the works of the future have not yet been created, but others are expanding little by little on the Internet, as is the case of "personal digital trainers" or "digital companions" , who are real people who charge to play with you a video game or other services on the network.
"The interesting thing is to see how these services are delivered globally and without geographical restrictions , with bandwidth being the only limitation," says Puutio.
"This kind of freedom – of doing work online – will allow Generation C to assume physical mobility in a much more personal way." Instead of moving to work, they will move to communities where they feel identified with the rest of the group. people".
"This may be the greatest promise of digitalization in the long term," adds the researcher.
2- The local economy will be more important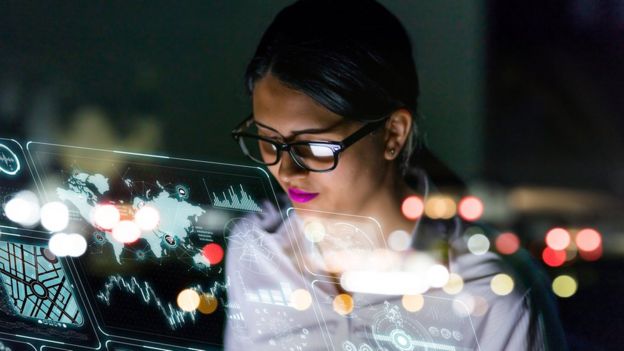 Copyright of the 

GETTY IMAGES 

image

Image caption 
As cities have become increasingly independent of central powers and generate greater wealth and innovation than the resources they consume, they have been transformed into a kind of laboratories for finding solutions that are difficult to tackle on a large scale.
On the other hand, crime, diseases and inequality are also generators .
But under the optimistic prism of Puutio, cities will create more opportunities for their inhabitants because they are ecosystems that can save resources in certain areas.
"Cities waste less per capita resources in infrastructure and services, which makes them ideally suited to deliver realistic solutions to major global challenges," says Puutio.
"Cities are the only realistic solution to provide housing for a population that is expected to reach 9.7 billion people by 2050."
His point of view is that digitization will allow the possibilities of solving those problems to increase.
Along the same lines, the negative effects of growth, such as environmental damage, would tend to decrease with the development of new technologies and new production methods.
3- The "micromultinacionales" will expand around the world
.
Copyright of the 

GETTY IMAGES 

image

Image caption 
Micromultinational companies are born – from their origin – as global companies. It is such a broad concept, that any small business that sells its products thousands of kilometers away through a digital platform fits into this category.
These companies will be so common that "the most likely thing is that the micro-multinational concept will gradually become redundant," says Puutio.
"As digital platforms grow and international distribution routes continue to develop, any company, regardless of its scale, can begin to conquer the world , only having the right product or idea."
4- The cities will have greater leadership than the nations

Copyright of the 

GETTY IMAGES 

image

Image caption 
They will generate "powerful international urban alliances" in relation to common interests, says the researcher.
The incipient appearance of this trend is visible, according to Puutio, in organizations such as the National League of United States Cities or the Global Parliament of Mayors , where local authorities have created links that go beyond geographical proximity or political ideologies.
"Mayors from Bavaria to Punjab are creating independent investment promotion offices with a competitive bid to attract capital and tourism flows ."
For example, although there are no significant parallels between the United Kingdom and Turkey, the opposition votes in London, Liverpool and Manchester in the Brexit (referendum on the permanence of the United Kingdom in the European Union) were motivated by forces similar to the opposition votes. in Istanbul, Ankara or Izmir in the constitutional referendum in Turkey, "he says.
Even in the United States, says the expert, a new world of global cities is being born . "New York and San Francisco committed themselves to the Paris Agreement on climate change, along with 380 other cities, even though their own country rejected it."
"Digitization promises to make good things better," according to Puutio, arguing that in "smart cities" like Tallinn, Singapore or Amsterdam, local governments already have a direct digital relationship with people when signing contracts, voting or pay taxes.
5- Increase "urban sovereignty" to curb corruption

Copyright of the 

GETTY IMAGES 

image

Image caption 
Thanks to the internet and more and more open access to information, citizens will have more tools to demand accountability from their local governments with greater powers of oversight of their representatives.
"Corruption, inefficiency or contempt of public opinion will become much harder to sustain in a future where information flows freely," he says.
"I doubt that in the future bad mayors can stay in their posts for a long time."
Puutio's prediction is that the discussion about economic power will begin to move towards the cities and will not remain only in the capitals.
"It is difficult for us to see the significance of these changes in the course of our lives, but I am sure we can appreciate that states and governments are being replaced at a much faster rate than a few centuries ago, when the leaders They were practically untouchable. "