Let's accept it, the people of Pakistan, as much as they love desi food, are crazy for fast food as well. Over the last few decades, Pakistan has become home to different multinational food franchises who've opened up restaurants in all the major cities of the country.
Hands down, the most renowned foreign franchise which sells fried chicken, KFC, has been the people's favorite, with branches opened up in all major cities to rural places like Sukkur and Larkana.
In Karachi, one of the most lucrative branches of KFC is at the I. I Chundrigar Road, Karachi, which is considered to be the Wall-Street of Pakistan due to hundreds of thousands of people employed in different offices. A man caught the KFC staff selling stale and unhygienic food to customers, while also filming the situation.
The video which has been going viral on Facebook, shows a man walking to the counter of the KFC with food he had ordered, telling the staff that they had sold him stale food which smelled. At this, the manager tried to argue and waive off the situation, but when the man provided proof he was left in shock.
Not only did the chicken wings he had brought along smelled, but the man asked the manager to bring another chicken wing from inside the kitchen, to further elaborate that all pieces smelled and were old. This incident took place in front of other customers who then went rogue against the staff as well.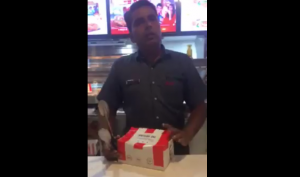 Usually, people do not give too much attention to such issues if the majority of the food is good. However, this man took the KFC staff to the cleaners because a couple of chicken pieces were not satisfactory. KFC is a huge name in Pakistan and the world, and Pakistanis not meeting their multinational standard because of their own laziness makes us extremely sad.
KFC international should take notice of the situation, along with the Assistant Commissioner Karachi, whose responsibility it is to maintain quality control of all the food that is being sold publicly. As for the person who confronted these people, we salute you!
Originally posted at Parhlo.com