At least 4 people were killed and several were injured when a pedestrian bridge collapsed in western Miami (southeastern US) on Thursday, near the International University of Florida (FIU), local authorities said.
At least nine people were taken by ambulance to a nearby hospital, Miami-Dade County Fire Chief Dave Downey confirmed at a news conference.
Eight cars were trapped under the rubble of the bridge, of 950 tons and about 50 meters long.
18:51 ET Los equipos de rescate siguen trabajando en la zona donde se desplomó un puente. Al menos 8 autos bajo los escombros. pic.twitter.com/h2l6uaZXsW

— BBC Mundo (@bbcmundo) March 15, 2018
Shortly after the incident, numerous rescue teams arrived on the scene, still working to rescue the victims who were trapped.
The governor of Florida, Rick Scott, said that a "thorough investigation" of the event occurred at about 1:30 pm (5:30 pm) and that, if applicable, charges will be brought against those responsible.
#MDFRUpdate: MDFR #FLTF1 search dogs working #FIUBridgeCollapse. pic.twitter.com/ZI49PCkPDm

— MDFR (@MiamiDadeFire) March 15, 2018
A nursing assistant who worked near the site told BBC that she had passed under the bridge shortly before she fell.
"It sounded like it was a bomb, we ran out of the house and saw a lot of cars trapped."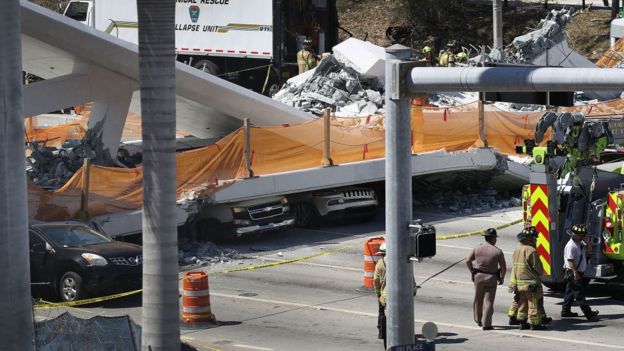 Copyright of the 

GETTY IMAGES 

image

Image caption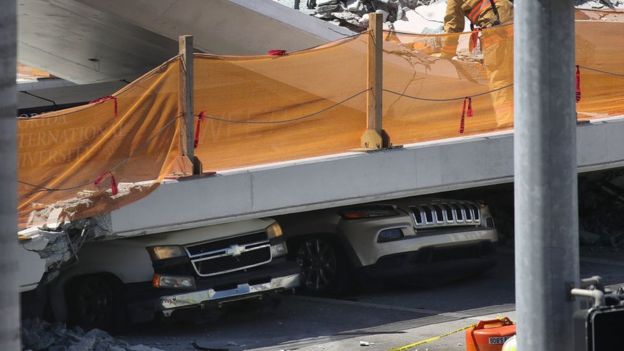 Copyright of the 

GETTY IMAGES 

image

Image caption 
Margarita, a resident of the area, was a few meters from the place when the accident occurred.
"I looked up because there was a helicopter and I ran to the place, some pieces of the bridge fell on passing cars and I saw how many people were escaping ."
Isabelle Verdecia, who works at the university, told BBC that she was at home when the collapse occurred.
"I felt like it was an earthquake, I was very afraid, I was with my granddaughter of seven years, and when I left the house I saw a huge smoke."
Image caption 
It was at that moment when he remembered that his daughter was driving her car through the sector.
"I ran and I found her only 10 cars away from the collapsed bridge, I was still at the wheel and I was shaking ."
"Fast construction"
Located on the well-known Calle Ocho, a busy avenue that crosses Miami from east to west, the bridge was being built to connect the FIU campus with Sweetwater , an area where there are restaurants, a shopping center and where numerous students reside.
First-of-its-kind pedestrian bridge "swings" into place. "FIU is about building bridges and student safety. This project accomplishes our mission beautifully," -President Mark B. Rosenberg. https://t.co/x8gPM9A4DG #worldsahead pic.twitter.com/mPEMeh2zmw

— FIU (@FIU) March 10, 2018
The first pedestrian bridge of this type "oscillates" in what will be its place. "FIU Construction ye bridges for the safety of students. This project fulfills our mission beautifully , " said p resident of Florida International University, Mark B. Rosenberg " says a tweet from the FIU 10 March.
At the time of the accident, there was no teaching activity at the university since the students were in the spring break.
In the place a technique of "rapid construction" was applied , which consisted of making the bridge on one side of the road and then installing it using hydraulic cranes.
The bridge had been placed last Saturday in six hours, according to the university's own website.
And although it was not yet open to the public, traffic was allowed to go underneath.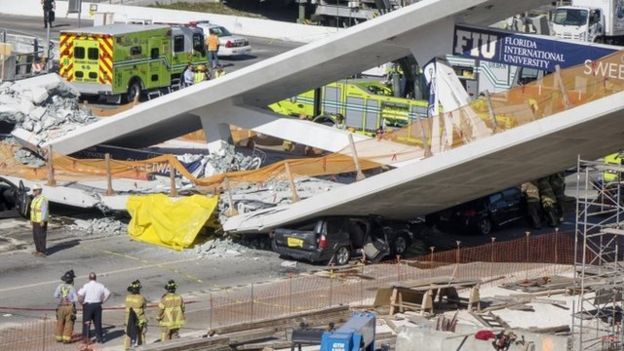 Copyright of the 

EPA 

image

Image caption 
The installation of the bridge began in 2017 with a budget of more than US $ 14 million and whose purpose was planned for 2019, accelerated after murie ra hit a female student across the street in August last year.
"We are shocked and saddened by the tragic events that have occurred, and we are currently dedicated to rescue and information gathering efforts," the university said in a statement.
"We will carry out a full investigation to determine exactly what went wrong and we will cooperate with the investigators in the scene," the construction firm in charge of the bridge tweeted.