How much would you pay for a portfolio? US $ 150, US $ 750 or, perhaps, up to US $ 1,000?
What would you think of disbursing more than US $ 380,000 for a single portfolio, one that is also second-hand?
For that money you could buy an average house in any industrialized country and even a luxury apartment in many other places.
However, someone surprisingly paid that amount for a rare Birkin Himalaya model of 2014, a matte blank handbag from the French fashion house Hermès.
It was made with Nile crocodile leather and decorated with 18K white gold and encrusted diamonds .
Although US $ 380,000 is a record price for this holy grail of handbags, it is hardly a drop in the ocean when it comes to the growing market for buying and selling this type of second-hand luxury accessories.
Much has rained in the world of exclusive portfolios since the days when Princess Grace of Monaco used Hermès's small briefcase to hide her pregnancy from the paparazzi. Subsequently, the accessory was dubbed the "Kelly bag" in honor of the name of the Hollywood star.
There are many celebrities who look this portfolio model, among others the personalities of TV Kim Kardashian and his mother Kris Jenner.
However, these bags are not simple frivolities.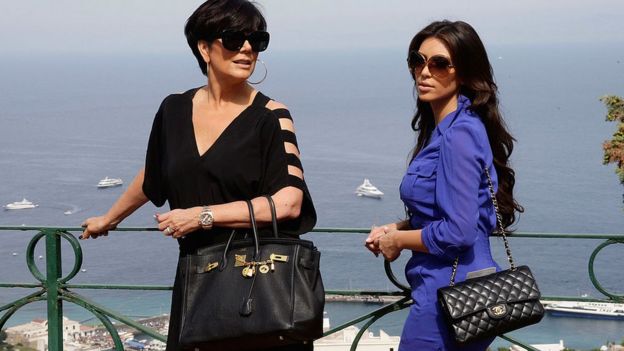 The auction house Christie's says that the global market for second-hand luxury portfolios has grown from about US $ 7.5 million in 2011 to almost US $ 36 million in 2016 .
For its part, Heritage Auctions (the world's largest home for collectible item auctions) believes that the world market for used items auctions is between US $ 75 million and US $ 100 million "and is on the rise."
In terms of investment, these assets can give your money immense returns.
The investment bank Jefferies estimates that some portfolios can generate dividends of around 30% per year.
The portfolios produced by Hermès are the most sought after .
Rachel Koffsky, specialist in wallets and accessories of Christie's, says that the pieces of this legendary French house "have been made in the same way and with the same materials for decades, while other brands have been inconsistent for the last 100 years."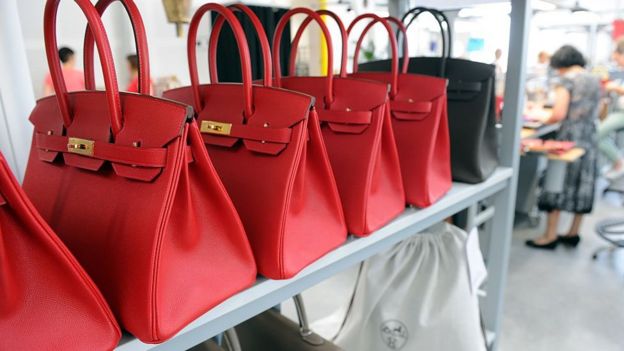 He adds that the three most recognized portfolios – the Kelly, the Birkin, made for the singer and actress Jane Birkin, and the Constance, named for the fifth daughter of the designer of Hermès Catherine Chaillet – "have remained virtually unchanged since they were designed. "
However, Jefferies points out: "Between the last 10 to 20 years, luxury brands have increased more and more the prices of their portfolios and are using more high-quality materials, so that the future high-end of the market is not going to to be so dominated by Hermès. "
Heritage Auctions says that, like the Hermès, the iconic Chanel-capped wallets "have always been favorites of the papara z zi to photograph them hanging on the shoulders of the most famous celebrities in the world".
Koffsky adds that, in the 90s, two designers in particular were responsible for opening the way to the "era of the fashion portfolio": Tom Ford, then at Gucci, and Marc Jacobs, then at Louis Vuitton.
They, along with the characters in the TV series Sex and the City ("Sex in New York"), "popularized collectible wallets."
That also means that the traditionally intimidating world of auction houses is opening up to a different type of clientele.
Koffsky says: " The portfolios have a very broad appeal and belong to a category with which most consumers feel more comfortable than with the purchase of a traditional apartment or even decorative art."
Jefferies says that portfolios are "the most accessible category" at Christie's and that 40% of the 712 buyers of these pieces are new customers to the auction house.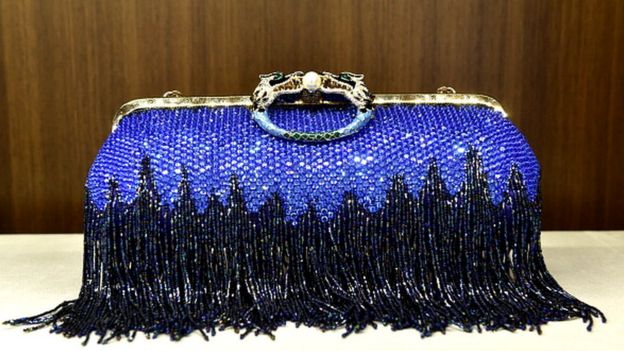 Heritage Auctions ensures that there is no typical buyer. There are those who want to add one more piece to their portfolio collection to whoever wants to start one.
Many times, buyers become sellers and vice versa , says Koffsky.
"At the highest end of the spectrum, we have collectors who consider their portfolios to be their most precious assets." At the other extreme, we have young and knowledgeable buyers who are looking for a classic piece that stands out among current trends and that often costs significantly less than in the store, "says the Christie's specialist.
"It may be the first time they buy at an auction."
However, while handbags have attracted new clientele, it is not a world that is open to all .
A new Kelly or Birkin wallet can cost more than $ 10,000 each , if you can get one – there are waiting lists of months, even years, to get a model of these – while a classic mini wallet with a cap Chanel costs US $ 3,300.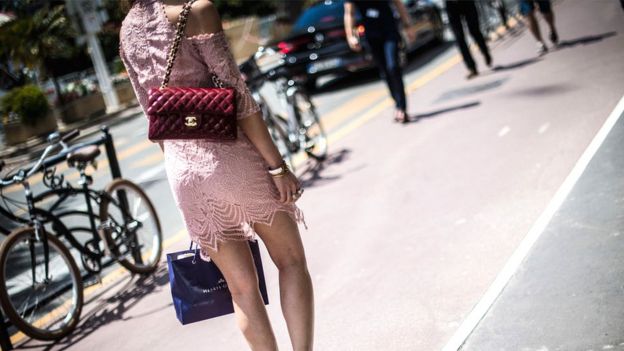 In that sense, a buyer of a second-hand portfolio may get a bargain, but these accessories are not available to everyone.
Flavio Cereda, an analyst at Jefferies, says that Hong Kong has become the place where exclusive portfolios are concentrated.
Recently, Forbes reported that the combined wealth of Hong Kong's billionaires jumped from $ 60 billion to $ 307 billion last year, the highest growth in the magazine's 50- plus list in Asia.
Christie's commented that 46% of its luxury portfolio auction sales in 2017 took place in Asia, 30% in the US. and the remaining 24% was registered in Europe, the Middle East and Africa.
It's no coincidence that those two rare Birkin Himalaya portfolios were auctioned off in Hong Kong.
They are the type of piece that constitutes a good investment, says Koffsky.
"For a positive return on an investment, numbered pieces of limited edition stand out , because they were created in small quantities," he explains.
"The less they exist in the second-hand market, the more a collector will want to pay for one of them."