It can become a real nightmare.
It is for Sheridan Larkman, a 23-year-old Australian who says she had a breast when she was eight and has not stopped growing since. Larkman tells The West Australian newspaper and other media that has been diagnosed with breast hypertrophy.
It is a strange medical condition that affects the breast tissue and causes the breasts to grow large and disproportionate to the rest of the body, according to the NGO Breast Cancer UK.
It can affect one or both breasts and it is not known exactly what causes it but it is believed that it may be due to a greater sensitivity to female sex hormones suchas prolactin, which stimulates milk production.
Depending on the case, it can be called macromastia and gigantomastia, the latter being the most severe case of hypertrophy.
It usually appears after the first menstruation and abruptly, causing the chest to grow a lot in short periods of time. In some cases, the growth is continuous causing much discomfort to women who suffer from it but Breast Cancer UK warns that it is not a carcinogenic condition.
Larkman, who suffers from various health problems due to hypertrophy, conducts a campaign to collect funds online to pay for a reduction operation.
Problems
And it is that this excessive growth of the breasts bring back, back pain, neck pain, stretch marks and breakage of the skin that can lead to infection.
There are also difficulties to lead a normal life or to carry out sports activities since people with breast hypertrophy usually feel a lot of pain.
But the consequences are also psychological. The British public health service, the NHS, ensures that many patients feel embarrassed and even suffer from depression because of this condition.
Larkman says that as a young girl he suffered bullying at school and that his breasts, which he believes weigh between five and six kilos each, have caused chronic scoliosis.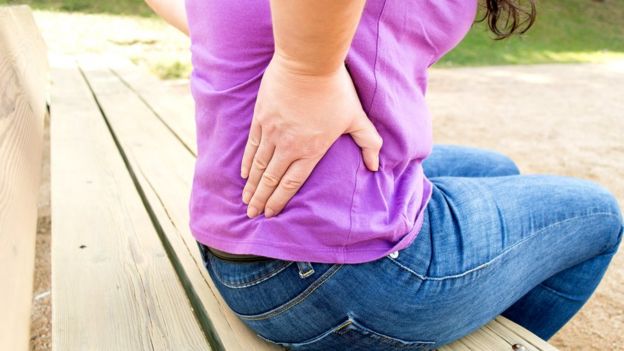 What to do?
Dieting or losing weight will not help reduce breast size, warn from the NHS. The treatment that has proven to be more effective is reducing mammoplasty and in some cases very specific liposuction, says the British health service.
The operation can alleviate the physical discomfort and generally the levels of self-esteem improve with the new physical appearance. In spite of everything, the problems can persist and the chest can change again in size and shape.
The alternative to surgery may include other solutions to try to mitigate the effects of hypertrophy. Use a bra with a correct fit, keep the skin of the breasts clean and dry to avoid problems.
In those patients with asymmetries between both breasts, prostheses can be used.