Finally came the statement that many were waiting for two days.
The founder and CEO of Facebook, Mark Zuckerberg, published on Wednesday a statement on the social network in which he acknowledges that the company made mistakes, takes responsibility and explains what the next steps are.
"We have a responsibility to protect your data and if we can not do it, then we do not deserve to serve them," Zuckerberg writes, while indicating that he has been trying to understand exactly what happened to make sure it does not happen again.
"The good news is that the most important actions to prevent this from happening again have already been adopted years ago, but we also made mistakes , there is more to be done and we need to redouble our efforts and do it".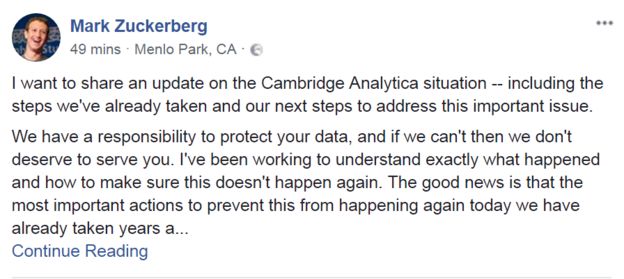 Zuckerberg's words come after days of bewilderment at his initial silence.
Delayed response
This must be the biggest crisis facing Facebook since its founding and the company's response at first did not help.
The announced departure of its director of Information Security, Alex Stamos, extended concern in the company at an international level and there are reports that this extends the already significant divisions within the company on how transparent it should be.
When the first reports came out that Russia could have used the social network to interfere in the 2016 US election, Zuckerberg initially called them a "pretty crazy idea".
Months later he retracted and announced a series of measures to combat the viral spread of false news.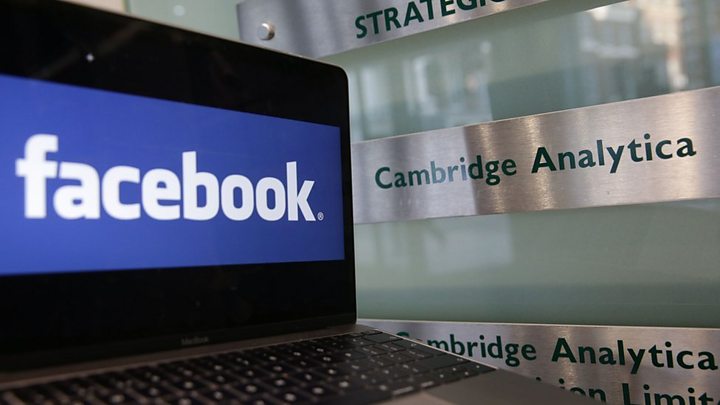 Following the reports of Channel 4 News , The Observer and The New York Timesrevealed this week, Facebook initially responded to the defense.
He stated that the fact that the information of tens of millions of people was collected by a third party does not constitute a data breach .
"There lies the problem," writes Amol Rajan, editor of the BBC.
"If this, in fact, is not a data breach, if these companies do not find a cause for alarm, and if what has happened is legal, then that must be the reason why the 2 billion Facebook users are They must worry. "
With his words this Wednesday, Zuckerberg seems more willing to admit the mistakes made by his company.
In his statement, the Facebook director offers a chronology of the events and explains what changes have been adopted by the company in relation to the access of external applications to the data of the users of the social network.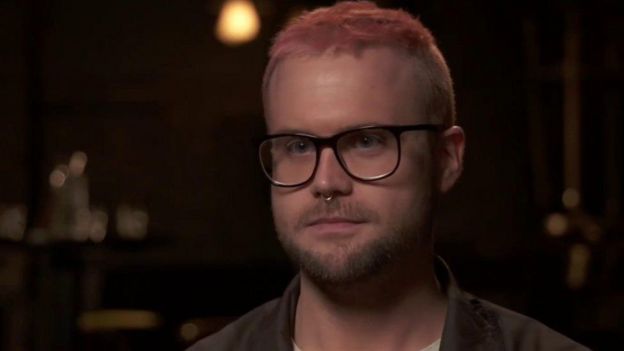 Zuckerberg indicates that in 2015 he learned that researcher Aleksandr Kogan had shared with Cambridge Analytica data of Facebook users who accessed the Kogan personality test application.
"We immediately banned Kogan's application from our platform and demanded that Kogan and Cambridge Analytica formally certify that they had erased all unduly obtained data and they provided those certifications," says Zuckerberg.
However, recent revelations suggest that this was not exactly the case.
"This was a break in confidence between Kogan, Cambridge Analytica and Facebook," writes the founder of Facebook.
"But it was also a breach of trust between Facebook and the people who share their data with us and expect us to protect them, we need to fix this."
A message to sell
Facebook has become amazingly rich operating what is, in effect, a surveillance tool.
Most users have no idea how much social media companies know about them. The business model that has made Facebook rich is based on the quality of the information.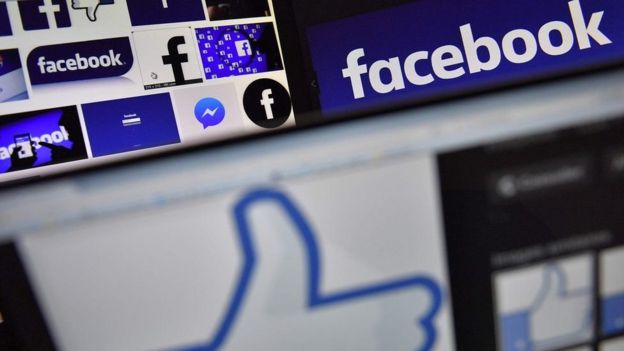 This social network uses the data to sell your attention to advertisers. Advertisers use smart messages to influence your behavior, trying to get you to buy your products.
As Hugo Rifkind wrote in The New York Times , what is happening now is that Facebook, the largest and most powerful social network, has gone from selling mere products to selling politics .
Political agents, who do not necessarily have to come from democracies, also want to use intelligent messages to influence behavior, to lead us to vote for a particular candidate or to undermine a consensus and degrade the truth.
Open and connected?
Do not forget that with the usual enthusiasm surrounding large technology firms, Facebook executives talk about their company almost altruistic terms: t e have a mission, they say, to make the world more open and connected.
There is a tension, then, between the liberal inclinations of some Facebook members – although, of course, the company as such is politically neutral – and the fact that a British company, on whose board of directors sits as the White House ex-adviser Steve Bannon, pued to have used the platform to help President Donald Trump to get to the office .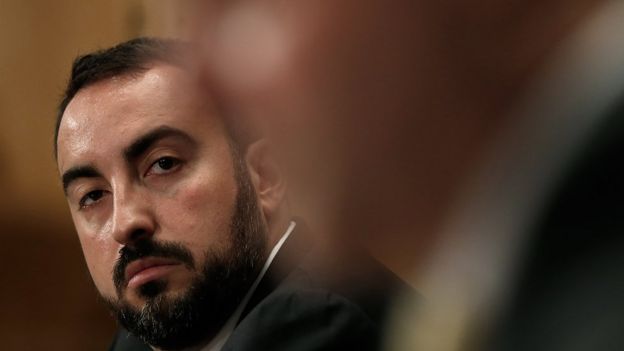 "There is a tension between the globalist vision of a company that hires brains from all over the world and the more nationalistic tendencies of the current administration of the White House," says Amol Rajan, editor of the BBC.
"And there is a tension between the self – declared mission to advocate for openness and the fact that Zuckerberg, for still unclear reasons, seemed tio be unavailable for comment at the beginning , although British lawmakers have cited" he adds.
"At some point, these tensions become unbearable," A month ago, I said that Facebook could have reached its peak, at least in influence, if not also in wealth, and I wonder if the departure of Alex Stamos will make other employees of the social network feel the same ".