ISTANBUL: Chief Minister Punjab Shehbaz Sharif was welcomed to the city by Istanbul mayor Mevlut Uysal on the sidelines of the ongoing special summit of the Organisation of Islamic Cooperation (OIC), which seeks to rally leaders of the Muslim world for a coordinated response to US recognition of Jerusalem as Israel's capital.
During the meeting, the two leaders condemned US President Donald Trump's decision to recognise Jerusalem as Israel´s capital and expressed their solidarity with Palestine.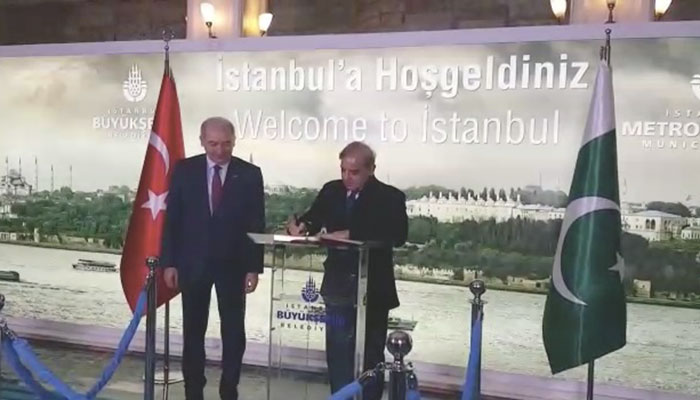 CM Shehbaz and Mayor Mevlut Uysal also discussed ideas on expanding cooperation between Punjab and Istanbul.
Speaking on the occasion, Shehbaz said Pakistan and Turkey share historical brotherly relations.
"Turkey is very close to my heart," the chief minister said.
CM Shehbaz along with Finance Minister Khawaja Asif is accompanying Prime Minister Shahid Khaqan Abbasi, who leads the Pakistani delegation at the OIC summit.
The summit is being chaired by Turkish President Recep Tayyip Erdogan, whose country holds the rotating chairmanship of the OIC.
Trump's announcement last week prompted an outpouring of anger in the Muslim and Arab world, where tens of thousands of people took to the streets to denounce Israel and show solidarity with the Palestinians.
The decision has sparked protests in Palestinian territories, with four Palestinians killed so far in ensuing clashes and air strikes and hundreds wounded.