Quiet, with a net and a buoy entangled in its antlers, this red deer looks directly at the camera.
This powerful image taken last year on a Scottish island was published this week on social media by the Scottish Natural Heritage (SNH), to raise awareness about marine pollution.
The image was published next to another that shows two deer that died trying to disentangle themselves from a fishing net that kept them together.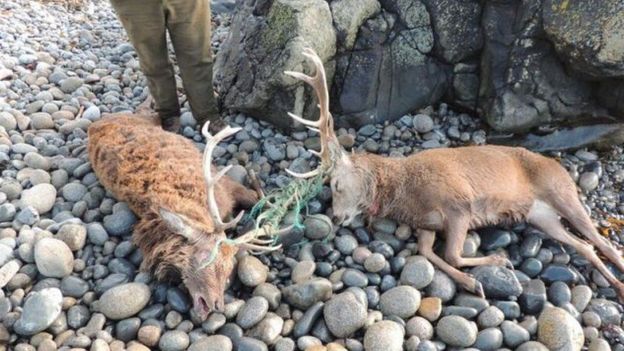 "Marine litter is a huge international problem, but small actions can make a big difference and we all have a role to play," said Lesley Watt, director of the reserve on Rum Island, the place where the photographs were taken.
According to Richard Dixon, of the NGO Friends of the Earth, Scotland, the photos of red deer are a "powerful Scottish symbol of wasteful attitude".
"We are used to the images of birds or marine mammals and turtles affected by plastic garbage, but this is something that touches us much more closely".
"These are large mammals affected by things that people have discarded in the marine environment."