More than 78 million tons.
That is the number of plastic containers that are produced worldwide each year in an industry worth almost US $ 198,000 million.
Only part of that is recycled and the vast majority is discarded.
Plastic garbage today is in every part of our planet, from remote Antarctica to the depths of the ocean.
Several campaigns and TV shows, such as BBC's Blue Planet II , deepened the already existing public concern about the issue.
In response, governments, manufacturers and retailers began taking measures to deal with the tide of plastic waste.
More than 60 countries are implementing laws aimed at reducing the use of plastic bags and other similar single-use materials.
Since this July, Vanuatu, a small island in the South Pacific, became the first nation in the world to ban single-use plastic bags, sorbets and polystyrene containers for food.
But how much can it cost to change the way we buy our products?
The cost of change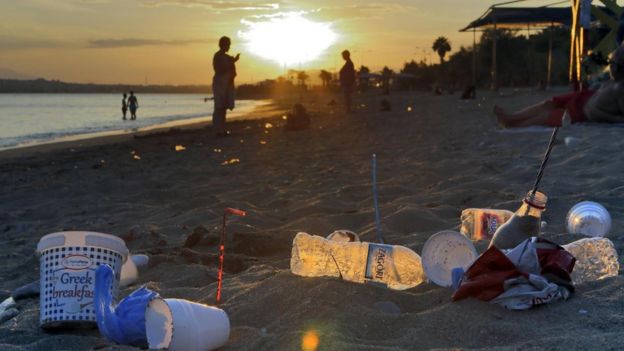 Several supermarket chains, including multinationals Tesco and Walmart, promised to reduce the amount of plastic containers in which they sell their products.
Coca-Cola and Pepsi beverage manufacturers, food and cleaning multinational Unilever, food producer Nestle and cosmetics company L'Oreal have also committed to ensuring that all their containers are reusable, recyclable or can be decomposed to 2025.
But despite these commitments, much of the food and beverage industry is still trying to determine how to achieve those goals.
Some experts fear that without the right approach, this urge to banish plastics will make the products we consume more expensive.
"It's not that simple to say 'plastic is bad', so let's use something else," saysEliot Whittington, director of the policy program at the Institute for Leadership in Sustainability at the University of Cambridge, UK, who advises manufacturers of drinks on waste reduction.
"A complete change is needed in the way we use the packaging of the products, most of the packaging is now used only once and thrown in. We need to abandon that and some form of government leadership is required."
Only in the European Union more than a third of the food sold comes in plastic packages. And each of its 510 million residents produces approximately 31kg of plastic packaging waste per year.
One reason why plastic is so dominant in the market is its ability to do more for less: less material is needed to make a plastic beverage bottle than a glass one.
"Plastics are cheap, lightweight and adaptable in many ways," says Susan Selke, director of the packaging school at Michigan State University in the United States.
Fifty years ago, before the plastics revolution accelerated, most beverages were sold in glass bottles.
At present, almost all are made of a resistant plastic material called polyethylene terephthalate or PET.
Although the cost of production can vary according to the prices of raw materials and energy, it is generally not much more expensive to produce a glass bottle than a PET bottle: one US $ 0.01 more, according to some studies.
However, when manufacturers begin to transport products in glass bottles, costs start to rise.
A 330ml plastic soft drink bottle weighs around 18 grams, while a glass bottle can weigh between 190g and 250g.
Transporting beverages in heavier containers requires 40% more energy, producing more polluting carbon dioxide and increasing transportation costs up to 5 times per bottle.
"In many cases, plastics are better for the environment than alternatives,"explains Selke.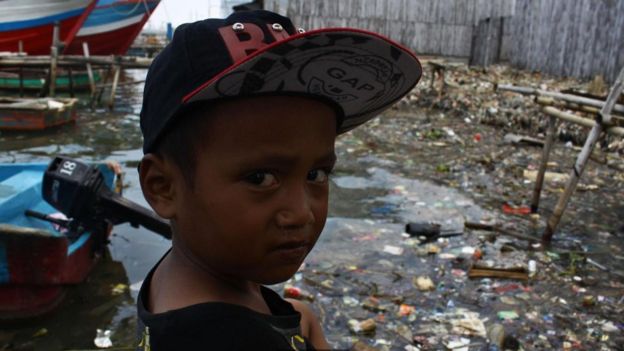 A report by the American Chemical Council and environmental accounting firm Trucost estimates that environmental costs would be 5 times higher if the soft drink industry used alternative packaging such as glass, tin or aluminum instead of plastic.
Meanwhile, governments seek to penalize polluting companies with taxes and carbon taxes and these costs can end up being paid by consumers.
"Food costs are going to increase, there's no doubt about that," says Dick Searle, executive director of the British Packaging Federation, which represents the industry in the UK.
Useful life
Some even warn that abandoning plastic, after almost 70 years of using it to package food, could have other consequences that are much more expensive and unforeseen.
What may seem like just a plastic bag wrapped around a vegetable is actually a sophisticated tool to increase its shelf life.
"I think people underestimate the benefits of plastics to reduce food waste,"says Anthony Ryan, professor of chemistry and director of the Grantham Center for Sustainable Futures at the University of Sheffield, UK.
The retractable wrap used in cucumbers, for example, can double the duration of the vegetable, allowing it to stay up to 15 days in the fridge and reduce food waste by half. An unwrapped cucumber would last only 2 days at room temperature and 9 days if refrigerated.
For its part, the meat purchased in polystyrene trays covered with plastic film usually lasts between 3 and 7 days.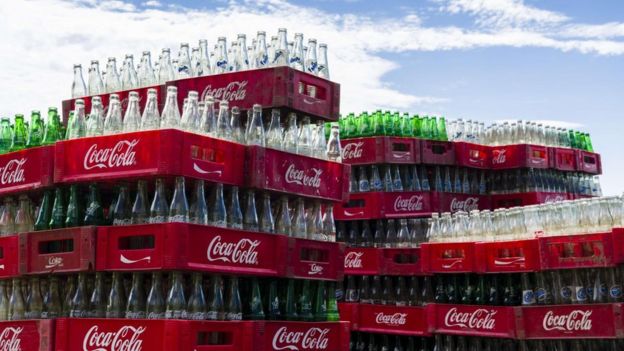 However, if it is vacuum packed in multilayer plastic, it can be stored up to 45 days without spoiling.
Delicate fruits and vegetables are also kept safe with plastic containers. It was discovered that putting grapes in individual plastic boxes reduces waste by 75%.
The plastic wrap can also keep fruits and vegetables in their own small microclimates , known in the industry as modified atmosphere packaging, which can help prevent them from ripening fast.
Putting sweet peppers in a bag with a modified atmosphere can extend its shelf life from 4 days to 20, according to the Flexible Packaging Association.
Extending the shelf life of food can greatly reduce the cost of food waste globally estimated at almost US $ 1,000 billion a year , and largely to manufacturers and retailers.
While some believe that single-use plastic packaging caused an increase in the amount of food we bounce by fostering a culture of waste, many in the plastics industry argue that without plastic packaging, the cost of food waste could increase.
Bioplastics
Then, it might not make sense to ban plastics altogether, and one solution could be to improve them.
"More and more companies are reinventing plastics with additives that help them break down or manufacture plastics that are biodegradable," says Eliot Whittington.
It refers to the growing bioplastics industry, which uses starch or protein from plants such as sugarcane to generate the basic hydrocarbon materials needed to create plastics.
Some of these bioplastics are not biodegradable, but others, such as polylactic acid (PLA), can break down over time and some become compost, meaning that they disintegrate completely instead of becoming smaller "microplastics" .
Although the production of bioplastics is more expensive.
A box of hamburgers made from sugar cane is almost twice as expensive as a box of polystyrene.
A disposable biodegradable fork made of starch costs 3.5 times more than a basic white plastic one.
However, there is some resistance to the widespread use of biodegradable materials.
"Bioplastics like PLA are a big pollutant for traditional recycling ," says Dick Searle.
Surprisingly, due to rising oil prices, recycled plastic is actually cheaper than fresh virgin plastic made from petroleum.
One ton of virgin PET costs around US $ 1,300, while recycled PET costs only US $ 208 per ton.
Pollution of PET plastic with PLA, however, can leave the resulting bottle weaker and unfit for use, which means that the entire lot should be discarded.
As manufacturers try to replace them with more ecological and biodegradable plastics, the risk of mixing with conventional plastics will only increase, which could increase the cost of recycled materials.
It is a problem that will require new ways to identify, classify and treat plastic materials when they are discarded to ensure that biodegradable materials are kept separate from those that can be recycled.
Use more plastic
Anthony Ryan sees other problems with the widespread use of biodegradable packaging.
"The symptoms are treated and not the disease," he says.
"If the disease is our disposable society, making the containers biodegradable only encourages people to generate more waste."
Instead, he suggests another solution: use more plastic.
To pack the food "you can start from a single piece of thicker polyethylene".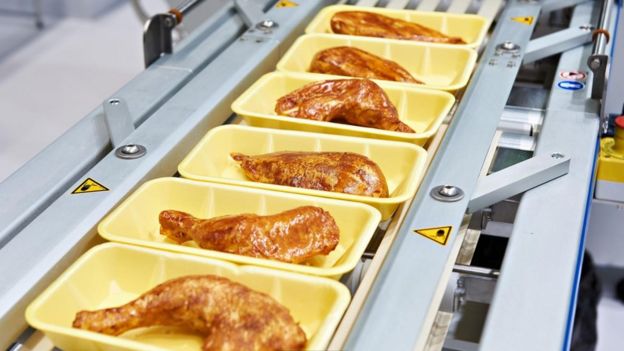 He believes that making plastics more durable could help solve the current waste problem that is ruining our planet.
Instead of abolishing plastics altogether, it proposes to reuse the packaging that we currently discard.
Deposit and reuse schemes like this one, in which plastic bottles are returned in exchange for a cash deposit and then refilled, are in use in Finland, Germany, Denmark and parts of Australia.
However, according to research by the European Commission, these programs can be up to 5 times more expensive than using the package once and then throwing it away.
But the World Economic Forum found that innovative reuse and recharge measures could actually reduce packaging costs by at least US $ 8 billion a year.
And as many countries seek to introduce laws that impose new levies on plastic bags and prohibit certain types of single-use containers, rechargeable and reusable options can become more attractive.
For British Antarctic Research ecologist Claire Waluda, whose team is monitoring plastic waste levels in South Georgia, it is worth paying the price of making these changes.
"We are seeing parents of albatrosses feeding their chicks with plastic," he says. "Anything that can reduce the amount of plastic waste in the environment is a step in the right direction."