"A problematic boy" who always carried weapons with him.
This is how students at Stoneman Douglas High School in Florida define Nikolas Cruz, identified as the author of the mass shooting at the school where 17 people died.
Cruz, 19, who remains in detention, had been a student at the same school he returned to Wednesday to carry out the massacre.
As confirmed by Broward County Sheriff Scott Israel, the young man had been expelled from the center "for disciplinary reasons."
Suspect Nikolaus Cruz, 19, is in custody. #stonemandouglasshooting

— Broward Sheriff (@browardsheriff) February 14, 2018
The truth is that l to conflictive behavior Cruz was well known both teachers and students of the school.
A student at the school told CBS that Cruz was "a problematic boy," and said he always "carried weapons with him" that he did not hesitate to show the rest of the students.
"I was crazy about guns, " Chad Williams, an 18-year-old who shared a classroom with Cruz years ago and who defined him as "a person who did not have many friends," told Reuters.
Williams said Cruz was dedicated to activating the center's fire alarm day after day until he was finally expelled in eighth grade.
Jillian Davis, another student who was Cruz's partner, said he talked a lot about guns and knives, but no one took it seriously.
Social networks "disturbing"
Jim Gard, a teacher at the school, said the workers were warned that the former student was a threat and should not be allowed to go to school with a backpack.
"There were problems with him last year threatening students, and I think he was asked to leave the campus," Gard told the Miami Herald.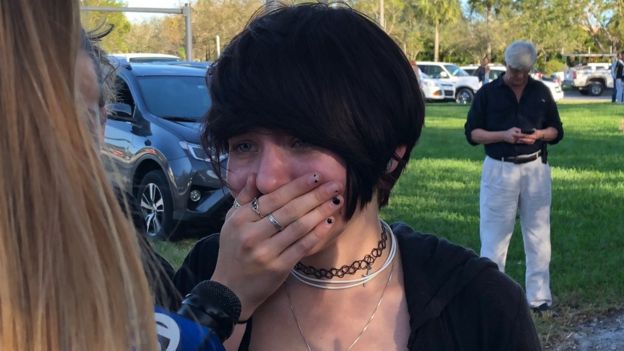 The young man did not even hesitate to show off his love for weapons in his social networks.
In his Instagram account, which has already been deleted, there were images of the young man wielding different types of pistols.
The sheriff confirmed to journalists that the police were examining web pages visited by Cruz and his publications on social networks, which he described as "extremely disturbing."
He also stated that at the time of the arrest the young man had an AR-15 rifle and "innumerable chargers".
After being arrested, Cruz was taken to the hospital and later to the Broward County prison.