The best friends Henry and Baloo have much in common: both were rescued from the street and now enjoy long walks in nature.
This dog and this cat are a traveling duo.
Their unusual friendship and excursions around the beautiful mountainous landscapes of the state of Colorado, in the western United States, have won thousands of followers in social networks.
Hundreds of thousands of people follow their Instagram adventures.
For the owners of the animals, Cynthia Bennett and Andre Sibilsky, their popularity is surprising.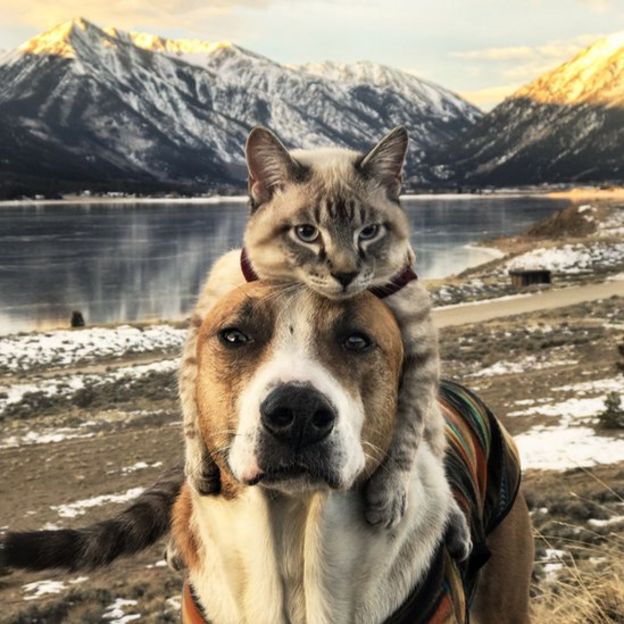 Copyright of the image 

CYNTHIA BENNETT

Image caption 
Cynthia and Andre met in Boston, but say that as natives of New Hampshire and Texas, in the east and south of the US, they are nature lovers.
Both say they were destined to get away from urban life.
"We wanted to go west, where there were bigger mountains, we thought of Colorado and moved on impulse, there was not much planning," Cynthia told the BBC.
Once they settled down, the couple decided to extend the family.
Then they adopted Henry, a tall, lanky dog, crossbreed of husky, boxer, German shepherd, Australian shepherd and Staffordshire terrier.

Copyright of the image 

CYNTHIA BENNETT

Image caption 
"He was the same age as all the other puppies, but double the size, I just went into the corral to see him, he approached me and turned upside down," says Cynthia, laughing.
"Andre knew we would take him in. I feel like he chose us somehow," he adds.
Born on the street, Henry was adopted into a rescue center that relocates animals from other states in which shelters have high rates of abandonment and death.
Henry, descending of dog breeds high energy, was immediately adapted to the long walks d and their owners .
A year later, Cynthia realized that she was posting too many photos of Henry on her social networks, so she decided it would be fun to create her own account.

Copyright of the image 

CYNTHIA BENNETT

Image caption 
It took him three years to reach 30,000 followers on Instagram. That number went out of control when they adopted Baloo, the cat.
"Henry was very anxious when we were not at home, he was so stressed that he did not eat or drink, so we thought he needed a friend, " says Cynthia.
"Thanks to Instagram, I had seen other people walking with cats that really loved being in nature," he adds.
"This morning was food for my soul," says the post.

The couple spent months looking for the right partner for Henry, until they found Baloo.
An unlikely friendship
Like Henry, Baloo is a rescued animal. It was part of a litter of eight kittens of a mother whose owner had refused to castrate her.
Baloo and his brothers were abandoned immediately.
"As soon as he met Henry, he joined him immediately, Baloo definitely has an obsession with the dog: if I want him to calm down, I put him next to him and he falls asleep," Cynthia explains.

Copyright of the image 

CYNTHIA BENNETT

Image caption 

Copyright of the image 

CYNTHIA BENNETT

Image caption 
"I think (Baloo) thinks Henry is his mom," she says. "During the first months, I was looking for breastfeeding," says the owner.
Cynthia suspects that the cat also feels it is a dog .
"If he sees a dog walking, he runs towards it, but if he sees a cat, he ignores it, does not he realize what it is? It's very funny," he says.
"They ask us a lot if we edit the publications and the answer is no, everything is authentic! So I wanted to share this video to show how much these two love each other and trust each other?"

Cynthia's family, she says, is surprised by the popularity of the videos and photos of both pets.
"My grandfather, who is my best friend and very fond of nature, thinks it's amazing," he says.
While Andre works in an office in the world of finance, the popularity of animals on Instagram has led Cynthia to decrease her job in event marketing and to focus more on updating the account and her passion for photography.
"Taking a leap as an artist is scary and not very stable in the long term, but I tell my followers all the time that they are changing my life and that they allow me to do what I love," says Cynthia.
Copyright of the image 

CYNTHIA BENNETT

Image caption 

Copyright of the image 

CYNTHIA BENNETT

Image caption 
The success on Instagram "is also giving Henry and Baloo a better life, I have more free time to travel and be with them," he says.
However, not everything is positive. According to Cynthia, she has received attacks on her animals' account for her "alternative" lifestyle.
"I wonder 'why do they attack a dog and a cat?' I just do not understand," he laments.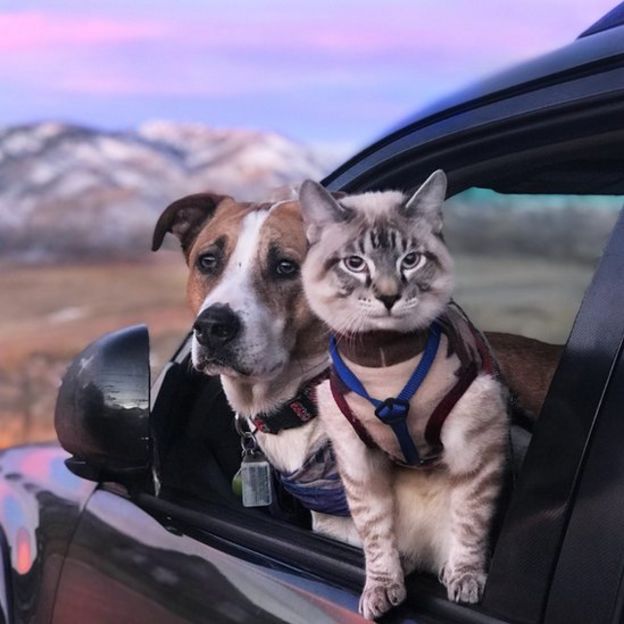 Copyright of the image 

CYNTHIA BENNETT

Image caption 
But according to her, the support far exceeds the negativity.
Through Instagram, she and Andre have connected with other people in the so-called "vanlife" community (life of "van" or traveling life), who receive similar complaints and criticisms for their nomadic life.
"You just have to ignore them," he says. "There are hundreds of other comments from people who say that Henry and Baloo brighten their day."