For just over two months, it is rare the day we do not know a new case of a public figure accused of having committed sexual abuse or harassment.
In this context, few were surprised when it was learned that Time magazine chose as "person of the year" in 2017 a crowd: women and men who "broke the silence" before the sexual abuses committed in various spheres, especially the of entertainment but also in politics, journalism, the business world or in sports.
" The message that Time magazine sends is that women, feminism, are 'the person of the year,' " says Dale Thomas Vaughn, co-founder of the Gender Leadership Group, BBC World Dale, who is happy with the choice of the publication.
Time highlighted some of the figures that make up his "person of the year" on the cover and inside pages.
But it would have been impossible to collect all the names of the people who participated in a movement that brought together those who decided to break the silence and expressed through a social media tag: #MeToo (# YoTambién).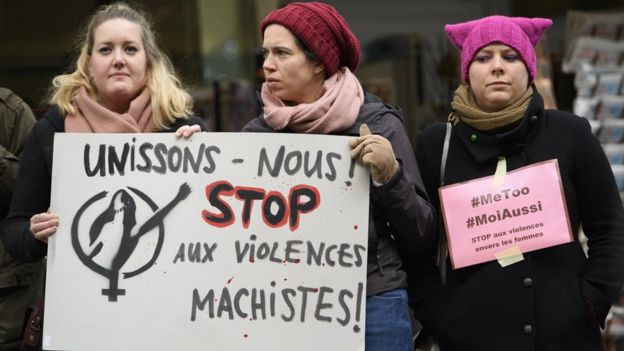 What began as an initiative to make the world see how widespread the problem of sexual harassment became almost immediately became a viral phenomenon.
Two months later, after having seen how counterbalancing labels appeared, such as #MeNeither  or #NotAllMen, the campaign is heading towards unknown territory.
Will it be diluted in time or will it continue to gain strength? And if that is the case, is there a risk that it will turn against women? There are those who think so.
A revolution in networks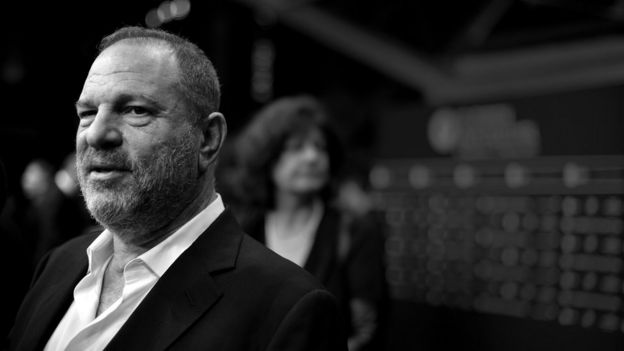 The outbreak of the scandal over the accusations against Hollywood producer Harvey Weinstein in early October resulted in a snowball that keeps rolling and getting bigger.
The dissemination in social networks of the hashtag #MeToo at the proposal of the American actress Alyssa Milano – although the original idea was conceived by Tarana Burke ten years ago – gave voice to hundreds of thousands of women and men who dared to tell experiences in which they were victims of abuse.
Other people limited themselves to sharing the label without providing details.
In any case, discovering the colossal scale of the problem was something revolutionary in itself.
We are talking about predators that have committed multiple offenses, we are not talking about isolated events. "
For Time magazine, "#MeToo provided an umbrella of solidarity for millions of people who stepped forward and told their stories."
However, and without wishing to diminish its value or importance, there are also critical voices that warn about the dangers of being dragged by this phenomenon .
Discourse polarization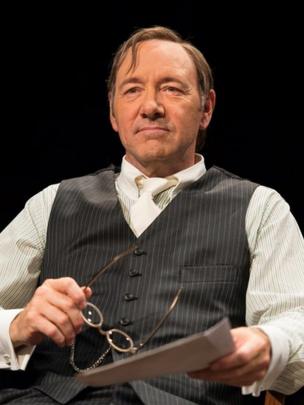 Enough to witness the outrage that causes someone to question some aspect of the initiative #MeToo to realize polarization and tension that exist around this subject.
And the feeling remains that to make a criticism means immediately to be on the side of the abusers.
"Let there be no doubt: men who have sexually harassed or abused should be singled out," writes BBC journalist Katy Kay.
"But we are all learning in this process and we see that in this harassment, as in almost all aspects of life, what at first seemed like a simple black or white situation, actually contains a whole range of grays, " add
The moral panic
When talking and writing about what is happening with the continuous trickle of accusations of sexual harassment, there are those who say that we run the risk of falling into a situation of moral panic.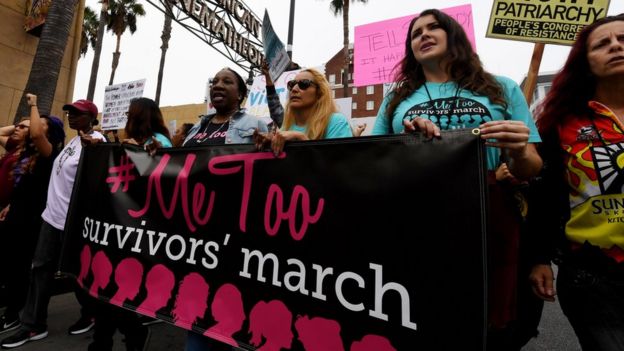 "Moral panic refers to movements that arise in response to what society perceives as moral threats," writes US philosopher Christina Hoff Sommers.
"They cause chaos and persecution and create a generalized and exaggerated feeling of danger .
"In the 1980s, a hysteria about satanic abuse in day care centers put many innocents in jail," evokes Hoff Sommers.
The journalist Masha Gessen points out that the current environment can lead to a situation of moral panic or in this sexual case.
"This context of sexual panic," Gessen writes in The New Yorker magazine , "blurs the boundaries between rape, sexual coercion without violence and clumsy, alcoholic sex."
"The effect is that bad sex is criminalized and rape is trivialized," he adds.
Condescension towards women
Gessen, who admits that she shared the hashtag #MeToo in networks because she was raped and harassed at different times in her life, sees another risk in the tendency to underestimate the power of women.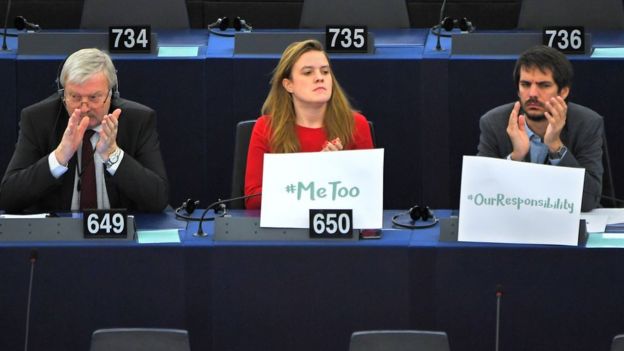 "In the current debate in the United States, women are increasingly treated as children: defenseless, incapable of consent, always on the verge of being victimized.
"This should make us reflect, we may be returning to a more sexually restrictive era, an era in which women were denied their will."
In this sense, the journalist Cathy Young also points out in an op-ed published in the Los Angeles Times that women are not given any favors if they are denied their authority to say 'no' or their right to say 'yes' 'before the sexual advances of a work colleague.
In the current debate in the US women are treated more and more as children: helpless and incapable of consent ".
Dale Thomas Vaughn does not share these misgivings.
" I do not say that men and women can not flirt, as long as there is mutual consent ," he said in conversation with BBC Mundo.
"But let's not lose perspective, what we're talking about is predators who have committed multiple offenses, we're not talking about isolated incidents."
For this openly feminist man, what is needed is education, education and more education.
"Men have to be allies of women."
"The Pence Rule"
However, instead of approaching women as allies, some men may tend to walk away, nervous about the possibility of being accused of harassment.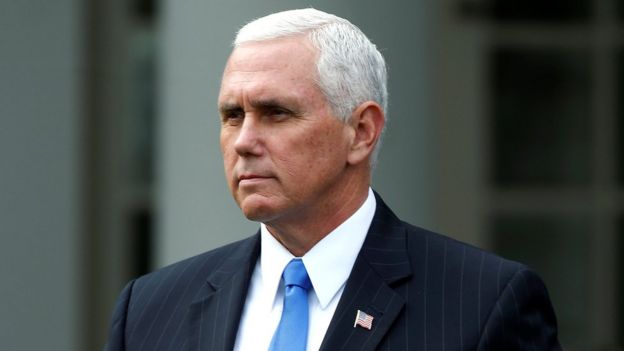 "This is known as 'the Pence rule', named after the vice president of the United States, Mike Pence, who confessed that he does not meet or dinner alone with female colleagues to avoid any misleading situation ," Katy Kay, of the BBC.
"Will men close the door to the room where important decisions are made simply because they fear our presence?" This can harm professional women by excluding them from job opportunities that men can benefit from. "
Kay concludes with a reflection on the future: " The worst that can happen is that #MeToo ends up turning against the women themselves , that would hide the issue of harassment under the carpet for years.
"Let us walk with care, act with sobriety and use this moment, with the voluntary support of our male colleagues, to make our workplaces safer and happier."