When the younger brother of BBC journalist Ruona Meyer became addicted to cough syrup, she began to investigate those who produce and sell these medicines on the streets of Lagos, Nigeria. Her research took her to the depths of the country's criminal underworld, revealing an epidemic that is destroying scores of lives in West Africa.
After the BBC investigation the Nigerian pharmaceutical company Emzor suspended the distribution of cough syrup and dismissed one of the company's executives.

"Where there are kids of school age, as soon as they try it, they will start to bother you to get more," says Junaid Hassan.
When I heard those words, my stomach churned.
He had already witnessed the scene he described, young Nigerians hooked on a cough syrup made with codeine, an opioid that can be addictive.
A 14-year-old girl from Lagos, my hometown, and her anguished parents without knowing how to help her. A young man in Kano, chained to the floor of a rehabilitation center, surrounded by flies and crazed by months of syrup ingestion with his friends.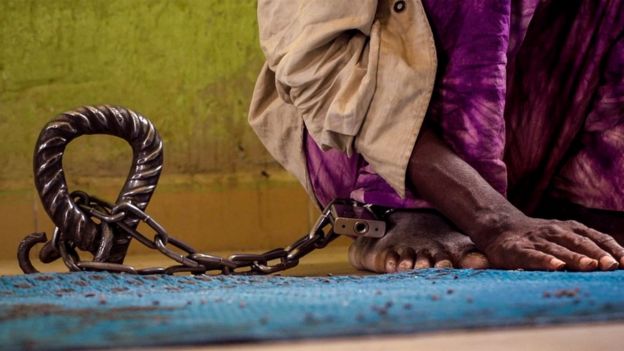 My own brother has suffered from being hooked on cough syrup with codeine. The strawberry-flavored opioid caught him after they killed our father.
Sadness, depression or the desire to be fashionable are just a few reasons why Nigerians are falling for this drug.
The musicians sing about the rush that it gives you. Traffickers rummage with her in nightclubs and on the streets. Teenagers mix it with soft drinks or drink it directly from the bottle in "syrup parties".
Hussan, aka Baba Ibjei, works at the pharmaceutical Bioraj, an authorized manufacturer that produces a cough syrup based on codeine marketed under the name of Biolin. The company is one of the largest suppliers in northern Nigeria.
Hussan is one of the employees of the pharmaceutical company that the BBC secretly filmed in the last months while elaborating illegal syrup. The consumption or manufacture of the medicine is not prohibited, but it can be sold to those who do not have a medical prescription or the pertinent pharmaceutical license.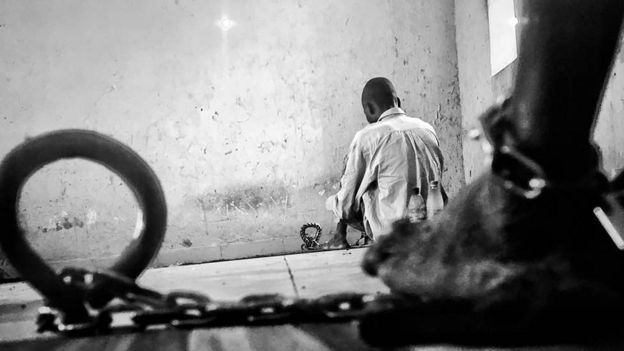 "Even if someone wants to buy a hundred boxes, we will not give them a receipt," says Hassan, explaining how he manages to avoid being detected by the authorities.
Such corruption is against Bioraj's policy, but it is flooding the black market with industrial quantities of syrup.
When we informed Bioraj that we had proof that Hassan was taking part in this illegal activity he responded with a statement in which he claimed that the company only sells the medicine legally, that Hassan denied having committed any illegal act and that the company president , Bioku Rahamon, personally watches the sales of Biolin.
Like all opioids, codeine is part of the same chemical family as heroin. It is an effective analgesic, but also a substance capable of causing spikes of euphoria if consumed in large quantities.
It is highly addictive and, in excess, can have devastating effects on body and mind.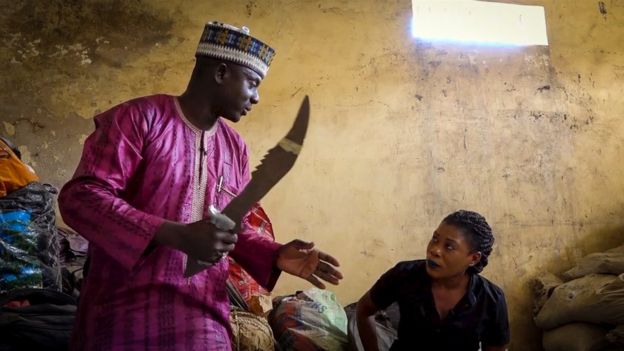 At the Dorayi Rehabilitation Center in Kano, I found a man whose staff said he had gone crazy for this drug.
He was chained by the ankles to the roots of a tree, screaming and beating on his arms. Seventy-two hours before I was in the street breaking the windows of cars in the middle of traffic.
"He is still going through the problems of abstinence," Said Usaini, the head of the center, told me.

Codeine syrup, the magnitude of the problem

Codeine is an analgesic, but also an addictive opioid. Excessive consumption can cause schizophrenia and the failure of some organs
Codeine syrup is often mixed with soft drinks and consumed by young Nigerians
Codeine is imported, but the syrup is manufactured in Nigeria by more than 20 pharmaceutical companies
Nigeria's anti-drug agency combats this epidemic. In a recent operation, they seized 24,000 bottles of codeine syrup transported in a single truck in Katsina
Syrup addiction is a problem throughout Africa. Information was published on the addiction it causes in countries such as Kenya, Ghana, Niger and Chad.
In 2016, India banned the activity of numerous companies that distributed codeine after reports were published warning of its addictive effect.

In addition to kidney problems and seizures, a severe abuse of codeine can lead to psychosis, delusions, hallucinations and even schizophrenia. Many of the syrup addicts interned in the center of Kano can show such violent behavior that the staff has to chained them to the ground.
"He can not be in a bed because he broke one, he broke the windows and he hurt himself," Usani tells me, when I stand before another young man in chains.
In the air floats a vague smell of faeces and the buzzing of flies. " Many of the parents break to cry here ."
Employees in the pharmaceutical industry who traffic in syrup on the black market know how addictive codeine can be.
One of them is Chukwunonye Madubuike, an executive of the firm Emzor who sold us 60 bottles in a hotel room in Lagos.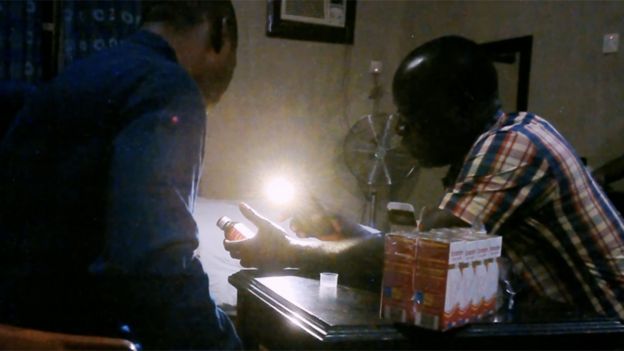 "When someone is hooked on something-you follow me? -and you need it, I do not think the price is a problem in this," he told us. "This is a product that I know that if I have a million boxes I can sell them in a week.
The pharmacist Emzor told us that she is now investigating Madubuike and added that she had access only to a limited amount of Emzolyn, the codeine syrup she produces, so she could not illegally sell large quantities.
The company said that it is a responsible company and that it is reviewing its distribution policies with absolute seriousness.
'It affects all classes'
In Kano, in northern Nigeria, the government anti-drug agency (NDLEA, for its acronym in English) carries out frequent searches and searches after which destroys the codeine syrup for the street sale that apprehends.
Agents of this body showed us more than two tons of Bioraj Biolin that had been confiscated by assault teams.
They also showed us the weapons that criminal gangs use to protect their business, which included knives, swords and even a chainsaw with which one of them had attacked the representatives of the authority.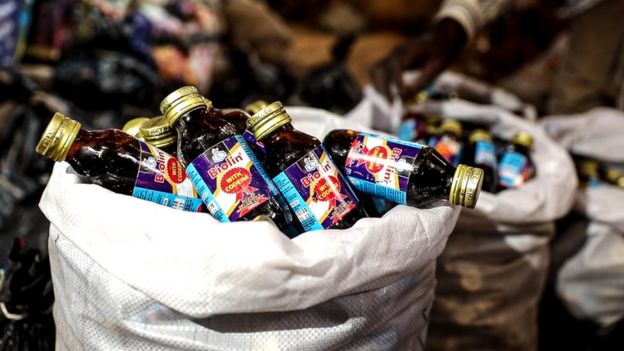 But the NDLEA in Kano, as its own leaders admit, can barely deal with the scale of this epidemic.
The Nigerian Senate estimates that up to three million bottles a day are consumed only in the states of Kano and Jigawa.
"We could not be intercepting or 10%," says commander Hamza Umar, of the NDLEA, in Kano. " It affects all classes, no matter the level, rich and poor, educated and illiterate, beggars and small children," he says .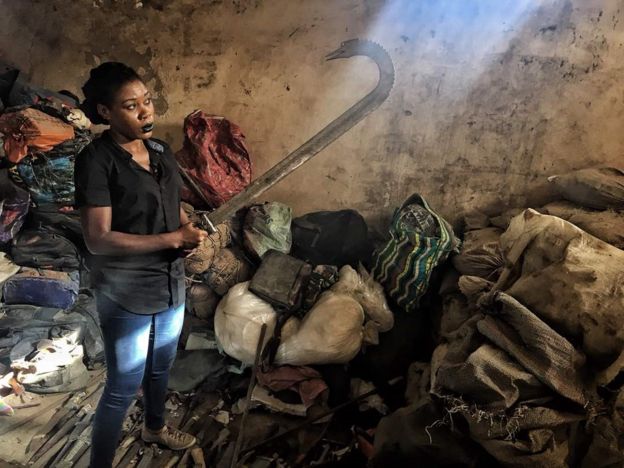 Back in the treatment center, Usaini measures the scale of the epidemic by the number of addicts brought into his care.
They used to be presented with maybe two or three cases a week, remember. "Now we see 7, 8, and sometimes up to 10 in a week … Every child you see that they bring here as an addict is codeine."
In a windowless room, still shaking after two months of abstinence, we found one of those minors, a 16-year-old girl in a pink hijab who told us that she used to get syrup from her boyfriend and take it after school.
It has a very simple message for other young Nigerians tempted by the fashion of syrup. "I would advise them not to fall if they have not done it yet, if they do, it will ruin their lives."