Do you get annoying ads advertising when you want to open WhatsApp to send a message or when you want to enter to greet in a group?
Well, you could be one of the million people who downloaded a fake version of the popular instant messaging application that was available on the Android platform in recent weeks.
According to the information provided by the application before it was removed from the Google store for the Android system (Play Store), the fake WhatsApp had been downloaded about a million times.
But how can you recognize if you have it? Basically because you get ads to download other applications.
According to several users of the Reddit platform , who made the case known, this version is what is known as an "ad-loaded wrapper" (an ad facilitator), which the real version of WhatsApp does not do.
Until now, the regions where the application was downloaded or which countries were most affected are unknown .
If you become one of the affected people, you must delete the fake application and download a new one.
The deception
The truth is that, although it was false, the parallel version of WhatsApp looked quite similar to the original in the Google application store, which provides the Android platform.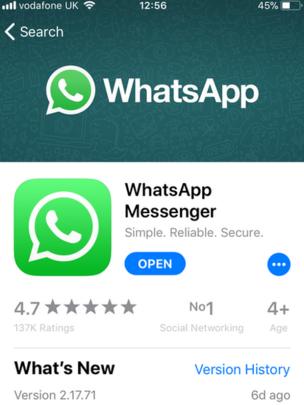 The fraudulent developers had achieved that the product had the same logo and was even associated with a developer with the same name: "WhatsApp Inc" .
This was achieved by replacing, when the thymus was programmed, the space between both words with a special character that simulated a space.
A subtle difference that is almost impossible to detect by an average Google Play Store user .
The only obvious disparity that the user could detect before downloading the app was in the fine print: below, when the properties of the application were listed in a more detailed way, the developer now did show his real name.
WhatsApp was launched in 2009 and was subsequently acquired by Facebook for US $ 19,000 million. It is one of the most used applications in the world, with nearly 1 billion downloads.
But beyond the deception and resolved, what worries many users is that this is not the first time that Google has to clean applications from your store.
In 2015, for example, the technological giant had to block an application that said it served to monitor the battery and what it did was actually send text messages to sites that charged high sums of money to the user of the phone.