India received a congratulation from the World Health Organization on the most recent World No Tobacco Day for its low levels of cigarette smokers.
His average of 111 cigarettes per adult per year is one of the lowest on the planet.
However, thousands of people in the capital, New Delhi , involuntarily "smoke" 44 cigarettes in a single day.
This is the equivalent, according to calculations of the independent scientific research group Berkeley Earth, of breathing the air of the city.
Based on measurements from about 3,000 cities compiled by the World Health Organization (WHO), BBC World produced a map of "smokers".
How much is involuntarily smoked in your city ?
Sources: WHO and Berkeley Earth
Zoom in to see the situation in more than 3,000 cities on the map. This shows the values by the average number of cigarettes involuntarily smoked per day in each city, calculated from the average annual levels of PM (particulate matter) 2.5 in the air (OMS) and the Berkeley Earth study.
Air pollution is dangerous to health because we breathe small particles – known as PM2.5 – that can cause diseases such as lung cancer, asthma, etc.
With a diameter of less than 2.5 micrometers, these particles are especially harmful because they can penetrate the depth of the lungs and then pass to other organs, which represents a serious risk to health.
The WHO estimates that a daily exposure to more than 25 μg / m3 is dangerous.
While most of the registered cities have an annual average of 25 μg / m3 or less, 693 places exceed the daily limit .
These are the cities with the worst air quality:
THE CITIES THAT MAKE YOU SMOKE MORE (Average to the equivalent of cigarettes per day) Sources: OMS and Berkeley Earth
1. Zabol (Iran)
10.3
2. Gwalior (India)
8.1
3. Allahabad (India)
7.8
4. Riad (Saudi Arabia)
7.2
5. Jubail (Saudi Arabia)
7
6. Patna (India)
6.9
7. Raipur (India)
6.6
8. Bamenda (Cameroon)
6.1
9. Xingtái (China)
5.9
10. Baoding (China)
5.8
This is how calculation works.
Air pollution
How to inhale polluted air is equated with smoking
44
The number of cigarettes a day, equivalent to breathing the air in Delhi in November 2017.
25 μg / m3

 the maximum daily recommended of PM 2.5 concentrations

950 – 1,000 μg / m3

Reading of PM 2.5 in New Delhi at the beginning of November 2017.

11

 Indian cities among the 20 most polluted in the world
Getty
Berkeley Earth calculates that breathing air with a concentration of 21.6 has the equivalent effect of a cigarette.
Hence, it was determined that breathing in Delhi was like smoking two cigarettes.
Pollution kills
3 millions
deaths per year are linked to exposure to air pollution
90%

 of deaths linked to pollution occur in low and middle income countries

94%

 of deaths are linked to non-communicable diseases

1.25 million

 people killed per year in traffic accidents. Much less than air pollution
Getty
Concentrations of about 1,000 μg / m3 were detected in the air that about 19 million people breathe, which forced the Indian government to take drastic measures (schools were closed and works under construction stopped).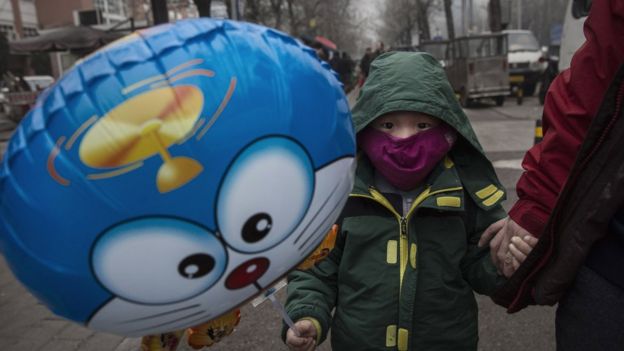 But New Delhi is not the only place in the world where air pollution is a problem.
The most recent WHO estimate indicates that more than three million people a year die from causes that can be directly attributed to air pollution in the world.
Some cities surpass the limit by very little, like Kingston, the capital of Jamaica, where the average is 26 μg / m3.
But others exceed by a high margin. Doha, for example, recorded figures almost four times higher than the limit.
According to data collected by WHO, the most polluted city in the world is Zabol, in Iran , where the annual average of PM2.5 is 217, or 10 cigarettes per day per man, woman and child.
Less than a third of almost 3,000 cities have pollution levels within the recommended annual average of PM 2.5 (10 μg / m3).
| Which countries have the most cities with clean air (PM 2.5 annual below 10 μg / m3). Source: WHO / WEF | |
| --- | --- |
| USA | 274 cities |
| Glen | 115 |
| Japan | 18 |
| Australia | fifteen |
| New Zealand | 14 |
| Spain | eleven |
| Portugal | 5 |
| Finland | 5 |
| Sweden | 4 |
| Brunei | 4 |

The information on PM2.5 was obtained from the WHO "Air Pollution Database", May 2016. The study shows the "annual concentration of particulate material of less than 2.5 microns (PM2.5) in cities and towns The vast majority of data is more recent than 2013, but the most recent is from 2015.

It is important to note that the numbers are based on annual measurements and that pollution can vary drastically according to a number of factors. The most important of these is the weather.
New Delhi, for example, has an average of 122 μg / m3 in a year, a level that would reduce the number of cigarettes smoked to about 6.
However, at the beginning of November it registered concentrations eight times higher.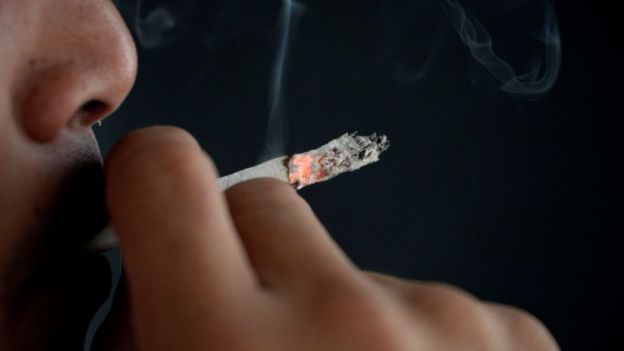 The Indian capital is one of the 10 cities in the country that ranks among the 20 most polluted in the world.
India is the most represented country in the list, and occupies a higher place than China (four).
This is not a surprise for organizations like Greenpeace. A recent report from the organization noted that no Indian city meets the air quality standards set by the WHO.
However, even in countries with clean air, exposure to polluted air can be quite harmful.
In the European Union , authorities estimate that close to 400,000 premature deaths can be attributed to air pollution. The average annual levels of PM2.5 in the region are equivalent to smoking 1.6 cigarettes a day.