A spray painting of the elusive British street artist Banksy was destroyed after being sold for US $ 1.3 million.
The framed work "Girl With Balloon" (Girl with Balloon), one of the artist's best-known works, was auctioned by the Sotheby's house in London.
The piece, which shows a girl trying to reach r a balloon shaped like a heart ,was the final work sold at auction.
However, moments after the hammer marked the sale, the canvas passed through a shredder that was hidden inside the frame.
By hanging a picture of the moment on Instagram, Banksy wrote: "Disappearing, disappearing, missing …".
"It looks like we've just been Banksy-zados," said Alex Branczik, senior director and contemporary art in Europe at the auction house.
Banksy became famous after drawing a series of graffiti pieces throughout the United Kingdom.
It is believed that the enigmatic artist grew up in Bristol, but his identity has remained secret despite many speculations over the years.
Among his recent works is the opening in 2015 of Dismaland, a theme park in the style of Disneyland that he himself described as a "family theme park not suitable for children".
In 2017 "Girl With Balloon", which originally appeared on a wall in Great Eastern Street, in London in 2006, was voted the country's favorite work of art.
The gallery version featured spray paint and acrylic on canvas, mounted on a board.
Sotheby's has not revealed who bought the piece before it was crushed.
At the moment it is not clear if the contract is still valid.
Branczik told the Financial Times that the auction house was trying to "figure out" what the ruse means.
"We have not experienced this situation in the past … where a painting is crushed spontaneously, to achieve a record [practically] for the artist," he said.
"We are trying to find out what this means in the context of an auction."
Will V go more now?
Opinions are divided.
Some users of social networks have speculated that the joke could have made the work increase its value.
However, others have questioned whether the buyer would still have to pay for it, or even if he wanted to.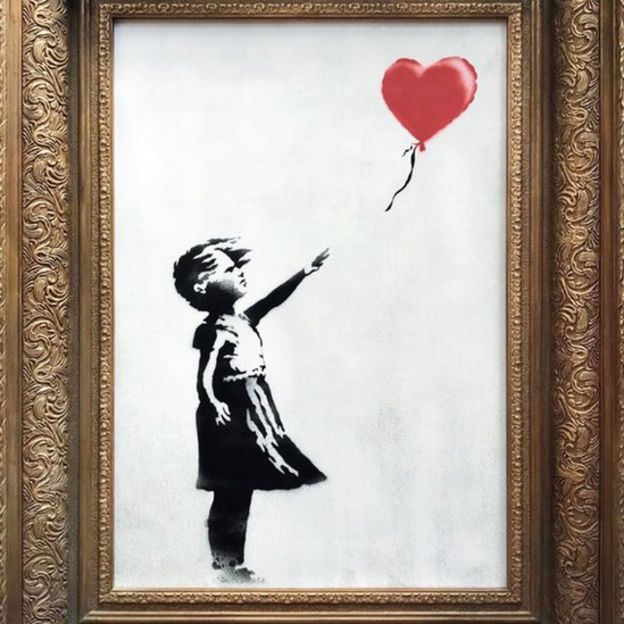 Was everything simply a hoax?
There have been some suggestions that Sotheby's may have been involved in the trick.
However, the auction house has not confirmed it.
In a statement on his website, he described the incident as "unexpected" and said it had become "world history of instant art."
The mystery continues.