The president of the United States, Donald Trump, took advantage of the wave of extreme cold that affects parts of his country to return to question the existence of climate change.
"In the beautiful Midwest, the wind temperature is dropping to -60 (-51 ºC), the highest recorded cold, and in the coming days, it is expected that (the thermometers) will fall further. Not even a few minutes , what the hell is going on with global warming, please come back quickly, we need you! "the president tweeted.
But the National Oceanic and Atmospheric Administration of the United States (NOAA, for its acronym in English), agency of the government itself, published what was interpreted as a response to the message of the ruler.
"Winter storms do not prove global warming is not happening, " tweeted NOAA on Tuesday.
Meteorologists attribute this extreme cold current to a sudden warming over the North Pole, caused by a blast of hot air originating in Morocco in December.
This climatic system divided the polar vortex and caused it to move southward, said Judah Cohen, winter storm expert at the Environmental Atmospheric Research organization.
"The fact that the cold air from the Arctic is moving towards the US does not mean that the planet is heating up as a whole ," Derek Arndt, head of NOAA climate monitoring in North Carolina.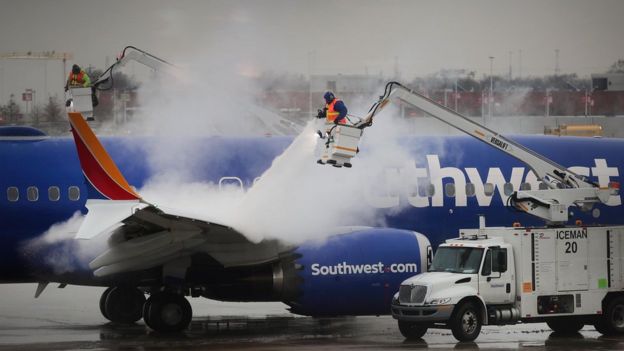 In fact, the polar vortex "is a local event and the US Midwest occupies a very small part of the planet," he added.
"While we experience this cold season in parts of the US and Canada, the rest of the planet is hot and if you average everything, you see that the planet continues to heat up," Arndt said.
The world's leading scientists argue that climate change is mainly man-induced and can lead to harsher winters in some parts of the world.