Nobody expected her resignation and the truth is that she did not explain the reason for her  decision.
Nikki Haley announced on Tuesday that she will step down as United States ambassador to the UN.
President Donald Trump told reporters that Haley, sitting next to her in the Oval Office, would take the job until the end of the year and said she had done "an incredible job".
Haley did not specify what she would do after spending two years as an ambassador, but dismissed speculation that they are planning to confront Trump in the 2020 presidential election.
In fact, she assured journalists that she would campaign for the current president.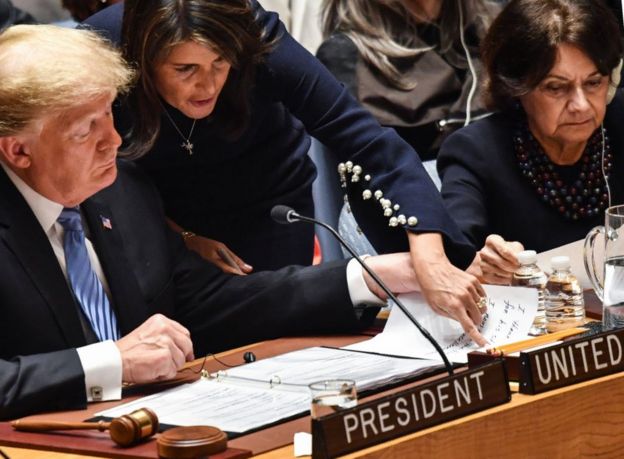 "I have not decided anything about where I'm going," she said.
"It has been eight intense years and I believe in the limits of the periods." Haley was six as governor of South Carolina and two as ambassador to the UN.
"I think you have to be disinterested enough to know when to get away and allow someone else to do the job," she added.
Luxury travel
Haley's resignation comes a day after an anti-corruption organization accused her of accepting seven luxury trips on a private plane as gifts from business leaders in South Carolina.
The Citizens for Responsibility and Ethics group in Washington said Haley had lowered the cost of flights by tens of thousands of dollars in an annual report of financial disclosure.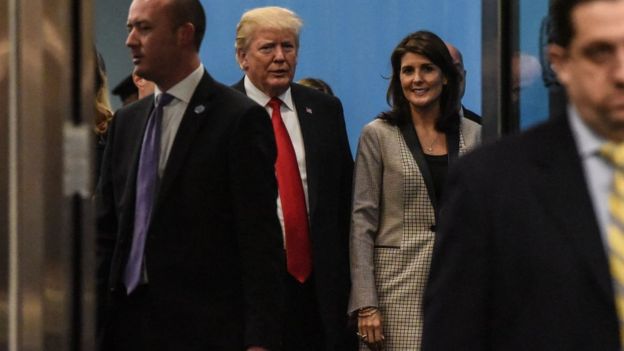 According to Trump, however, Haley had already told him six months ago that he wanted to take some time off.
"He has been very special to me, he has done an incredible job, he is a fantastic person, but he is also someone who gets things done," the president said.
Haley was a strong critic of Russia and Syria in the UN, and also of what he described as a global prejudice against Israel.
She also supported the suspension of the contribution of US funds to the UN agency for Palestinian Refugees and the transfer of the US Embassy. in Israel from Tel Aviv to Jerusalem, and even warned that she would write down the names of the countries that did not support this last decision.
"However, Haley did much to protect the United Nations from the anti – globalist tendency of Donald Trump, " said Nick Bryant, a BBC correspondent at the United Nations.
"It is often said that the largest UN peacekeeping mission is directed against Trump's White House and that Haley was seen as a valuable ally," says Bryant.
Trump announced that he would appoint her replacement in the next two or three weeks.