Iran was one of the targets of the harshest critics in the speech that the president of the United States, Donald Trump, delivered on Tuesday before the General Assembly of the United Nations in New York.
Trump blamed Tehran for making the world a less safe place by sowing "chaos, death and destruction" and called on the international community to contribute to its isolation.
"They do not respect their neighbors or borders or the sovereign rights of nations, but Iran's leaders plunder the resources of the country to enrich themselves and spread chaos throughout the Middle East and beyond," he said.
Trump said that Iran uses funds from the nuclear agreement to "finance the massacres in Yemen and Syria," which was one of the reasons for the United States to abandon it last May and that, according to the president, was applauded by other countries. of the Middle East.
"The United States has launched a campaign of economic pressure to deny the regime the funds it needs to advance its bloody agenda," said Trump, who encouraged representatives of the rest of the United Nations to support his strategy.
"We ask all countries to isolate the Iranian regime while their aggression continues," he told representatives of the rest of the United Nations.
Speaking to reporters before his speech, Trump said he would not meet Iranian President Hasan Rohani (who is also present at UN headquarters) until they "change their tone."
"We want to have a great relationship with Iran, but it will not happen now," he said.
"Value" of North Korea
In his speech, in which he emphasized on numerous occasions the patriotism and the right of the United States to follow his own path together with the need to respect his sovereignty, he also spoke of his new relationship with North Korea.
Trump thanked the "value" of the North Korean leader, Kim Jong-un, in the process of open dialogue and highlighted the "encouraging measures" put in place by that country after the meeting of both leaders in Singapore last June.
However, he warned that "much remains to be done" and that US sanctions will continue until denuclearization is achieved.
One of the moments that caused some laughter among the attendees was when Trump boasted of the great progress made in the United States under his rule and assured that the country is now "stronger, safer and richer" than when he came to power.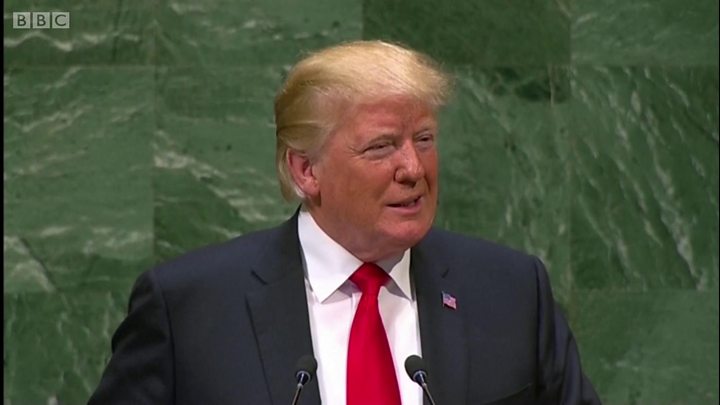 "In less than two years we have achieved more than almost any other government in the history of our country," he said at the beginning of his speech.
After listening to some loud laughter among those attending the General Assembly, Trump replied smiling: "I did not expect that reaction, but it's okay . "