The day after their wedding, Brian Houston could only touch the tips of his wife Evelia Reyes' fingers.
They both got married on Saturday at the border between Mexico and the United States.
The next day they could only see each other through the metal bars that separate both countries, without the possibility of hugging or kissing each other.
And is that the couple who met three years ago in Tijuana, Mexico, can not be together because Evelia, who is Mexican, does not have a visa to travel to the United States , a country of which Brian is a citizen.
They were married during one of the humanitarian openings that are made in the border between Mexico and the United States in which the members of families separated by the lack of documents are reunited.
"We were looking for a way to be together, we did not want to give up," says Brian in conversation with BBC Mundo.
"The relationship is very strong, we had a year living apart, and we never know when it will be the next time we can see each other," he explains.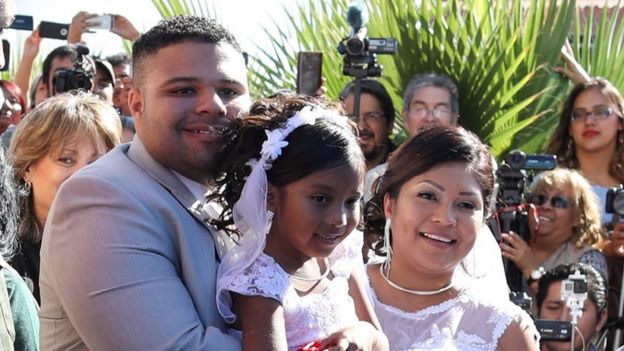 It is the drama lived by thousands of undocumented people who can not return to embrace their loved ones, because they have no legal way to enter the United States.
Three minutes
Evelia and Brian met three years ago in the border city of Tijuana, Mexico, where they had only been able to be together when he visited her.
Originally from the southern state of Guerrero, with three children from a previous marriage, Evelia has not been able to get a visa for herself and her children so she can be with Brian in San Diego, United States.
"I asked for your hand in Valle de Guadalupe, in Ensenada (Mexico), something very romantic, we rented a house, we visited the vineyards and at a dinner, in a restaurant, before dessert I arrived with the ring," says Brian with emotion.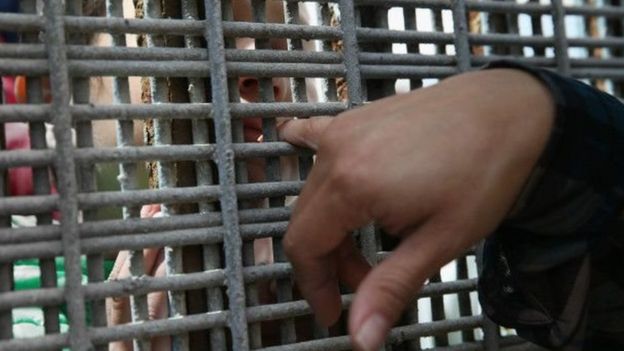 They had planned to get married just a year after being engaged, on July 17, but for "personal reasons," says Brian, he can no longer travel back to Mexico.
The American approached Ángeles sin Fronteras, an organization that defends the rights of migrants, which has organized, with the support of the US Border Patrol, six meetings between families.
Brian and Evelia were one of the 11 authorized reunions for November of this year.
The authorization only allows them to be together for three minutes.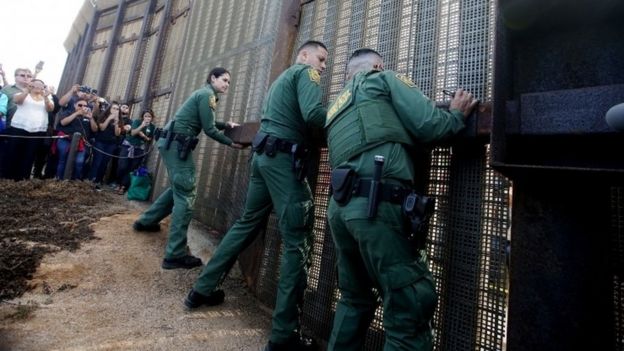 "I wanted to hug her and kiss her"
Enrique Morones, director of Ángeles sin Fronteras, did everything necessary to make Brian and Evelia fulfill their promise of marriage.
"His dream was to get married in Playas de Tijuana, and it turns out that they got married there, because the Amistad Park is part of Playas de Tijuana," Morones tells BBC Mundo.
In this park, located next to the beach that is divided by a wall, there has been for some years now the Puerta de la Esperanza , an opening in the border fence where humanitarian reunions take place.
Getting married in three minutes was part of the challenge: a Mexican judge was ready on the Mexican side with all the documents, many for such a short time, says Brian.
"I was signing 10 sheets in less than a minute, and putting the prints in. I was angry because I was signing papers at that time, I wanted to hold her and kiss her at that time, " says the American.
The moment was something unique, because there was Evelin in her white wedding dress and Brian in a gray suit formalizing their union under a metal frame guarded by the US border guards.
The applause of the other 10 families that came to embrace burst.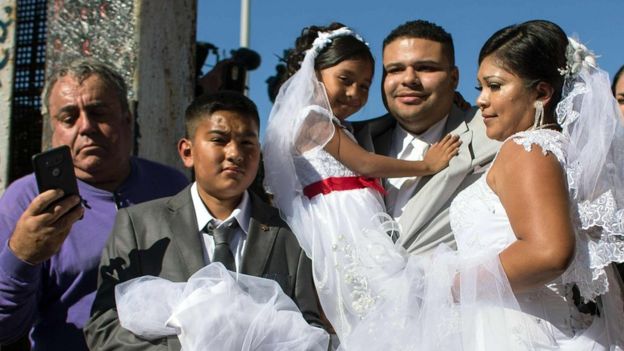 "For a relationship, this wall does not exist, for love there are no borders," Evelin told AFP after becoming Brian's wife.
Actually the couple spent four minutes, not just three, but everyone was very excited.
Wait and wait
The first time there was a humanitarian opening of the Puerta de la Esperanza occurred in 2013, when a girl who did not know her father could hug him for the first time.
In 2015 and 2016, this door was opened twice, once in April when Children's Day is celebrated in Mexico, and once in November, when International Children's Day is celebrated.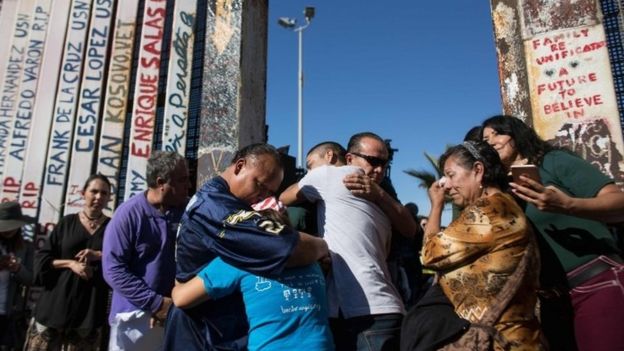 The reunions of this year took place under the presidency of Donald Trump, who has promised to extend the wall to the entire border and toughen its immigration policy.
Even so, Brian hopes that Evelin can get a visa to be married to an American, but is aware that this "can take up to 15 months."
"It's better than nothing," he says, because for him "love has no borders."