If you have not heard of Colin Kaepernick it is very likely that you will do it sooner or later.
He is the image of the new campaign that sports clothing giant Nike launched this week to mark the 30th anniversary of its iconic slogan " Just Do It ".
Praised by many, the campaign also generated strong reactions in a sector of American society, to the point that social networks appeared several users burning products of the company.
If his face is unfamiliar, maybe it's the image of football players with one knee on the ground while the national anthem played before the games began during the last two seasons in the NFL.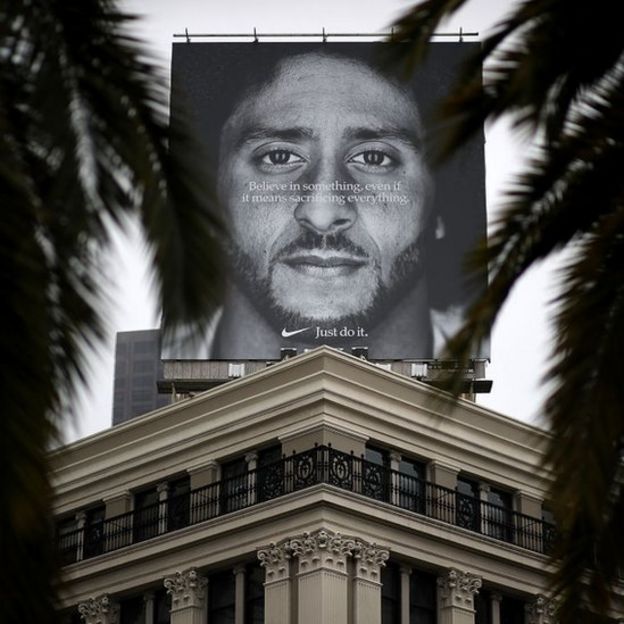 That gesture has been repeated by athletes from many other sports.
All of them have followed the example of Kaepernick , who in 2016 started his protest against racial injustice and police violence by refusing to stand during the anthem.
The position ended up dividing the country and was harshly criticized by President Donald Trump, who considers it a serious lack of respect for the patriotic symbols that represent them.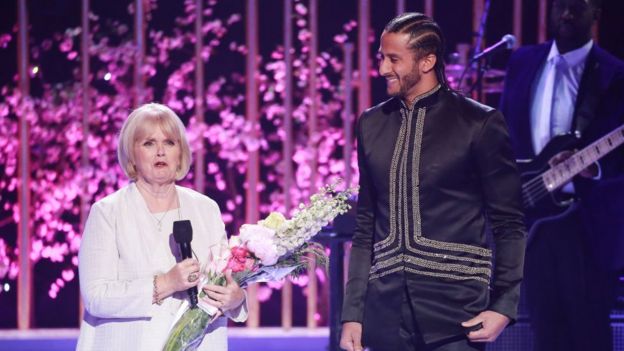 The field marshal, now 30 years old, has been unemployed since March 2017 when he chose to end his relationship with the team with which he achieved fame, the San Francisco 49ers, which led to the Super Bowl in 2013.
None of the other 31 teams in the NFL were interested in his services and it is likely that Kaepernick will be forced to retire because he will not find work for the season that starts on Thursday.
Many players and analysts are convinced of their protest was part of the decision, so the player sued the owners of teams conspire against him .
In August a court indicated that there is enough evidence to bring the case to trial.
origins
Born in Milwaukee to a white mother and black father, Kaepernick was only weeks old when he was adopted into a white-skinned family.
As a child, he was always exposed to answer questions about its origin and many times people did not think that way r a part of the Kaepernick family with her adoptive parents, Rick and Teresa, and two biological children who had the couple.
"It got worse as it got bigger and bigger," Kaepernick told US Magazine in 2015.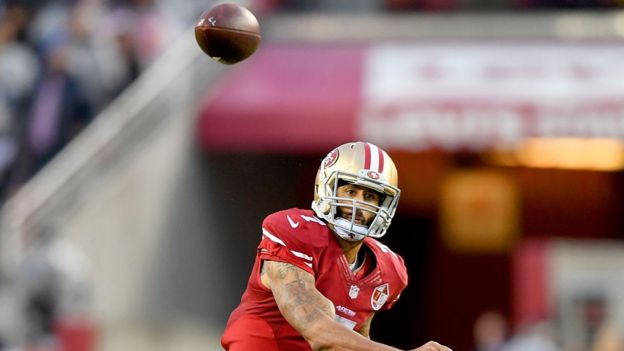 "In the hotel lobbies, it did not matter how close I was to my family." Someone approached me, usually a nervous manager, and said to me: "Excuse me, is there anything I can help you with?" , he recalled during the interview.
Kaepernick excelled in sports during his high school education and the University of Reno, Nevada, offered him a scholarship in 2006.
It was during his stay at the university where he studied business management that he met colleagues with lives very different from his, fostering his interest in the history of the African-American community.
But his activism came to light and became public many years later , in 2016, when his star aura was fading and he had been relegated as a substitute quarterback.
From the words to the action
His presence on social networks went from discussing sports-related issues to mentioning activists like Malcolm X and iconic figures of African-American origin like rapper Tupac Shakur, whose murder in 1996 is still unresolved.
He also took a firmer stance on his ideas since he started dating Nessa Diab , host of a popular hip-hop radio show and follower of the Black Lives Matter movement ("The lives of black citizens matter").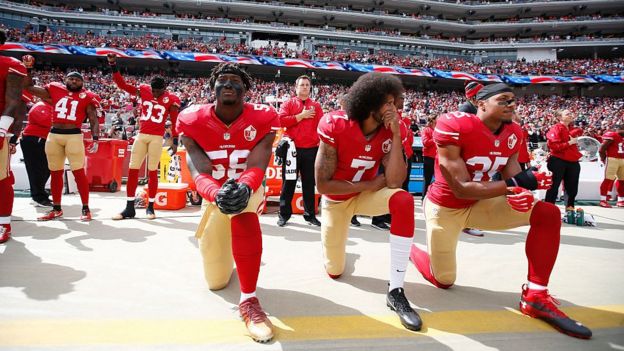 Kaepernick's messages were increasingly frequent and more direct, commenting on one occasion on Twitter that "we are being attacked" following the death of two black people by the police in two isolated incidents.
His words did not have much impact, but everything began to change when on August 26, 2016 he was photographed sitting on the bench while singing the national anthem during a preseason game.
" I will not stop to show pride in the flag of a country that oppresses black people s and people of color , " said Kaepernick the website of the NFL.
"For me, this goes beyond football and it would be selfish for me to look the other way, bodies are on the street."
"I'm not looking for an approval, I have to be for the people who are oppressed, if they take away my football, my sponsors, I'll know I've done the right thing," he said.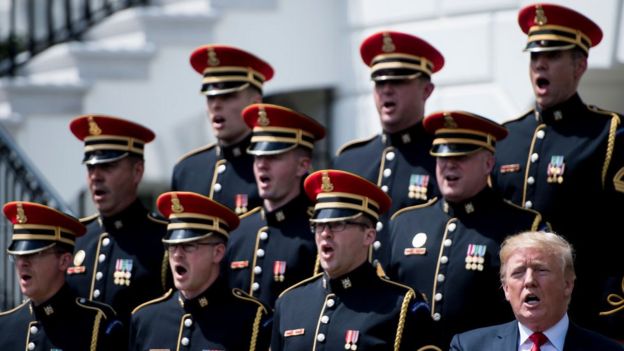 That gesture generated a division of opinions and some accused him of not respecting the memory of the dead soldiers.
Others used the fact that they had grown up in a privileged family to belittle their position against oppression against the black population.
They even went so far as to say that it was simply a player who had fallen into disgrace desperate to get attention.
Even her birth mother, Heidi Russo, said she had "disrespected the country."
Multiplier effect
In the next game, Kaepernick knelt during the anthem with his partner Eric Read.
That same night, Jeremy Lane of the Seattle Seahawks also refused to stop and every week more players joined the protest.
The controversy infuriated Trump, who in a speech at the White House demanded that those who refused to stand during the anthem be fired.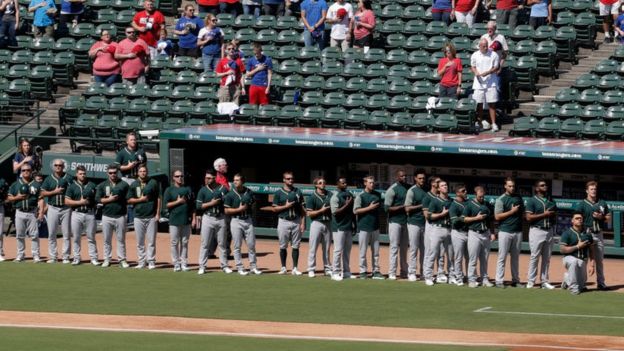 The president referred to the players as "children of p …".
Instead of appeasing the protest, it multiplied to the point that Time magazine dedicated its cover to the image of Kaepernick kneeling.
However, the players did not have the unconditional support of the owners of the 32 NFL teams, none of African-American origin and many of them Trump supporters.
And since he chose to disengage from San Francisco in 2017, Kaepernick remains without a team.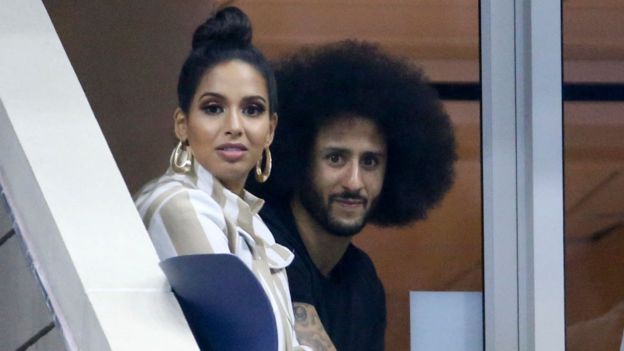 However, its image, instead of vanishing, is very present, through collaborations with charitable organizations or seminars in which it combines sessions of African-American history with advice on how to act in case of interaction with the police.
And now it takes more strength thanks to the campaign of Nike, whose motto ("Believe in something, even if that means sacrificing everything"), is considered a clear reference to its history.