People dying on border, terror and talks can't go together: Sushma Swaraj on dialogue with Pakistan.
Union Minister for External Affairs Sushma Swaraj Monday ruled out dialogue with Pakistan saying "terror and talks can never go together". While asserting that talks on terror were needed, Swaraj said that while comprehensive bilateral dialogue was on hold, talks at other levels, including NSA-level discussions would go on.
Swaraj said India has never said it is not ready for talks with Pakistan. "Seema par jab janaze uth rahe hon toh baatcheet ki awaaz achhi nahi lagti. (When there are people dying on the border, then the idea of talks does not sound good)," she said at a press conference on her ministry's achievements over the last four years. She also said there has been no inconsistency in India's stand on its relations with the country's western neighbour.
Referring to Pakistan's Gilgit-Baltistan Order 2018, which aimed to incorporate the region as a fifth province, Swaraj said India had summoned Pakistan's High Commissioner Syed Haider Shah Sunday and registered its strong protest over the move. India had stated that any action to alter the status of the region, which is under its "forcible and illegal occupation" has no legal basis.
"Pakistan tries to teach us history and geography. It is one country which does not believe in rule of law and I would just say one thing to their answer 'look who's talking'," she said.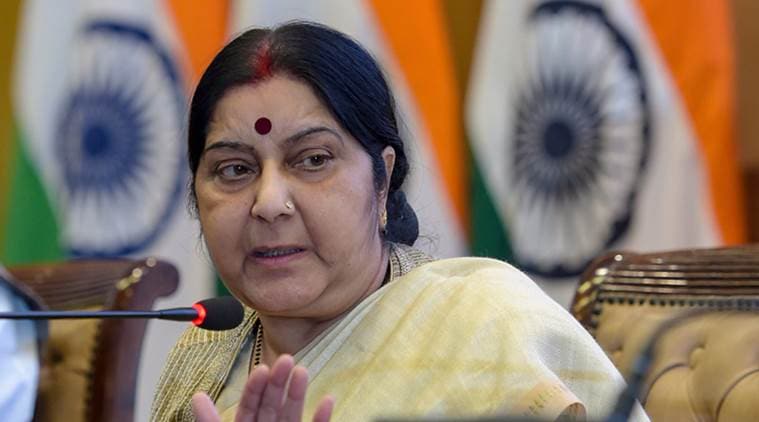 External Affairs Minister Sushma Swaraj speaks during the ministry's Annual Press Conference. (PTI)
Highlighting her ministry's successes in her tenure, Swaraj said India had reached out to 186 out of 192 UN member nations through minister-level visits and plans to reach the remaining six were being finalised. "No Indian minister had ever been to many of these nations before," she said and added that India has also become a member of three of the four global export control regimes.
Referring to Prime Minister Narendra Modi's flagship schemes, Swaraj said India got technical expertise and investment from countries across the world, which brought in over Rs 14 lakh crore between May 2014 and February 2018.
According to Swaraj, the MEA has increased the number of passport seva kendras from 77 to 227 across the nation and more than 90,000 Indians have been brought back safely by the Indian government, including hundreds in jails, and some facing the death penalty.
Modi, she said, has had informal summit meetings with leaders of China, Russia and Germany, which is a new and unique "dialogue mechanism". She clarified that status quo at the face-off site at Doklam is "continuing" and there hasn't been any change in "the situation" since August when both China and India agreed to withdraw their troops after months of a stand-off.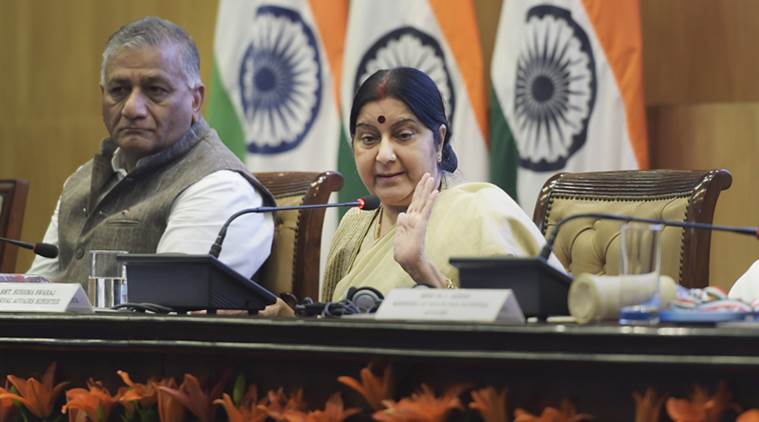 External Affairs Minister Sushma Swaraj with Minister of State V K Singh, during the ministry's Annual Press Conference on completion of 4 years of the NDA government. (PTI)