The year 2018 did not come with glad tidings for Pakistan — a country, which according to 2018 Global Climate Risk Index report, ranks among top 10 countries most susceptible to climate change.
From ferocious heat waves to water woes, Pakistan needs to urgently work to combat the challenges ahead such as mass migration, loss of lives and livelihood, damage to the economy and crops.
Media takes note of the most pressing climate change stories from Pakistan this year:
Pakistan lost $382 million due to climate change
Between 1998 to 2017, Pakistan lost $3,826 million battling climate change issues, according to the report, and more than 10,000 human lives.
In order to mitigate the issue of greenhouse gas emissions, Pakistan would need $40 billion in funds, according to the Asian Development Bank.
Hottest day in April in Nawabshah
This year, Nawabshah in Sindh witnessed the hottest day recorded on earth during April, as temperature soared to 50.2° Celsius. Several people reportedly suffered from heat-related dizziness and fainting.
Lahore records 214 mm rains, the heaviest in 38 years
In July, Punjab capital city, Lahore, recorded 214 millimeters (8.4 inches) of rain within a single day, the heaviest shower it has had in over 38 years. The torrential rain killed eight people, inundated areas and left many stranded. Two large sinkholes also appeared on the main thoroughfares of the city, 20ft deep and 200ft wide.
Karachi heatwaves
Not one, not two, but five heatwaves spells lashed Karachi, with highest temperature recorded as 45°C in May. The city faced an extended heatwave when the mercury reached 44°C for four to five days. Interior Sindh cities, Mohenjo Daro witnessed 50°C while in other cities, including Shaheed Benazirabad, Larkana, Dadu, Jacobabad, Lasbella, Sibbi, and Bahawalnagar the mercury went up to 49°C.
Water scarcity and the dam initiative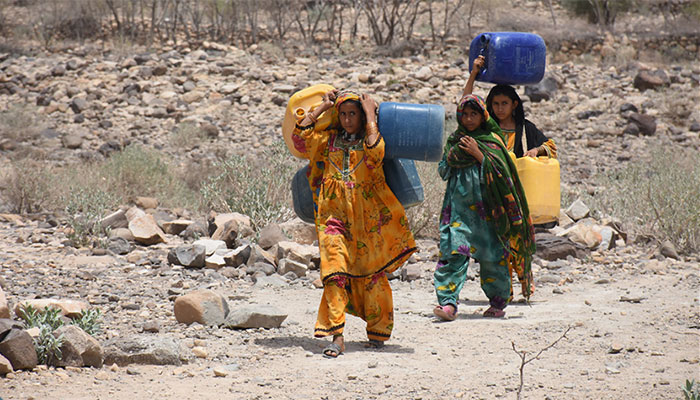 Official projections show that Pakistan, whose population has increased fivefold since 1960 to over 207 million, will run dry by 2025. The country will be facing an absolute scarcity of water with less than 500 cubic metres available per person.
Following the emergence of the news, the Chief Justice of Pakistan Saqib Nisar launched a campaign to raise funds for the construction of two large water dams.
Election year, party manifestos
This year's election was somewhat different. One departure from the norm was the talk of environment. The Pakistan Tehreek-e-Insaaf, which went on to form government, placed special importance on the need to save the environment in its party's manifesto.
Since Imran Khan has been elected prime minister, he has rolled out several initiatives to increase Pakistan's green-cover, such as the Clean and Green Pakistan drive and the Billion Tree Tsunami campaign.
Fighting smog
Due to the onslaught of smog during winters, the provincial government ordered the closure of brick kilns for 70 days, starting October till December 31.
Pakistanis among 800 million at risk of Global Warming: WB
The World Bank in a report had stated that 800 million South Asians were to face dire living conditions due to climate change, if greenhouse gas emissions were not reduced. The report said that the hotspots for climatic deterioration included six countries of the region.