The night of the delivery of the 2018 Oscar Awards this Sunday was not only awards to the world of cinema and fashion show, it also had a theft.
And is that the Oscar of the winner of best actress, the American Frances McDormand disappeared after the award ceremony.
Police in Los Angeles, California, confirmed that Terry Bryant, a 47-year-old man, was arrested on charges of stealing the statuette, which disappeared from a post-gala party in that US city.
The award that already had the name of the recorded actress was returned to McDormand.
A representative of the artist told USA Today that "Fran and Oscar are happily reunited and enjoy a hamburger together."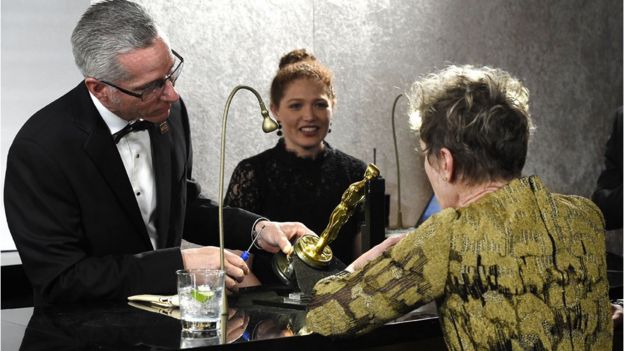 Police in Los Angeles reported that Bryant had an entry ticket to the Governor's Ball party, an official formal dinner after the ceremony.
The actress was celebrating there the award for her role in the movie "Three announcements for a crime."
During the ceremony, McDormand was applauded energetically for his speech when he received the Oscar, in which he asked all the women candidates to stand with her.
"Look around, look, ladies and gentlemen, because we all have stories to tell and projects that need funding," he said.
"I have two words to leave tonight: inclusion clause."
McDormand's Oscar was awarded for playing a mother who seeks justice by being defrauded by the authorities after her daughter was raped and murdered.
It is the second Oscar of the actress, 21 years after her first for the movie Fargo.