Stephen Hawking warned on Tuesday that efforts to create intelligent machines represent a threat to humanity.
The renowned scientist told the BBC that "the development of a complete artificial intelligence (AI) could be translated into the end of the human race."
The theoretical physicist, who suffers amyotrophic lateral sclerosis (ELS), uses a new advanced system to communicate.
His warning came in response to a question about the renewal of such technology, which involves a basic form of AI.
The new communication system of Hawking was developed by the company Intel and the British company Swiftkey.
It is a technology already used by smartphones, and learns how the scientist thinks and then suggest the words he would like to use when expressing himself.
"Overcome"
For Hawking, the artificial intelligence developed so far has proved very useful, but he fears that a more elaborate version of AI "may decide to redesign itself and even reach a higher level".
"Humans, who are beings limited by their slow biological evolution, will not be able to compete with the machines, and they will be overcome," said the scientist.
However, others are less pessimistic about it.
"I think we're going to stay in control of the technology for quite a long time, as long as we can solve the global problems that come up," said Rollo Carpenter, creator of Cleverbot.
Enthusiasm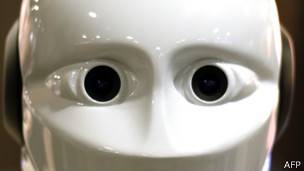 Cleverbot is a software that learns from the conversations it holds, and has achieved high marks in the Turing exam, a test to measure the development of artificial intelligence.
Carpenter says that humanity is still far from developing the algorithms necessary to achieve complete artificial intelligence, but believes that it will be reached in the coming decades.
In spite of the fears, Hawking is enthusiastic about the improvements applied to the technology he uses to speak and write.
The only thing that did not change was the robotic tone of his voice, but Hawking insisted that he did not want a more natural voice.
"It has become my brand, and I would not have changed it to one with a more natural tone and a British accent … I have been told that children who need a voice on the computer want one like mine," he concluded.