India continues to be the country in the world with the highest number of girls' marriages, despite the fact that their law requires them to be at least 18 years old.
But cases like Monika show that things are changing and that the voices of these girls, although very slowly, begins to be heard before allowing their childhoods ended in too early.
---
In the morning before any wedding there are many preparations to be made.
On November 4, Monika waited to be combed and made up. He was going to put on his garnet wedding sari, as tradition dictates.
The jewels chosen for the occasion would decorate her ears and nose, and also cover her neck. For this Indian wedding, her hands would also be painted with complex swirls of henna.
There was a lot to do. But within hours of the ceremony, no one noticed that the bride was hiding in the shadows of the family home to make a last phone call.
He did not call a friend, nor to check that everything was ready in the place where the wedding was to be held. Nervous, Monika marked four digits: 1098 .
Too young to marry under Indian laws, Monika wanted to stop her own wedding.
A husband for Monika
Monika was 13 when she was going to celebrate her marriage. This is confirmed by the charity that helped her and her school records.
However, his parents say he is over 17.
It is usual in this part of India that the age of some people is not very clear. Often, birth certificates do not exist in poor families like Monika's.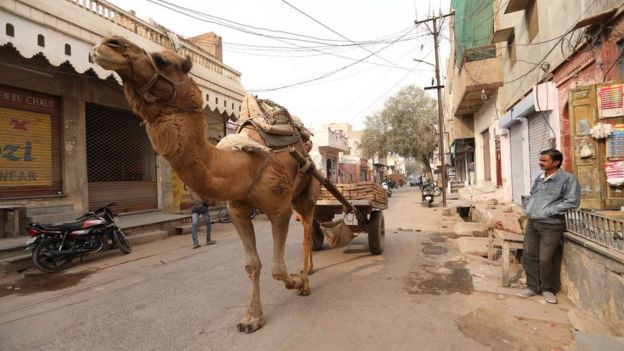 What is not in doubt is that she is still a girl and that the law only allows marriages from the age of 18.
It was in September of last year when his father, Ganesh, got up at dawn to carry out an important mission.
When he returned to his home in a poor neighborhood of Bikaner, in the northwest of the country, he sat next to Monika's mother, Sita, to give the girl a story.
"Mom and Dad told me that they had found a man for me in Churu (almost 200 kilometers away) and that he was very kind, polite and worked as a worker," recalls Monika.
When asked to describe who her husband was going to be, she says without showing any emotion she had never seen, but that her parents showed her a photograph. He was 22 years old.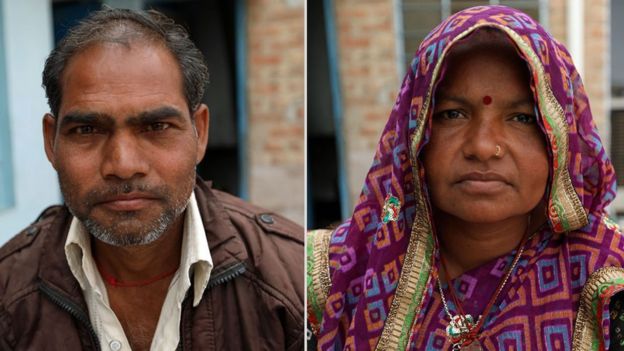 As an obedient daughter, her first instinct was to do what her parents told her, but she began to have doubts. "I felt I was very young and that I should not get married, I wanted to study and be a teacher."
"I told them I did not want to get married and they asked me why, I explained that a girl should be at least 18 years old."
The marriage would have meant for her a life of isolation in the house of her future husband, four hours by train.
"Nobody would let me play or talk and I would have to take care of all the household chores, my political family would force me to do lots of jobs … and I just work."
I felt that I was very young and that I should not get married. I wanted to study and be a teacher "
(Photo: Peter Leng / Neha Sharma)
So, why did Monika's parents think it was right to marry her daughter so young?
A double wedding
Drinking tea sitting in the small patio of his house, it is easy to see that Ganesh and Sita love their five daughters. But his life is not easy.
Ganesh earns 500 rupees a day (US $ 7.6), but his construction work is sporadic. Monika's mother and grandmother clean the rubbish from the houses in the neighborhood.
As often happens with families of this origin, only older daughters receive some education. The options of studying for Monika seem to have vanished for the moment.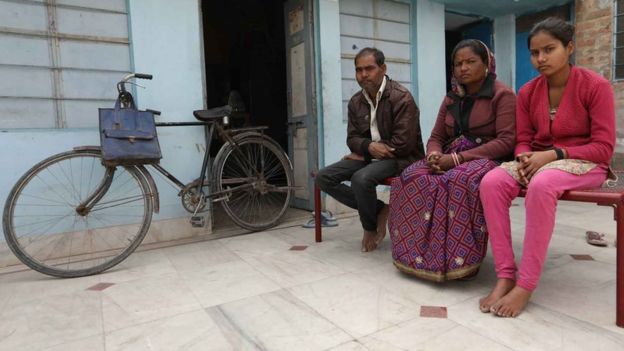 In the house there are stacked furniture. Among them there is a lockable trunk and a new refrigerator in its original box. It's funny, considering that there does not seem to be a working refrigerator in the house.
Everything is part of Monika's dowry, carefully saved by her father for the day she marries. Ganesh believes that his main responsibility is to marry and give a stable life to his daughters.
His eldest daughter, Rajini, was getting married in November. Her boyfriend had a brother and Monika's family thought it made sense to hold a double wedding to save money.
But what they had planned for Monika was illegal according to Indian law. "We knew that era a crime. We feel bad," says Ganesh.
For Sita, however, their circumstances left them little choice. "What could we do?" He says as he shrugs.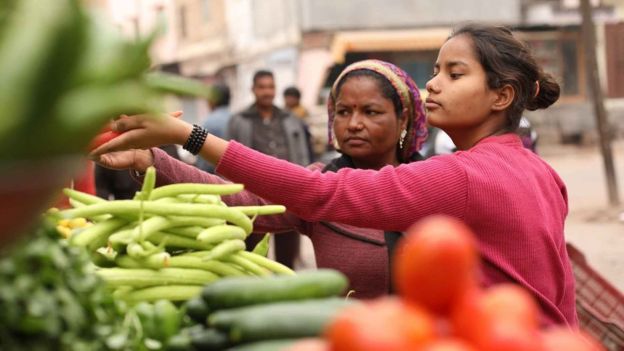 Ensures that the marriage was also arranged for the safety of Monika. "When we go to work, we worry about leaving our daughter alone at home because our neighborhood is not safe," she says.
Your last resort
Monika is sitting next to her parents as they tell their story. He does not seem to hold a grudge against them.
"When I saw my sister in the wedding dress, I realized that only she could do it, I could not," she says.
Monika contacted Childline , a national helpline for children. He had seen the easy-to-remember number in books: 10-9-8. He grabbed a phone and called. There were only a few hours left for your wedding.
He was afraid, but it was his last resort. He called and told his story.
"I asked them: 'Can you please do something to stop my wedding ? '".
The person listening to her from Delhi tried to calm her down. He took his data and, according to Monika, said: "Do not worry, we are on our way".
It is the moment when a young woman named Preeti Yadav enters the story. Your organization, Urmul Trust, deals with cases of the helpline for children. Preeti answers calls at all hours, day and night.
Sometimes she has to act against the clock to avoid girls' weddings and she is seen running around the city on her little white motorcycle.
"We had a great challenge because we had to save a girl in only three hours,"says Preeti.
The local police arrived at Monika's house at 5:00 p.m. and warned those present that the wedding could not be performed because of the girl's age. But the family ignored it.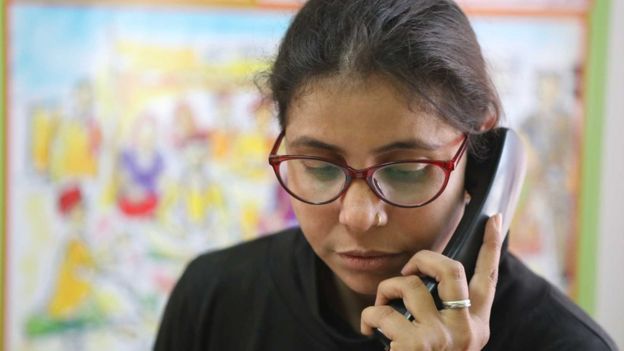 At 20:00, Monika called Preeti again. Her parents had changed the place of the ceremony to her grandmother's house and still wanted to marry her.
Two hours later, Preeti and the police showed up at the house. Monika was already wearing her wedding dress. Without saying a word, he smiled when he saw them.
The guests began to murmur. No one knew who had called the police.
"We took Monika's parents and grandparents to a room and explained that not only does the girl suffer from early marriage, but they also could be punished for this crime," says Preeti.
The police took a written statement in which they undertook not to marry the girl before the age of 18. They were warned that if they tried again, they could go to jail.
Preeti is seen as a kind of older sister for girls like Monika and admits enormous satisfaction for her work.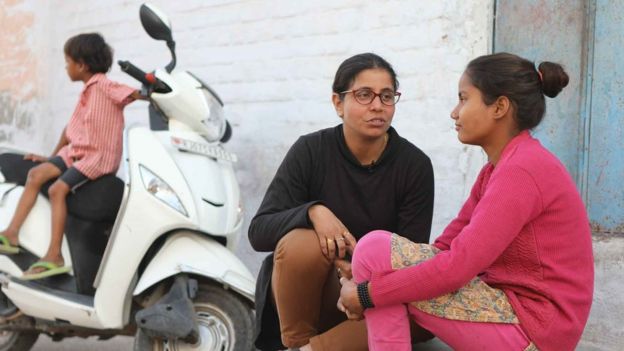 "When I meet these girls, we often stay in touch forever, and I feel very proud to be able to help them save their lives and protect their future," she says.
A slow change
Preeti has seen between 20 and 25 cases of child marriage so far this year. This practice has been banned in India since 2006, but it is still widespread and is the country with the largest number of cases in the world, according to Unicef.
"The situation is changing and the average age of girls getting married is increasing, it used to be between 10 and 11 years old, but now it's between 14 and 15," says Arvind Ojha, leader of the Urmul Trust organization.
Along with him, a hundred children and women see a puppet show about a girl who does not want to marry.
"Look at how involved everyone is, with that participation, it 's how the transformation comes ," he says proudly.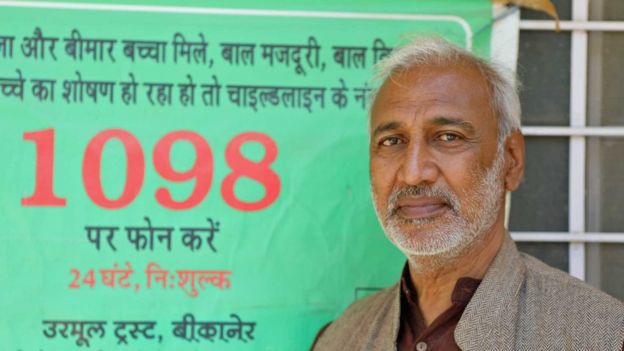 According to Unicef, 12 million girls (one in five in the world ) are married each year before they turn 18.
During the last decade, important advances were made, especially in Southeast Asia, which are now trying to replicate in sub-Saharan Africa.
Niger, for example, continues to be 76% the country with the highest percentage rate of women between 20 and 24 years old who were married before the age of 18.
But it is not a problem unique to developing countries. Child marriage also exists in communities in Europe and North America.
As in the case of Monika, poverty is one of the most common conditions for families that carry out this practice. But experts say that, basically, it is a question of gender inequality.
"It happens to girls because they think they are worth less than boys," says Lakshmi Sundaram, of the global girls organization , Not Brides .
Statistics suggest that these cases are more common in rural areas and among girls with low levels of education. Therefore, Sundaram believes that schools are one of the best forms of protection.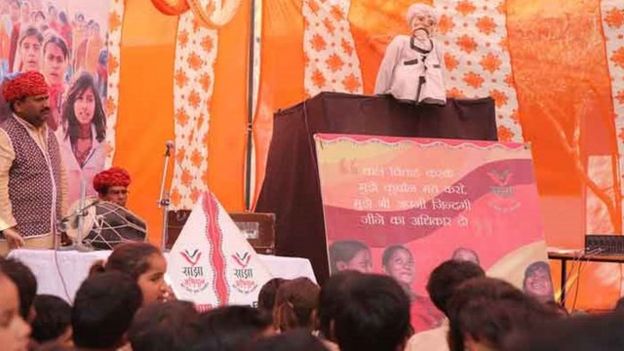 "When a girl is in school, there is a feeling in the community that she is a student who must finish her studies, but as soon as she leaves school, she is seen as a future wife and mother."
The work of religious and tribal leaders is also key to ending child marriage, experts say.
The future of Monika
There is a great stir outside of Monika's house after the word has spread that the BBC has come from London to interview her.
"Is it because of the wedding canceled," asks a neighbor. That alone gives an idea of how important it is that a girl denounce to what they wanted to do their parents.
Although some may be surprised, Monika's mother is proud of what her daughter did.
"Yes, I feel good about it," admits Sita. "I really like that my daughter has done it, the change has come for everyone."
For her part, Monika is sure that she did the right thing and wants her story to be known.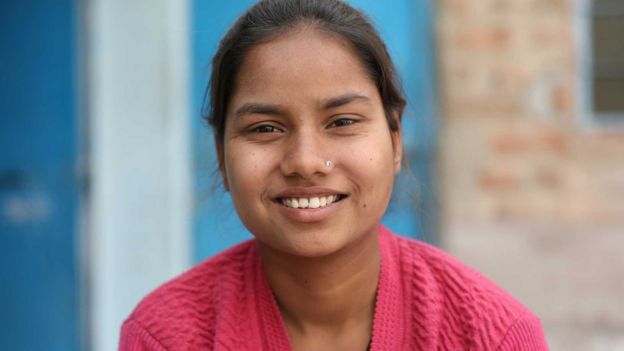 "Maybe some other girl will learn from my case and can also stop her child marriage, and if she can not do it, I'll help her myself!" .
What is surprising is that girls like Monika personally take up the fight against child marriage in a culture where their voices are not widely heard.
It seems unthinkable that 10 or 20 years ago there would have been this type of resistance. At that time, the girls would have been more docile and would have accepted their destiny as defined by a patriarchal society.
But now, it seems that there is a possibility of real change.
However, not everything is perfect for Monika. With nostalgia, he says he would like to go back to school, something that Urmul Trust is trying to solve.
A childhood almost got lost. Now, thanks to an act of adolescent rebellion, a childhood was recovered.