They knew that North Korea was somehow helping the Syrian government forces … but not up to this point.
A confidential UN report now reveals that Pyongyang has been supplying materials to Syria that can be used for the manufacture of chemical weapons, by passing the international sanctions that weigh on both countries.
The allegations come amid accusations by the international community against the Syrian government, which they say is using chemical weapons against civilians, an extreme that Bashar al-Assad denies.
The contents of this document, over 200 pages, was released by US media and at the moment it is unknown whether it will be announced officially . Much of the information it contains was provided by unnamed member states of the UN.
The report warns of the potential danger of this kind of trade between Syria and North Korea, which would allow Damascus to keep its chemical weapons while Pyongyang gets money for its nuclear and missile program published by the newspaper The New York Times , one of the first to spread the news.
What does the report say?
The report was made by a panel of experts from the UN that assesses that North Korea complies with the resolutions of the group and includes copies of contracts between companies of both countries as well as invoices specifying the materials sent, such as slabs, valves and thermometers, all resistant to acids .
North Korean technical assistance, which began more than a decade ago , also included three visits by missile experts from the Asian country in 2016.
The components were part of at least 40 shipments from North Korea to Syria between 2012 and 2017 for parts of forbidden missiles and materials that can be used for military and civilian uses, according to research details published by The New York Times.
Five shipments were sent to Syria through a Chinese company during late 2016 and early 2017, reports the T he Wall Street Journal.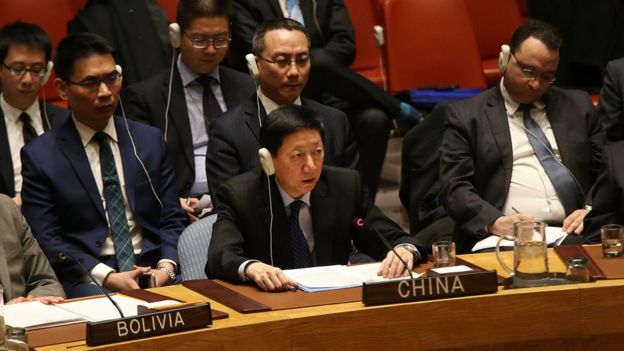 The Center for Scientific Research and Studies (SSRC), the group supported by Al Assad responsible for developing chemical weapons and other weapons of mass destruction, allegedly paid Pyongyang's main arms dealer through of several ghost companies, adds the newspaper.
"Wide" collaboration
The UN panel of experts had previously accused North Korea of helping Syria in its chemical weapons program.
In a report last August, the group said that Pyongyang had secretly supplied gas masks and other protective equipment to Al Asad's government.
Now this document goes further: it suggests that aid to Syria was much more "broad".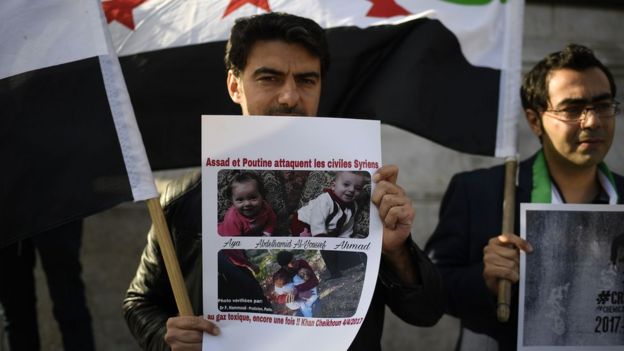 "We knew that this activity was taking place for a long time, but the report shows that it was bigger than we thought," a Western diplomat told the newspaper that he was informed of the conclusions of the document and that he wanted to remain anonymous.
Although experts who saw the report said that the evidence does not definitively prove that there was continued collaboration between North Korea and Syria in chemical weapons, they did consider that it provides the most detailed evidence so far of the efforts of both countries to avoid the sanctions that try to undermine its military advances, highlights T he New York Times.
The Syrian government, for its part, assured the UN panel that the only North Koreans present in Syria are limited to the sports sector, specifically, coaches and athletes.

MAIN CONCLUSIONS OF THE REPORT
North Korea supplied materials to Syria that can be used for the manufacture of chemical weapons or construction of plants where they are manufactured

The aid from Pyongyang also included visits from missile specialists from the Asian country

At least 40 shipments were produced between 2012 and 2016. Five of them were sent to Syria through a Chinese company

The Center for Research and Scientific Studies, a group in charge of weapons development supported by the Syrian government, paid Pyongyang through ghost companies

The attacks continue
Syria signed the Chemical Weapons Convention and agreed to eliminate its chemical weapons in 2013 after a sarin gas attack killed hundreds of people in Guta.
Since then, Bashar al-Assad's government has been accused on multiple occasions of using chemical weapons during the seven-year civil war.
Last April, an attack was carried out in the Khan Sheikhoun locality, taken by the rebels, with sarin gas, according to the organization for the Prohibition of Chemical Weapons (OPCW, for its acronym in English).
In that incident, at least 80 people were killed and hundreds became sick, and, according to UN investigators, it was perpetrated by the Syrian air force.
The United States carried out an attack in response to a Syrian air base, but President Bashar al-Assad always maintained that the event was false .
The last attack with chemical weapons that came to light occurred last Sunday, in Guta Oriental, an enclave controlled by rebels near the capital, Damascus.
The Pyongyang businesses
Western experts had earlier warned that North Korea has long been providing military materials and transferring knowledge about weapons around the world to earn income, amid heavy sanctions imposed on it.
The UN report highlights Pyongyang's efforts to carry out illicit business with dozens of countries and groups in the Middle East, North Africa and Latin America.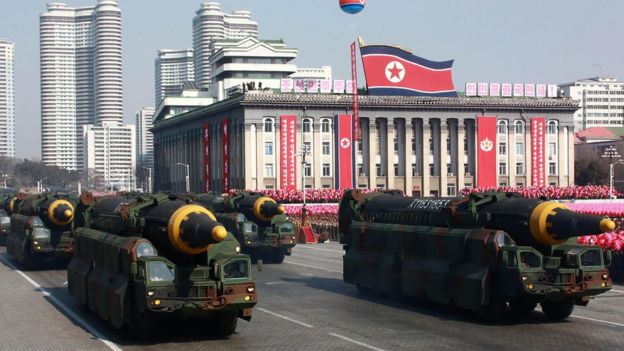 In its attempt to economically drown the North Korean regime, and thus curb its nuclear program, Washington announced last week a new and severe sanctions package.
For the moment, however, these measures have not been able to stop the progress of Kim Jong-un: 2017 was a year of success in terms of arms for the isolated Asian country, with successful nuclear and missile tests.