It is mandated in the Constitution of Pakistan to provide free and compulsory education to all children between the ages of 5-16 years and enhance adult literacy. With the 18th constitutional amendment the concurrent list which comprised of 47 subjects was abolished and these subjects, including education, were transferred to federating units as a move towards provincial autonomy.
The year 2015 is important in the context that it marks the deadline for the participants of Dakar declaration (Education For All [EFA] commitment) including Pakistan. Education related statistics coupled with Pakistan's progress regarding education targets set in Vision 2030 and Pakistan's lagging behind in achieving EFA targets and its Millennium Development Goals(MDGs) for education call for an analysis of the education system of Pakistan and to look into the issues and problems it is facing so that workable solutions could be recommended.
The education system of Pakistan is comprised of 260,903 institutions and is facilitating 41,018,384 students with the help of 1,535,461 teachers. The system includes 180,846 public institutions and 80,057 private institutions. Hence 31% educational institutes are run by private sector while 69% are public institutes.
Analysis of education system in Pakistan
Pakistan has expressed its commitment to promote education and literacy in the country by education policies at domestic level and getting involved into international commitments on education. In this regard national education policies are the visions which suggest strategies to increase literacy rate, capacity building, and enhance facilities in the schools and educational institutes. MDGs and EFA programmes are global commitments of Pakistan for the promotion of literacy.
A review of the education system of Pakistan suggests that there has been little change in Pakistan's schools since 2010, when the 18th Amendment enshrined education as a fundamental human right in the constitution. Problems of access, quality, infrastructure and inequality of opportunity, remain endemic.
The parents are equally responsible for the falling standard. Home plays the most important role in shaping the thinking and character of children and youth. In fact, a mother's lap is the first school for a child. Parents are over indulgent with their children. They are allowed to do as they please. Lack of proper upbringing of children is a main cause of poor discipline. Parents have no strict control on youth.
1)      Lack of Proper Planning: Pakistan is a signatory to MDGs and EFA goals. However it seems that it will not be able to achieve these international commitments because of financial management issues and constraints to achieve the MDGs and EFA goals.
2)      Social constraints: It is important to realize that the problems which hinder the provision of education are not just due to issues of management by government but some of them are deeply rooted in the social and cultural orientation of the people. Overcoming the latter is difficult and would require a change in attitude of the people, until then universal primary education is difficult to achieve.
3)      Gender gap: Major factors that hinder enrollment rates of girls include poverty, cultural constraints, illiteracy of parents and parental concerns about safety and mobility of their daughters. Society's emphasis on girl's modesty, protection and early marriages may limit family's willingness to send them to school. Enrollment of rural girls is 45% lower than that of urban girls; while for boys the difference is 10% only, showing that gender gap is an important factor.
Do you know: Currently in Pakistan there are more than 25.02 million of children between the ages of 5 to 16 who are not in schools. (Source: The Dawn)
4)      Cost of education: The economic cost is higher in private schools, but these are located in richer settlements only. The paradox is that private schools are better but not everywhere and government schools ensure equitable access but do not provide quality education. 
Titled 'I AM ASHAMED OF BEING A BEACONITE TODAY' one man let his anger out by telling the country how Beaconhouse School System was torturing students mentally after parents had protested against the school due to the recent fee hike.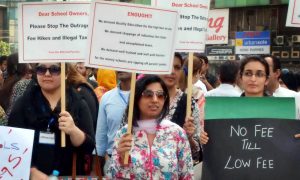 The content of the Facebook post reads: "Beaconhouse School has crossed it's limit of being a Capitalistic money sucking corporation. Parents of students studying in many various private schools all around Karachi started protesting against the schools for increasing the fees of students by 13% every year, where the Law clearly states that a private institute can only increase the fees by max 5% each year.
After many protest the case was taken to court where court stated that until the decision is not taken the parents won't pay the fees and the school can not suspend or expel a student for not paying the fees. Where other schools like City, FPS and HeadStart followed the court's order BEACONHOUSE started their cheap tactics of scaring the parents by stopping the student's result and suspending students from the school and now are not even giving the CIE Fee voucher.
When asked to give in written that you are not giving us the result the school clearly denied saying that the Regional Office has given us order to give nothing in written as they know that any written letter can be an evidence against them.
I was a part of Beaconhouse for 13 years and never thought that the school could do something this horrible. Just because their owners are ministers they think they can do anything and get away with it.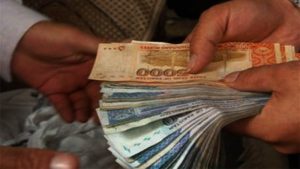 The saddest part is that the branch management of Beaconhouse are acting like puppets and doing nothing against this injustice, those people whom I knew for such a long time. If you are thinking how I know this all is because my sister is in the 11th grade in Beaconhouse and being her last year still we are standing against this injustice. I know many of you are Beacon alumni like me and want you guys to share this as much as you can to show that the alumni is against their school"
The post has been shared over 1200 times and people are condemning the school's actions against the children, along with the illegal fee hike. Parents have been urged to not surrender to the illegal demands of the fee increment and stand strong in these tough times.
5)      War on Terror: Pakistan's engagement in war against terrorism also affected the promotion of literacy campaign. The militants targeted schools and students; several educational institutions were blown up, teachers and students were killed in Balochistan, KPK and FATA. This may have to contribute not as much as other factors, but this remains an important factor.
6)      Funds for Education: Pakistan spends 2.4% GDP on education. At national level, 89% education expenditure comprises of current expenses such as teachers' salaries, while only 11% comprises of development expenditure which is not sufficient to raise quality of education.
7)      Technical Education: Sufficient attention has not been paid to the technical and vocational education in Pakistan. The number of technical and vocational training institutes is not sufficient and many are deprived of infrastructure, teachers and tools for training. The population of a state is one of the main elements of its national power. It can become an asset once it is skilled. Unskilled population means more jobless people in the country, which affects the national development negatively. Therefore, technical education needs priority handling by the government.
There is a need for implementation of national education policy and vision 2030 education goals. An analysis of education policy suggests that at the policy level there are several admirable ideas, but practically there are some shortcomings also.
It may not be possible for the government at the moment to implement uniform education system in the country, but a uniform curriculum can be introduced in educational institutes of the country. This will provide equal opportunity to the students of rural areas to compete with students of urban areas in the job market.
Since majority of Pakistani population resides in rural areas and the access to education is a major problem for them, it seems feasible that a balanced approach for formal and informal education be adopted. Government as well as non-government sector should work together to promote education in rural areas.