It is known that flies carry germs that they collect and spread throughout the places where they travel.
This is not a surprise considering that to reproduce they usually place their eggs in places like garbage, excrement or dead animals.
That is why we are horrified when one of these insects perches on our plate of food.
What until now was not known is how many microbes can travel in a fly.
The answer, says a team of scientists,is that they are many more than we thought.
The housefly and the flyfly, two of the most common fly species, can harbor more than 300 different bacteria, according to a DNA analysis published in the journal Scientific Reports .
And most of these microbes, say the researchers, can spread diseases in humans, including intestinal infections, sepsis and pneumonia.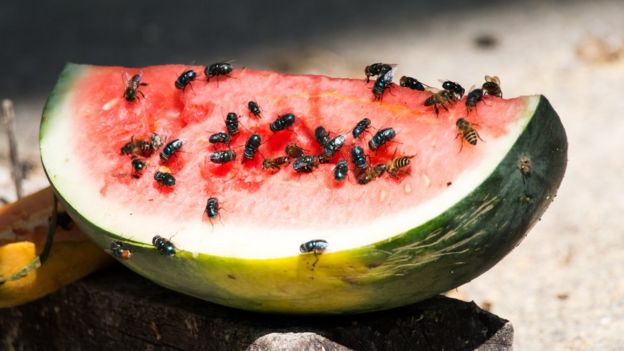 As the study's experiments showed, flies can spread bacteria from one place to another in their legs, tarsi and wings.
In fact, scientists say, with every step a fly gives, it can transfer live bacteria.
"People had a certain notion that there are pathogens that can be transported by flies, but it was not known to what extent this is true or the extent to which this transfer occurs," Professor Donald Bryant told the BBC. State University of Pennsylvania, one of the authors of the study.
Propagation in outbreaks
The scientists used DNA sequencing techniques to study a collection of microbes found inside and on the bodies of the house fly (Musca domestica) and the fly ( Chrysomya megacephala) .
They discovered that the housefly, which is found throughout the world, can harbor 351 types of bacteria.
The hornet, which is located in warmer climates, carries 316.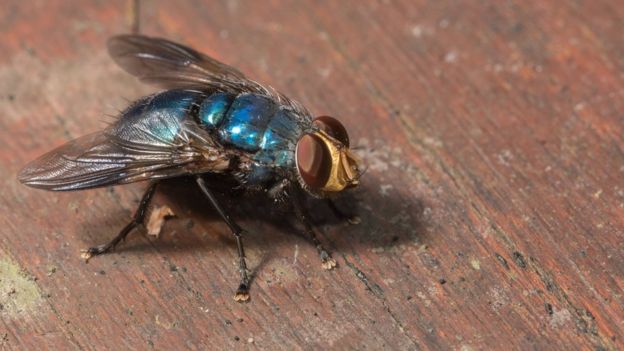 A large number of these pathogens are transported by both types of fly.
Professor Bryant says that perhaps public health authorities have not given enough importance to flies as an element to spread diseases.
"We believe that this study may show a mechanism of pathogen transmission that has been ignored by public health officials," he says.
"And flies can contribute to the rapid transmission of pathogens in situations of disease outbreaks ."
"This really will make you think twice before you eat that potato salad that has been discovered during your day in the field," he adds.
For the study, researchers analyzed the microbiome of 116 house flies and blowflies from three different continents.
In addition to detecting and characterizing the group of germs found within the stomachs of insects, the scientists also analyzed the microbial content of each individual part of the body.
They discovered that the legs were responsible for the transfer of most microbial organisms from one surface to another.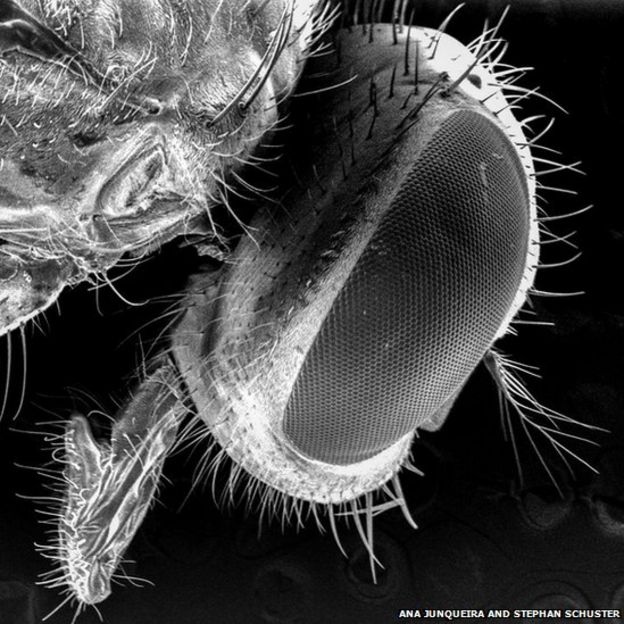 "The legs and wings show the highest microbial diversity in the body of the fly, which suggests that the bacteria use the flies as aerial ferries," says Stephan Schuster, research director at Nanyang Technological University in Singapore. He also participated in the investigation.
"Perhaps the bacterium survives its journey by growing and spreading to a new surface – in fact, the study shows that in each of the hundreds of steps a fly gives, it leaves behind a trace of a microbial colony," he adds.
Utility
This, however, does not mean that flies are useless.
Scientists believe that these insects can act as early warning systems for diseases or even as "living drones" that can be sent to confined spaces to search for microbes.
In fact, flies could be intentionally released as autonomous biotic drones in small spaces or cracks and, when they are recaptured, you can get information about any biotic material they have found, "explains Stephan Schuster.
House flies are known for their poor hygiene habits and are suspected of spreading a range of human, animal and plant diseases.
The blowfly is one of the most common fly species found in dead animals.
They are also common in urban areas and are often found near meat processing plants, garbage dumps and slaughterhouses.