The North Korean government develops "an aggressive program" to build and deploy its first submarine capable of launching operational ballistic missiles, according to an analysis of new satellite images made by the 38 North specialized website.
The photos represent a powerful reminder that, in addition to developing intercontinental ballistic missiles launched from the ground, Pyongyang also develops a secret program to launch long-range missiles from a submarine.
In fact, as shown by the images, he already has a submarine prototype and a submersible launch barge, from which he has made a series of test shots.
But it does not stay there.
The new images show that the hermetic Asian country is doing important work in the shipyard of Sinpo, on the east coast, to expand its construction facilities.
There are also indications that another submarine carrying missiles could be under construction.
The images show two large circular objects that can be sections of a pressure helmet.
The size suggests that the objects could belong to the boat that will follow the existing prototype, the Sinpo class ship.
The satellite images showed that during 2017 there was a continuous movement of parts and components to and from the deposits adjacent to the large construction facilities of the shipyard.
Gantry and tower cranes have been mobilizing regularly, suggesting "a protracted and active shipbuilding program," according to the 38 North website.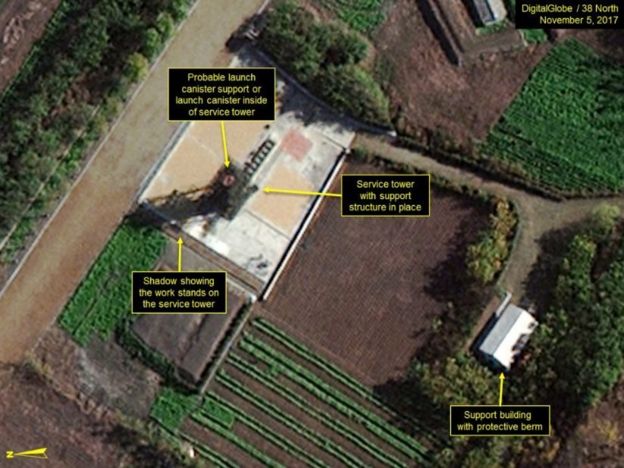 With only satellite images, it is difficult to analyze how much progress North Korea's submarine-launched missile program has made.
But Mark Fitzpatrick, a veteran weapons control expert at the International Institute for Strategic Studies, told the BBC that missiles launched from submarines could give North Korea additional capacity if it faces an attack to eliminate its nuclear forces.
The expert also points out that "until now, North Korea has often surprised analysts and exceeded all expectations in terms of the progress of their missile development."
Shooting a missile from a submerged submarine poses several important challenges.
So far, North Korea has only used one submersible test boat, and its sea-based missile program is still far from operational.
But the program is a measure of Pyongyang's strategic ambitions, and another indication that it is unlikely to surrender its nuclear arsenal soon.