A 1.8 kilogram brain tumor.
That's what they removed the Indian Santlal Pal, 31, on February 14 in Bombay, India.
The doctors who participated in the operation assure that the tumor can be "the largest in the world".
The surgery, which lasted seven hours, was performed at the Nair hospital in Bombay.
The procedure had not been made public until now because the doctors wanted to make sure that the intervention was successful.
"Now it's a matter of recovery, but it's out of danger," Dr. Trimurti Nadkarni, head of neurosurgery at the hospital , told the BBC.
Santlal Pal, who is a merchant and lives in the northern state of Uttar Pradesh, lived with the tumor for three years before surgery.
" E l tumor was much larger than his own head" , he described the neurosurgeon Trimurti Nadkarni newspaper The Hindu .
But fortunately only 10% of the tumor grew inside the skull.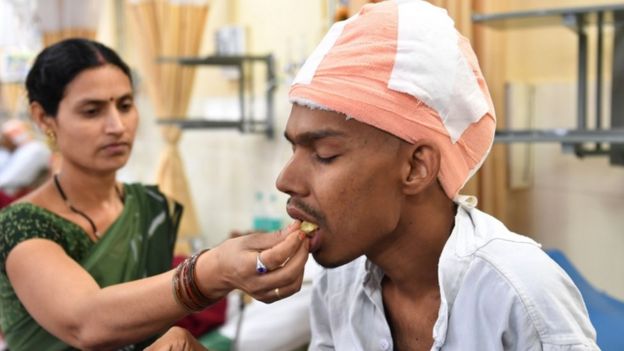 The doctors said that Pal had lost vision because of the tumor , but they hope to recover it while the recovery process continues.
His wife told The Hindu that doctors from three different hospitals in Uttar Pradesh had claimed that the tumor was not operable.
"These cases are critical," said Dr. Nadkarni.
The doctor added that Pal needed 11 blood transfusions during the operation and then was connected to an artificial respirator for a few days.
Regarding the size of the tumor, Nadkarni said that with his team they reviewed "all available medical texts".
"We have not found any as big as this tumor , " as he told The Hindu .