"This is how I beat diabetes with 200-calorie soups": the simple and innovative diet that could revolutionize the fight against this disease
Isobel Murray was one of 300 people who participated in a clinical trial conducted in the United Kingdom in which almost half of the patients overcame the type 2 diabetes they suffered.
The key was a diet that had excluded all solid food.
The results are so promising that scientists speak of "turning point" in the fight against this disease, which is estimated to affect more than 400 million people in the world.
Almost half of the patients who participated in the study exceeded their type 2 diabetes, said the doctors of the research, whose results were published in the scientific journal The Lancet .
The recipe consisted in the participating subjects following during five months a diet of soups and shakes with few calories to achieve a drastic weight reduction.
Isobel Murray, 65, who weighed 94 kilos, lost 25 during treatment and no longer needs to take diabetes pills.
"I have recovered my life," he says.
The NGO Diabetes UK says that the trial is a milestone that can benefit millions of patients.
More and more pills
Isobel Murray had blood sugar levels that were too high and each time she visited the doctor she increased her medication to control diabetes.
So he agreed to participate in the medical study, which included a 17-week diet based exclusively on fluids . He stopped cooking and went shopping.
She even started eating away from her husband, Jim.
There were four liquid meals a day that consisted only of a small bag of powdered food that I had to stir in water. The broth contained only 200 calories, but also the correct balance of nutrients.
Isobel told the BBC that it was relatively easy to pass the process: "You do not have to think about what you eat."
Once they had lost the desired weight, patients received the help of dietitians to introduce healthy solid foods.
"Eating normal food is the hard part," says Isobel.
The price of diabetes
422 million
of adults suffering from diabetes in 2014, are
314 million
more than they did in 1980
8.5%

 of the global audlta population suffers from diabetes

1.5 million

 died from diabetes in 2012

2.2 million

 more deaths were caused by too high blood glucose levels

43%

 of those who died did so before their 70th birthday
The results of the trial, which were presented to the International Diabetes Federation, showed that:
46% of patients who started the trial were in remission one year later.
86% of those who lost at least 15 kilos managed to remit their type 2 diabetes.
Only 4% showed favorable results after using the usual treatments.
Professor Roy Taylor, of the University of Newcastle, was clear in statements to the BBC: "Actually, we are facing a turning point".
"Before we started with this line of work, specialists considered type 2 diabetes irreversible ," he says.
"But if we grab the bull by the horns and get people out of their dangerous situation, they can overcome diabetes."
In any case, doctors do not qualify this remedy as a cure . If overweight returns, then so will diabetes.
"I will never fall again," says Isobel. He has kept his weight at bay for two years now.
Why lose weight works?
Body fat builds up around the pancreas and causes stress in the beta cells of the organ that controls blood sugar levels, which stop producing enough insulin.
That is what causes the proportion of blood sugar to go out of control.
The diet reduces fat, so that the pancreas can start working properly again.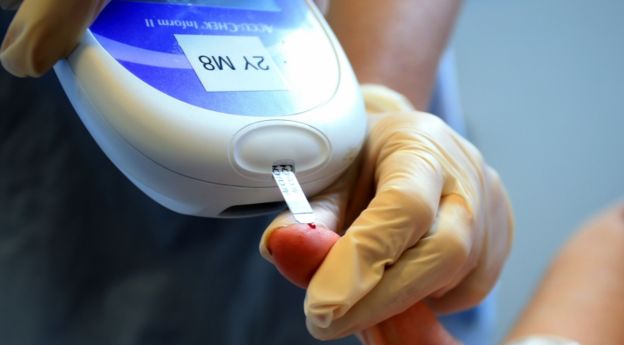 The trial focused only on patients diagnosed in the last 6 years. It is believed that suffering from type 2 diabetes for a long time can cause irreversible damage to the body.
Professor Mike Lean, of the University of Glasgow, assured that the result of the trial "is enormously stimulating".
"Now we have clear evidence that a weight loss of 10 or 15 kilos is enough to turn this disease around ."
Of every 11 adults in the world, 1 suffers from diabetes and most have type 2.
Uncontrolled levels of blood sugar have harmful effects on the body and can lead to organ failure, blindness and even amputation of limbs.
The British National Health Service (NHS) spends around US $ 13,000 million a year in the treatment of diabetic patients.
For Dr. Elizabeth Robertson, director of research at Diabetes UK, the trial "has the potential to transform the lives of millions of people."
"The trial continues, so we can understand the long-term effects of an approach like this."
Isobel states that she is no longer considered a diabetic "at all".
"You have to motivate yourself, you have to prepare yourself, but anyone can do it if they feel convinced enough," he concludes.