The biggest revision of the US tax system in 30 years surpassed its last major obstacle at the end of Tuesday.
The Senate finally approved a version of the controversial bill by 51 votes to 48.
For final approval, the legislation must return this Wednesday to the House of Representatives, which must repeat the previously approved vote on a procedural matter.
This highly unpopular reform is the first major legislative triumph of the Republican Party under Donald Trump.
Critics argue that the package of measures will increase the deficit, which is a concession to millionaires and will directly affect those who earn the least.
But Republicans say that tax cuts to corporations, medium-sized businesses and individuals will give a boost to the country's economic growth.
"Unpopular"
After the approval, Senate Democratic leader Chuck Schumer assured the Republicans that they will pay a high price in the 2018 legislative elections for that "terrible legislation."
"The substance and the polls are so rotten that within a year the Republicans will take this bill in shame to vote for yes tonight," he said.
Previously, 12 Republicans and all Democratic members of the House of Representatives had opposed the bill, but it was finally approved by 227 votes in favor and 203 against.
Due to a procedural problem, the House will have to vote again on Wednesday morning before President Trump can enact the law.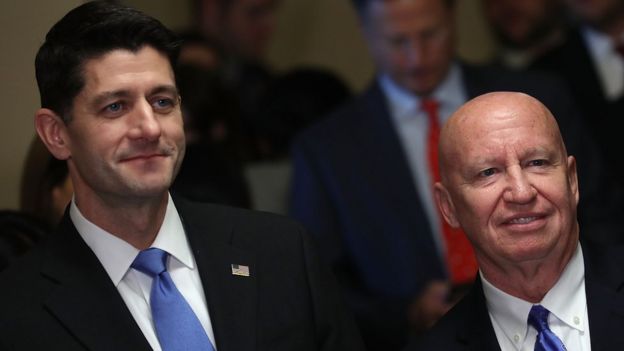 The bill permanently reduces the tax rate for corporations from 35% to 21% and also individual tax rates, albeit temporarily.
Among other key elements include:
A tax credit for children expanded
Lower taxes on earnings abroad
The reform will add some US $ 1.4 trillion to the national debt of US $ 20 billion in the course of ten years, according to the Joint Tax Committee.
An important victory
The Republican Party, which has a majority in the House of Representatives and in the Senate, receives this legislation as a great triumph, after failing in its attempts to revoke and replace the health law known as Obamacare.
Looking ahead to the mid-term elections in November 2018, the Democratic Party says the fiscal package will further increase the income gap between the rich and the poor in the United States.