"They kidnapped me, beat me and forced me to marry."
The revelation is from Roshan Kunar , who in 2017, when he was 17 years old, was kidnapped by a group of men in the Bihar region of northern India and forced to marry a young woman.
"Ten men pointed a gun at me threatening me, what other option did I have?"
And the case of Kunar is repeated in that region.
"In many of these cases, young people and their parents must accept marriage with a gun pointed at their heads," the police report said.
But why is this practice of abduction followed by forced marriage?
For some academics the real cause has to do with the caste system that prevails in many regions of India.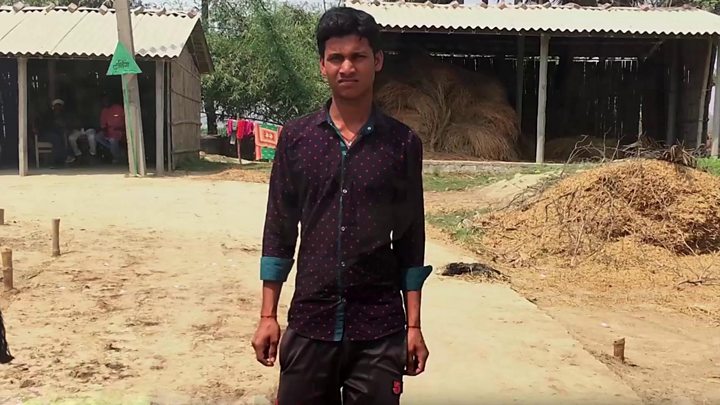 " The lineage is still fundamental for some families in India, they say: 'We are from a good family and we want a boy from a good family too,'" Professor Bharati Kumar told the BBC.
No options
Kunar told the BBC that he has no intention of living with his wife. After the marriage he denounced his wife's family to the police.
" My life is going to be ruined if I accept this marriage, I want to study and have the life I want," he told the BBC.
And that fact also marked his family.
"That marriage should never have happened, my family is very worried," Kunar's sister Priyanka told the BBC, "his wife's life is also ruined, that's the fault of her parents."
Image caption 
Analysts also agree that another reason why these abductions occur has to do with the inability of families of young women to pay the dowry.
A practice that has been banned in India since the 1960s, but which is maintained in some areas.
"This is an old social problem because of the demand for the dowry, there are families who can not afford it and they turn to relatives and acquaintances to force a young man of good family to marry his daughter," he told the Times of Indianewspaper. the activist Mahender Yadav.
Resignation
But even if Kuna refuses to live with his new wife, the fact is that social pressure makes many men unable to get away easily.
Such was the case of Parveen Kummar , abducted and forced to marry in 2012. First he rebelled and rejected the union, but three years later he agreed to live with his wife.
Now they have two children.

Copyright of the 

GETTY IMAGES 

image

Image caption 
Kummar said that the boyfriends who are kidnapped have few options to get out of that situation: "If I had not accepted this marriage, no family would have allowed his daughter to marry me later."
But the truth is that, in addition to the kidnapping the boyfriend goes through, women also suffer the consequences of an arranged marriage.
"The young man goes and kidnaps him and that is a forced marriage, a forced marriage in which there is no consent neither from the boyfriend nor the girlfriend," said academic Bharati Kumar.
In the case of Kummar, his wife, Marahani, has opted for resignation, as a step in his life.
"My friends tell me to forget what happened and to make my life, that those things happen in anyone's life."