Finally, Donald Trump fulfilled his threat and attacked Syria.
One week after the alleged attack with chemical weapons against the civilian population of Douma, the president of the United States and his allies of France and the United Kingdom, sent their planes and missiles against three military objectives of the government of Bashar al Asad.
But this is not the first time this has happened.
A year ago, Trump ordered another military attack involving 58 cruise missiles in response to another alleged sarin gas attack on civilians.
While the president received applause for his willingness to use military force, it was hoped that this demonstration of force would deter a new use of these forbidden weapons in Syria.
But according to the Secretary of Defense of the United States, James Mattis, despite the attack of 2017, Syria continued to use chemical weapons.
Assad, Mattis said, "did not receive the message last year."
So Trump, along with British Prime Minister Theresa May and French President Emmanuel Macron, launched new coordinated military attacks against Syria's alleged chemical weapons infrastructure, which included a research center, storage facilities and command posts.
But what can happen now?
New bombings?
According to the speeches of Trump, May and Macron, there can be no more use of chemical weapons in the civil war in that Middle Eastern country, including the chlorine-barrel bombs that Syria has habitually used for seven years.
While the latest bombings were described as "one-night attacks," Trump threatened to take further military action if the Syrian government uses chemical weapons in the future.
"We are prepared to maintain this response until the Syrian regime stops using banned chemical agents," Trump said.
But Trump's threats were not there.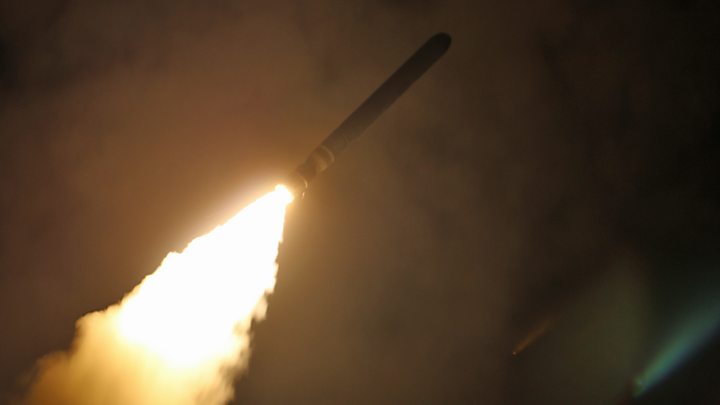 After the alleged chemical attack last week, the president said that not only Syria, but also Russia and Iran "would pay a price" for violating international standards again.
But this is another story.
Avoid a conflict with Russia?
Friday's missiles attacked suspected chemical weapons sites in Syria, but were designed specifically to prevent damage to Russian and Iranian forces, which limits the risk of an unwelcome confrontation or possible escalation.
In fact, France acknowledged that Moscow was notified prior to the attacks.
Trump, on the other hand, appealed to Moscow and Tehran to reassess their support for Al Asad and assured that the countries are "judged by the friends they keep."
While Trump directly criticized Russia for not guaranteeing the elimination of Syria's chemical weapons, as promised in 2013, he suggested incongruously that a door could still be opened to improve relations.
"Hopefully, someday we'll get along with Russia and maybe even Iran, but maybe not," he said.
But is a dialogue between these countries possible about the situation in Syria after Saturday's attacks?
Limits to war?
There are few perspectives of cooperation with respect to Syria between both parties , which continue to face each other in a war there and on opposite sides.
Both Russia and Iran consider Syria, and at least for now the survival of Al Assad, as a vital interest.
And also, it is undeniable that the position of the Syrian government has strengthened considerably in the year since Trump's first military attack in 2017 .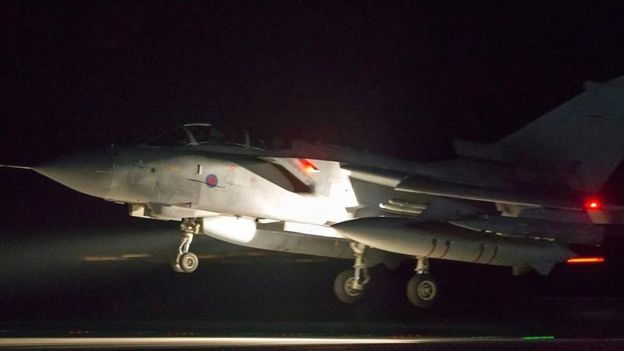 The military action on Friday night was designed to thread a rather narrow needle: put some limits on the war that Syria, Russia and Iran are waging.
The United States and its European allies have a narrower military interest in Syria: the defeat of the caliphate of the self-styled Islamic State, a task that is about to be completed.
However, will the United States continue in Syria?
A military withdrawal?
Just two weeks ago, Trump declared his intention to return home as quickly as possible to the 2,000 US troops deployed in Syria.
And, during his speech announcing the attack, he declared that the deterrence of the use of chemical weapons was a "vital interest of the national security of the United States," but he admitted that the Syrian civil war, in general, was not.
He described the Middle East as a "trouble place" and reiterated that it was not the role of the United States to fix it.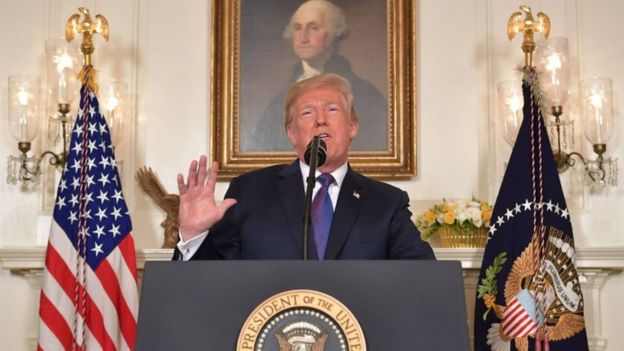 " We can not purge the evil of the world or act everywhere where there is tyranny," he said, adding: "The destiny of that region is in the hands of its own people."
Trump will be content to count the bombings on Friday as a victory and move on.
Indeed: it already did.
On Saturday morning he wrote on Twitter: "An attack executed to perfection, thanks to France and the United Kingdom for the wisdom and power of his army, we could not have had a better result, mission accomplished!"
A perfectly executed strike last night. Thank you to France and the United Kingdom for their wisdom and the power of their fine Military. Could not have had a better result. Mission Accomplished!

— Donald J. Trump (@realDonaldTrump) April 14, 2018
However, the success of last night's mission does not depend on Trump, but on the reaction of Syria, Russia and Iran.
The last time a US president used those words (George W. Bush, after the war against Saddam Hussein) was a misreading of the challenge he faced.
But Syria is not Iraq. The situation there is much more complicated.