Many seem taken out of Star Wars or another futuristic or science fiction movie.
But the prototypes of the new Russian weaponry presented Thursday in Moscow "exist and work well," according to President Vladimir Putin.
And, during his annual message to both Chambers of the Federal Assembly (Parliament), the president not only addressed the situation of the country and the main challenges in national and foreign policy, but also showed a group of weapons of war that qualified of "invincible".
The armament includes from intercontinental missiles to hypersonic rockets and weapons with laser beams . According to Putin, they were created in "response to the unilateral exit of the missile defense treaty by the United States."
"Before we had the new weapons systems, nobody listened to us, listen to us now!" He said.
He only submitted six of them, but he said the list was bigger.
"Nobody in the world has anything like it, for now, it's fantastic," he said during the speech, which reminded many of the most controversial times of the Cold War.
However, it did not show evidence of the existence of all and, so far, no independent source has confirmed its existence or the potential attributed to them by Putin .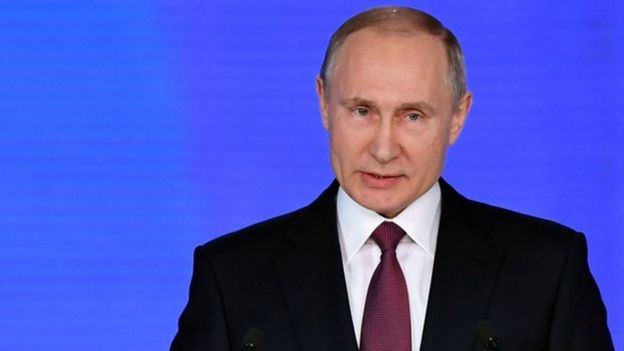 The Pentagon, which recently announced a new nuclear policy, said for its part that it was not surprised after the presentation of the Russian ruler.
"We have been observing Russia for a long time, we are not surprised, these weapons that have been discussed have been in development for a long time," Defense Department spokeswoman Dana White said during a meeting with journalists, although she did not address the power of weapons argued by Putin.
From the White House were not so measured and said it is the confirmation of what they say, they knew, that "Russia has been developing destabilizing weapons for a decade, which is a violation of their obligations," said the spokeswoman Sarah Huckabee Sanders.
According to the Department of State, Moscow has shown to be in violation of the INF Treaty, with which in 1987 both powers eliminated the "euromisiles", the ballistic and cruise missiles with nuclear capacity or not and with a range of between 500 and 5,000 km.
NATO declined to offer comments.
But what are they and what is known about these new weapons?
1. Sarmat: heavy system of intercontinental missiles
He is also called Satan 2 and Putin assured that the tests of this new missile system "have entered into an active phase".
According to the BBC's global affairs correspondent Richard Galpin, the Sarmat is presented as a replacement for the Soviet-era Voyevoda missiles, although their capabilities are much greater.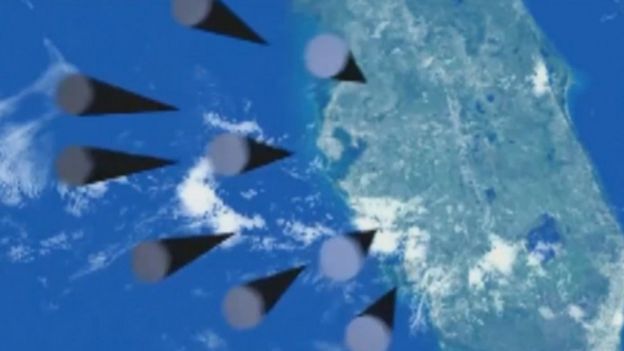 It has a short active flight phase, making it more difficult to intercept by missile defense systems, its range is longer and has more powerful warheads.
"It will be equipped with a wide range of high-performance nuclear warheads, including hypersonic ones , and the most modern missile defense penetration systems," Putin said.
He affirmed, in addition, that "the new system has practically no limits of reach" and that "it can attack objectives both in the North Pole and in the South Pole".
"Due to its characteristics, no missile defense system, or even future ones, is an obstacle for him," he added.
2. Nuclear propulsion cruise missile of "unlimited range" (no name defined yet)
According to Putin, it is a new type of strategic weapon that does not use ballistic flight routes on its way to the target, which means that missile defense systems are useless and simply useless against them.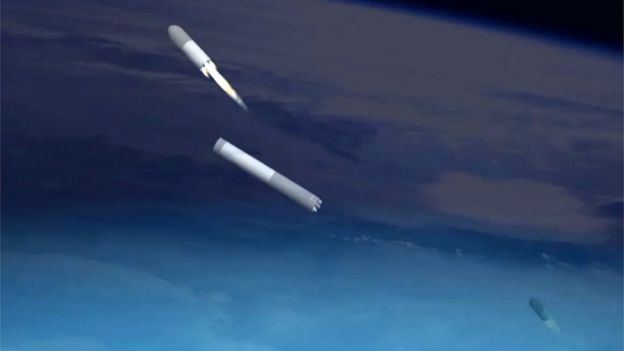 He explained that it is a cruise missile, similar to the airborne Kh-101 or the American Tomahawk, but that it has a "super-powerful" nuclear power plant of small size inside.
According to the president, it has a flight range tens of times greater than the previous ones and, in his opinion, "unlimited".
It also has an unpredictable flight path. Also in this case, Putin highlighted the ability to bypass the intercept lines of "all existing and future missile defense and air defense systems ."
The commander of the Russian Armed Forces indicated that Russia last tested this missile at the end of 2017 with positive results.

Analysis of Jonathan Marcus, defense correspondent of the BBC
President Putin's emphasis on a strong Russia that modernizes its nuclear arsenal is a reflection of similar statements in recent months by his US counterpart, Donald Trump.
In his comments, Putin highlighted the development of two new nuclear delivery systems that, he said, could evade US anti-missile defenses.
This is essentially because none of them are ballistic missiles themselves, which shoot out of the atmosphere on a high arc trajectory.
One is a very long-range nuclear-tipped torpedo, which is rumored to be in development since the Soviet Union. But now American analysts consider it a credible issue.
The second system, described by Putin as a cruise missile, seems to be more of a work in progress and may be a kind of "high-speed" hypersonic system, described by an arms control expert as a "steroid glider" ( which, once again, could evade existing anti-missile defenses).
China and the United States are also working on similar systems of their own.
3. Ocean-based system with nuclear-powered unmanned underwater vehicles (no name yet defined)
This system, a type of weaponry to be used at sea, was another one presented by Putin.
"I can say that unmanned underwater vehicles have been developed in Russia, that they can operate at great depths (I would say very large depths) and in the intercontinental range at a speed that is several times higher than that of submarines, the latest torpedoes or any type of surface vessels, including the fastest ones, "he said.
According to the president, they are silent, highly maneuverable and "practically invulnerable."
In his description of the system, he said that unmanned underwater vehicles can carry conventional and nuclear warheads , which according to Putin will allow to attack a wide range of objectives, including aircraft carriers, coastal defenses and infrastructure.
4. Kinzhal: hypersonic airship missile system ("Dagger")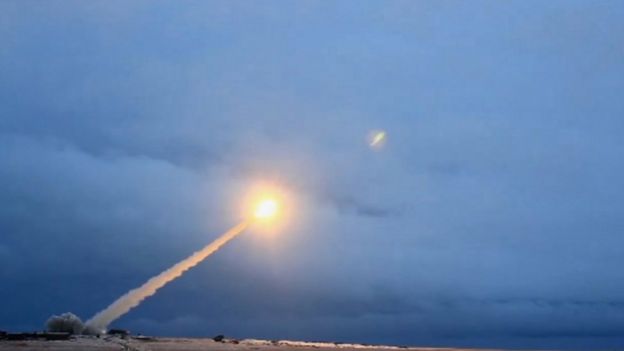 Kinzhal was the name that Putin used for the new Russian "hypersonic weapon".
According to the president, it is a highly accurate hypersonic aerial launch platform and its speed makes it invulnerable to the current air and air defense systems.
In addition, he reported that the system is since last December in " experimental combat service " at the aerodromes of the Southern Military District.
Among other characteristics, he pointed to its high performance, its range of more than 2,000 km and its high speed.
5. Avangard: strategic missile system with hypersonic glider unit
According to Putin, it is "a completely new type of weapon" whose tests have also been completed "successfully".
The president's version indicates that what distinguishes this system from other existing weapons is the ability to fly in the atmosphere at intercontinental distances at a hypersonic speed of more than Mach 20 ( about 24,696 kilometers per hour).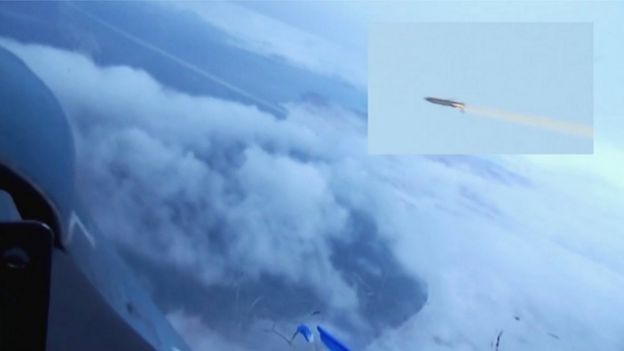 The description indicates that the system can perform lateral and vertical maneuvers "of several thousand kilometers", which makes it also invulnerable to all missile defense systems, according to Putin.
The president indicated that this type of projectile travels to its objective as "a meteorite, a flaming ball, a ball of fire" and that the temperature on its surface reaches between 1,600 and 2,000 degrees Celsius.
However, he did not present evidence of this weaponry .
"For obvious reasons, we can not show you today what this system really is, its real appearance, I assure you, however, that everything exists and works well." In addition, Russian industrial companies have begun a series production of this system and another new type of strategic Russian weapons, "he said.
6. Laser weapons system (no name defined yet)
Putin said that his country had also taken a notable step in the creation of "laser weapons".
"This is no longer a theory or a plan, not even the beginning of its production, a laser system has been supplied to the troops since last year," he said.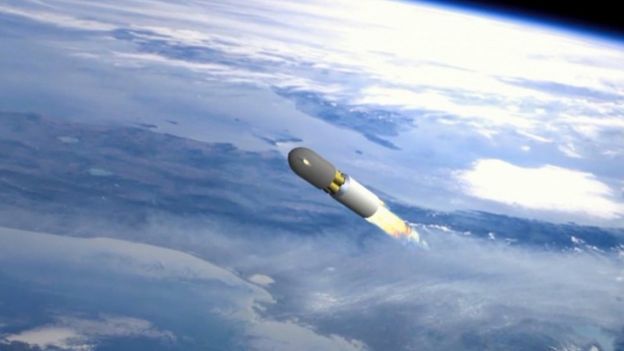 Nor did he offer more details or proofs of his existence or the name of the project because, in his opinion, "this is not the right time".
However, he considered that the existence of these systems multiplies Russia's capacity to guarantee its security.