Much has been said about bullying and cyberbullying, but experts in adolescent behavior have identified a new phenomenon, still little known, according to which some young people harass themselves online.
Those who study it consider it a form of "self-injury": a digital aggression towards oneself.
It consists, as described by American researchers Sameer Patchin and Justin Hinduja in an article on the subject for the Journal of Adolescent Health , in sharing anonymously on the Internet, through comments, messages or other formats, harmful content about oneself.
"Do not sit next to me again"
Child psychologist Sheryl Gonzalez-Ziegler of Denver told National Public Radio in the United States that it is a growing phenomenon among the young people she serves in her practice.
To illustrate, she described how recently a client, a gay girl, created false profiles on Instagram from which she posted destructive comments about herself, which said things like "I think you're weird, nasty and gay" or "do not ever sit down side".
Gonzalez-Ziegler believes that she publicly told herself these things because she feared that her classmates would laugh at her and somehow "she thought her teasing would not be so bad if it was she who gave the first blow".
The researchers found evidence of the phenomenon in a 2016 survey of nearly 6,000 adolescents aged 12 to 17 in the United States.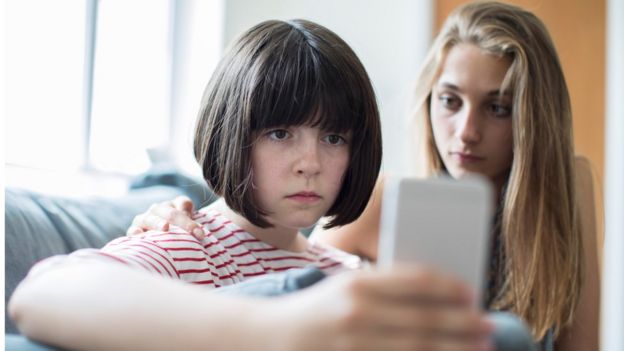 Copyright of the 

GETTY IMAGES 

image

Image caption 
According to the survey, 6% of the participants had posted something "bad" about themselves on the internet.
The researchers observed that the phenomenon was slightly more frequent among boys than among girls: 7% versus 5%.
That gender difference , although with different numbers, was also identified by psychologist Elizabeth Englander, director of the Massachusetts Center for the Reduction of Aggression, Bridgewater State University.
In a report on the phenomenon, which according to the specialist was observed for the first time in 2010, it stands out that he perceived it in 9% of the more than 600 university students who participated in 2011 in a survey on adolescent behavior on the Internet.
According to Englander, half of those who self-injured digitally did so only once or very infrequently. The rest he did regularly or during an episode that lasted several months.
Why do they do it?
The World Health Organization (WHO) says that one in five teenagers may have a mental health problem.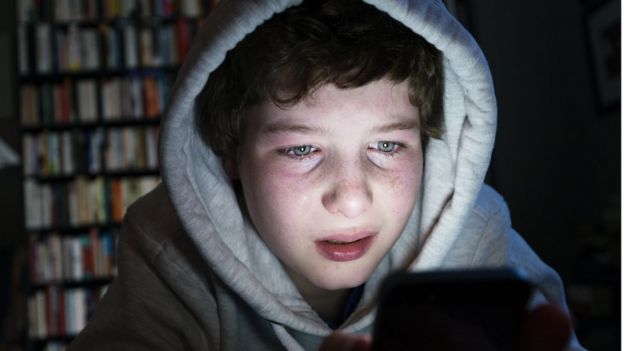 Copyright of the 

GETTY IMAGES 

image

Image caption 
And according to several studies, it is estimated that between 13% and 18% of adolescents who feel distressed physically hurt themselves, cutting themselves, burning themselves or attacking themselves in some other way as a mechanism to cope with their pain.
Patchin and Hinduja found significant correlations between "digital autoagressions" and factors such as sexual orientation, experiences of bullying and cyberbullying, as well as the use of drugs and the presence of depressive symptoms.
For his part, Englander compares the phenomenon with a psychiatric disorder known as Munchausen Syndrome, whereby the patient self-inflicts an injury in an attempt to seek empathy, attention or generate admiration for their ability to cope with their problem.
The psychologist says that if those who provoke "digital self-harm" want to "get attention", they are likely to have other mental health problems.
According to Englander's study, those who were anonymously attacked on social platforms were more likely to have suffered three or more psychiatric problems during high school and reported more frequent drug and alcohol use than those who did not.
In any case, according to Patchin and Hinduja digital self-injury is a new problem that requires more academic attention to understand the motivations behind this behavior as well as its relationship with self-harm outside the Internet and suicidal ideation.
For Englander, the phenomenon reinforces the idea that "we need to focus on the people who are abused on the internet."
When a student claims to be a victim of cyberbullying, support and attention must be given , "it does not matter if that cyberbullying is real or fabricated": "In fact, students who cyberbully themselves may be among those who need our attention the most".