Can you imagine taking a transoceanic trip, say about 8 or 9 hours, on a plane without windows?
At first it may sound like the worst nightmare for someone suffering from claustrophobia but the president of the Emirates airline, Sir Tim Clark, believes that it can be a reality in a few years.
This airline, in fact, already presented on Wednesday an airplane that in the cabin section corresponding to the first class has no windows.
What it does have are virtual advantages that will show passengers images projected from outside the plane through a system of cameras connected with fiber optics.
According to Clark, these projections are "so good, they even surpass what can be seen with the direct gaze" .
This system is already operational in the first class cabins of the new Emirates Boeing 777-300ER.
But the airline wants to apply it throughout the plane.
Less costs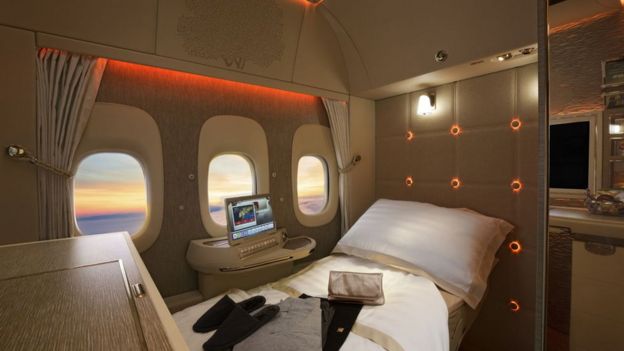 And what advantages does the use of these virtual windows offer in place of the real ones?
"Imagine that you are boarding an airplane on whose exterior there are no windows, but once they are inside, you have an airplane without structural weaknesses due to the windows, the ship is lighter, it can fly faster, higher and it will burn less fuel, "Clark told the BBC.
Aviation expert John Strickland points out that the absence of windows would mean an improvement in the design of the aircraft.
"Everything that reduces the weight of the plane will reduce fuel consumption," Strickland said, although he clarified that he, as a user, prefers to be able to look outside the plane.
"I'm a bit obsessive with windows, for me, artificial windows could not replace real ones," he added.
More or less security?
The proposal to create airplanes without windows, nevertheless, could face some objections on the part of the authorities.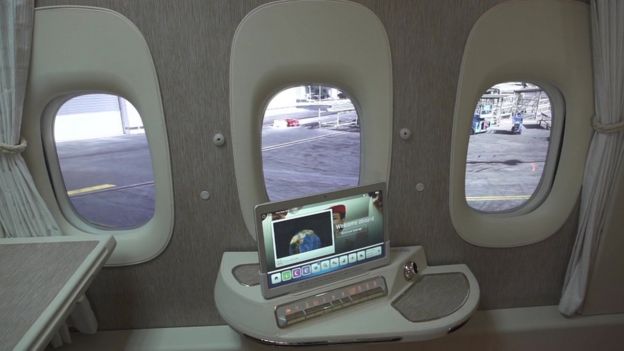 Professor Graham Braithwaite, an expert in aviation safety at Cranfield University in England, said that in case of an emergency the crew needs to be able to look out of the plane .
"It is important to see what happens outside the plane, especially if an evacuation is needed, the personnel on board would need to check the outside, for example to see if there is a fire, before opening the doors. to be able to do this could face difficulties in obtaining the approval of the aeronautical safety authorities, "he said.
Despite this, the European Aviation Safety Agency has left the door open to these innovations.
"We do not see any concrete challenge that can not be overcome to ensure a level of security equivalent to that of an airplane that has windows in the cabin," they said in a statement to the BBC.
Thus, planes without real windows could find an open sky for their takeoff.