Laureano Dávila looks disconsolate at the mass of ash, mud and lava that was once his home.
El Rodeo, a poor community in the foothills of the Volcán de Fuego in Guatemala, was buried almost in its entirety last Sunday, when the largest eruption recorded in the country since 1974 swept away all signs of life in its path.
"No one expected this, when we saw the lava running nearby, we went out as best we could, but my sister, my niece, her children and their husbands stayed there," she told BBC.
Part of the community managed to flee. But another part was trapped under the amorphous mass of boiling stone and mud.
At least 99 people died according to the figures released Wednesday by the National Institute of Forensic Sciences (Inacif) and about 200 remain missing, although the final figures remain uncertain.
The actual number of deaths is unknown. The rescue tasks continue and no one knows for sure how many people swallowed the lava.
"What I'm asking myself is why they did not take action with us, why if we knew that something like this could happen they did not warn us before," says Dávila.
Like him, many wonder from the tragedy on Sunday if there was any way to, at least, reduce the magnitude of what happened.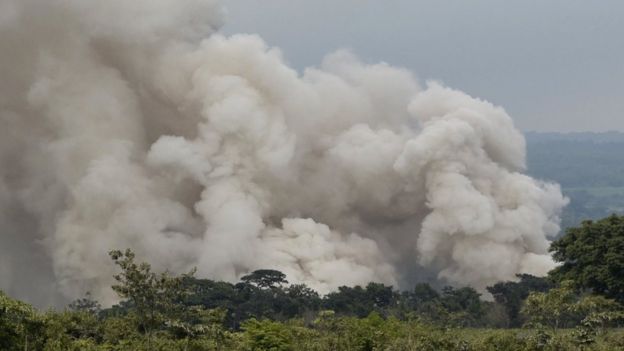 "When they warned us it was too late, we could not do anything but flee, and we lost everything, especially the family, which is something that can not be recovered, I am heartbroken," the survivor confesses.
But how do the preparation and evacuation mechanisms work in this type of natural disasters in Guatemala?
The largest eruption in decades
The volcanologist Gustavo Chigna, of the National Institute of Seismology, Volcanology, Meteorology and Hydrology of Guatemala (INSIVUMEH) explains to BBC World that although it is possible to predict when an eruption will occur, several factors converged so that Sunday's reach dimensions not seen in decades .
"What we can not predict is the magnitude that it is going to have, so Volcán de Fuego is traditionally very active, and in recent years it has had 15, 16 and 17 eruptions per year, so, in a way, the people who they live in the vicinity are used to this activity is recorded, "he says.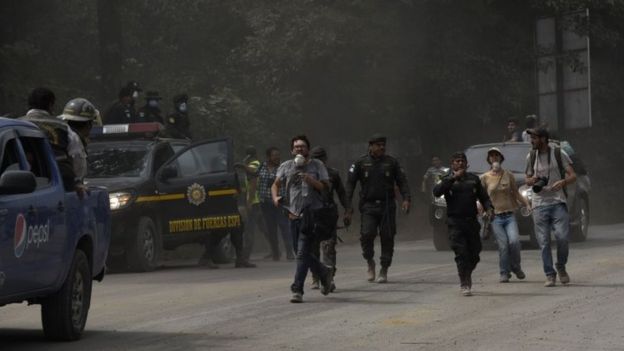 Hence, many have not fled until the last minute.
"There is also the fact that this has been the largest eruption since 1974 and there are no historical records of pyroclastic flows greater than those we have seen on this occasion," explains Chigna.
And it is that one of the greatest dangers, in addition to the lava mixed with mud that swallowed the villages of the vicinity, were these explosive columns of volcanic dust, which covered everything as a toxic crust.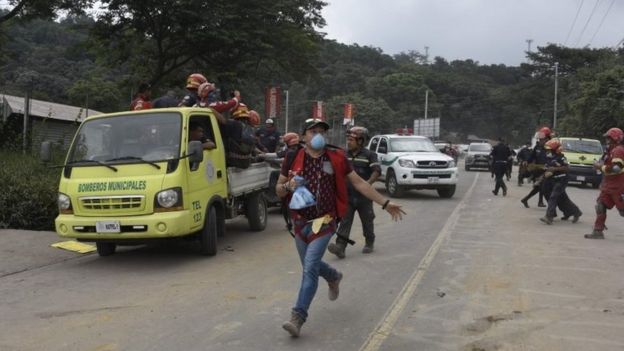 But beyond these peculiarities, the expert argues that the monitoring equipment from the observatory that watches the volcano alerted from 6.00 am on Sunday that an eruption was about to occur.
So why were not communities that were known to be at risk evacuated in time?
"The truth is that it was an atypical eruption and the mechanisms that exist to evacuate these communities are not efficient enough," says Chigna.
An "inefficient" mechanism
David de León, spokesman for the National Coordinator for Disaster Reduction (CONRED), the Guatemalan government institution responsible for preventing and responding to these contingencies, explains to BBC Mundo that after receiving the notification about the possibility of eruption they decided to decree only the same alert they use during the rains .
"In the reports we received from INSIVUMEH, we were told that the alert we considered would be evaluated, what we considered and what we had at the time was a yellow alert, because it covers that monitoring in general and that was the requirement," he says.
However, according to de León, the responsibilities of CONRED in the evacuation work in this type of disaster are also limited.
"It is the communities themselves that activate their plans and evacuation procedures and go out to the routes, which they already know from the drills that are being made," he explains.
The procedure of this government institution consists, according to the spokesman, in "communicating with the community leaders and keeping an eye on the evolution of the conditions of the volcano and the response plans they have."
Balance of victims in Guatemala
99
dead after the eruption of the Volcano of Fire
1.7

 million people affected
"What I think happened is that as the activity was similar with explosions that have occurred on previous occasions, they considered that it was not necessary to perform evacuation tasks," he adds.
However, Alex Guerra, expert in risk of climatic disasters in mountain areas in Guatemala, explains to BBC Mundo that the way in which this mechanism is proposed makes it "inefficient", as demonstrated in the eruption on Sunday.
"It is a case of institutional weakness, CONRED has very few personnel and they have many limitations to be able to carry out the tasks they are in charge of," says the specialist, a graduate of the University of Oxford.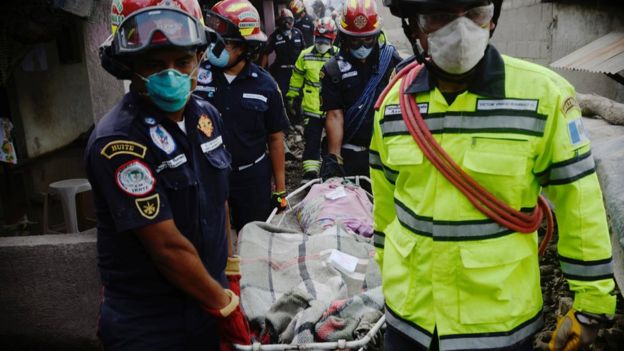 According to Guerra, faced with this situation, the alternative of that agency has been the training of local coordinators in the communities, who carry out their tasks voluntarily and sometimes with little training.
"CONRED has made great efforts in its weakness, but the way in which it can operate with its limitations leads to small communities that do not have an evacuation plan," he says.
The director of the Private Institute for Research on Climate Change in Guatemala says that this leads to many populations of this nation are in situations of risk to different types of natural disasters.
But consider that behind what happened on Sunday there is also another major cause.
"A bad place to live"
The main populations affected by the eruption were communities that are very close to the volcano, places that, in theory, are not suitable to be inhabited by humans.
According to volcanologist Chigna, Volcán de Fuego records an average of six explosions per hour, which makes it the most active in the country and makes its surroundings a potential danger.
But what happens in practice is different.
"We have in fact eight communities that live there and that is where part of why people are allowed to live in those places, cases like this show us the need for a better territorial ordering", considers the spokesman of the CONRED.
But even though Guerra believes that a better territorial ordering would not allow events like this to be repeated in the vicinity of the Volcán de Fuego and other assets in Guatemala, neither does it believe that it would be the final solution for another latent problem.
"In our country we have had a history of exclusion and little attention to rural communities, so people live where they can live and that is where, logically, these lands become an alternative for them, if we add a very weak institutional structure, then we have as a result, highly vulnerable communities, "he says.