Very often, adolescents are considered as apathetic and self-centered.
But a new generation of young activists is showing that many teenagers are, in fact, very concerned about social, political and environmental issues, and are fully prepared to do something about it.
One of the main voices among these teenagers is Greta Thunberg, a 16-year-old environmental activist who in August started a protest to demand from politicians concrete actions against climate change.
Here we present five inspiring people who are having an immense impact on the world in adolescence:
1. Greta Thunberg
Born in 2003, this Swedish teenager has become the leader in activism against climate change.
In August 2018, he decided to miss school every Friday and sit down with a handwritten banner in front of the Swedish Parliament building in Stockholm.
What started as a protest in solitude has since joined more than one million children and adolescents in more than 100 countries, which are supporting the school strikes for climate change.

Copyright of the 

GETTY IMAGES 

image
Image caption 
"Given that our leaders are behaving like children, we will have to assume the responsibility they should have taken a long time ago," he told a UN summit on climate change last year.
"We have to understand what the previous generation has left us, the disaster that has created and that we have to clean up, we have to make our voices heard."
She has spoken openly about her autistic condition and how that has helped her in her activism.
"The asperger makes me think and see things outside the traditional framework, and I do not believe lies easily, I can see through those lies," he said recently in an interview with the BBC.
In January, he spoke before world leaders who meet each year in the framework of the World Economic Forum in Davos.
"Our house is on fire, I'm here to tell you that our home is burning," Thunberg read at that summit.
Recently, he used his Easter vacation to tour Europe, always by train, as he refuses to travel by plane to reduce his carbon footprint.
The teenager had a meeting with Pope Francis, spoke before the European Parliament, and met with leaders from different political sectors in the British Parliament in London.
2. Malala Yousafzai
When she was 11 years old, Malala Yousafzai wrote and published an anonymous newspaper about her life in Pakistan under the Taliban regime, which quickly gained great attention.
Soon, she began to speak publicly about the need for girls to have access to education .

Copyright of the 

GETTY IMAGES 

image
Image caption 
But three years later his life changed forever. In retaliation for his activism, he was shot in the head on a school bus.
But that assassination attempt did not stop her and, on the contrary, her profile has only increased since then. He starred on the cover of Time magazine in 2014 and that same year became the youngest person in history to win the Nobel Peace Prize .
"This award is not just for me, it's for those forgotten children who want education," Yousafzai said in his acceptance speech.
"It's for those frightened children who want peace, it's for those children who do not have a voice and want a change, I'm here to defend their rights, to make their voices heard … it's not time to pity them. be the last time we see a child deprived of education. "
3. Emma González
In February 2018, a man armed with a semiautomatic rifle killed 17 people in a shootout at the American high school Marjory Stoneman Douglas in Parkland, Florida.

Copyright of the 

GETTY IMAGES 

image
Image caption 
But instead of being defeated by this tragic event, many of the teenagers who survived the shooting began a national campaign to try to end violence with guns.
Emma Gonzalez, then 18 years old, emerged as one of the leaders of this new movement and co-founded the group to promote gun control "Never Again".
In March of that year, he delivered an inspiring speech in the "March for Our Lives," which brought together hundreds of thousands of people in Washington DC to demand control of firearms in the United States.
He read the names of his classmates who had died in the shooting and then remained in a defiant silence for four minutes: the duration of the attack at the school.
"Fight for your lives before it is someone else's work," concluded his speech, which was cheered by the crowd.
Following the campaign of Gonzalez and his colleagues, Florida lawmakers passed the Public Safety Act of Marjory Stoneman Douglas High School, which increases the age to buy a firearm from 18 to 21 years.
4. Jack Andraka
At the age of 15, American high school student Jack Andraka invented what appeared to be a new and inexpensive way to detect pancreatic cancer.

Copyright of the 

GETTY IMAGES 

image

.
Image caption 
The teenager, who won or US $ 75,000 at the International Science Fair and Intel Engineering for its creation, said the idea came free reading scientific articles found on the Internet.
The test, which is still in the feasibility study , consists of a strip of paper covered with a solution of carbon nanotubes and a special antibody, according to Wired, and requires a sixth of a drop of blood.
However, some (including Andraka himself) have wanted to point out that, although it is an exciting invention, it is still more a development than a finished product.
5. Amika George
After reading that a charity that usually sends menstrual products to girls in Africa had to redirect those products to the English city of Leeds because there were girls who could not afford them, Amika George decided that she had to do something to fight the call " period poverty " in the United Kingdom.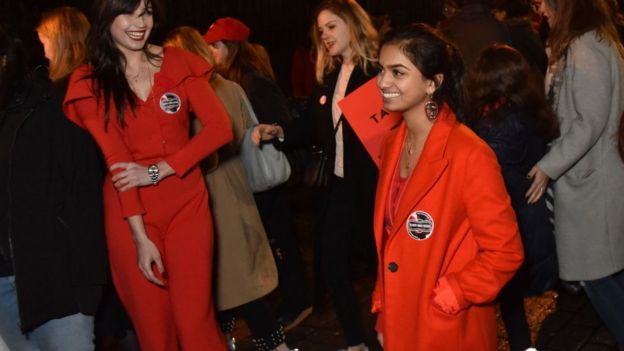 Copyright of the 

GETTY IMAGES 

image
Image caption 
George, who founded #FreePeriods – which in Spanish would be # PeriosGratis – when he was 17 years old, organized a protest in front of Downing Street – residence of the British prime minister – in December 2017, attended by 2,000 people dressed in red demanding that the government did something.
Under pressure, the British government announced in March 2019 that it would finance free health products in all English schools and colleges.
"For me, #FreePeriods highlighted how a single angry teenager can have a real political impact simply through activism," she said.