The first photograph of a black hole was made possible by a 29-year-old computer science expert who helped create the algorithm with which the image was created.
Katie Bouman led the development of a computer program with which the impressive photo was obtained. This, which was unveiled on Wednesday, shows a halo of dust and gas that is 500 million trillion kilometers from Earth.
For Bouman, his creation was the achievement of a feat that was believed impossible.
The expert was in turn photographed while downloading the image of the black hole on her laptop, waiting for her great moment.
He shared this other photo with the message: "Looking in disbelief at how the first image I made of a black hole was in the process of being reconstructed," he wrote in a Facebook post.

Bouman started developing the algorithm three years ago , when he was a graduate student at the Massachusetts Institute of Technology (MIT).
There, he led the project with the assistance of a team from the Laboratory of Computer Science and Artificial Intelligence at MIT, the Harvard-Smithsonian Center for Astrophysics and the MIT Haystack Observatory.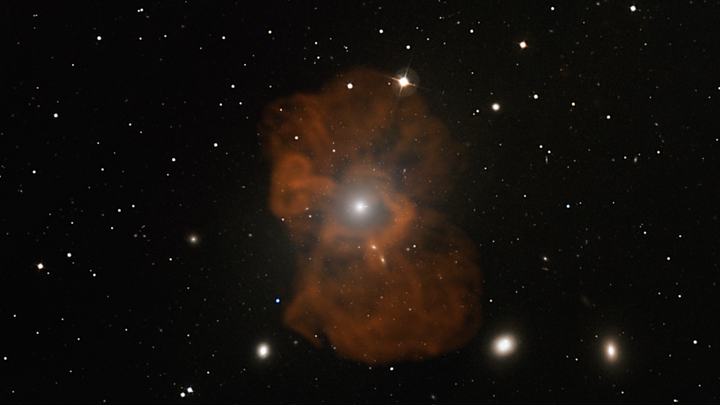 The massive black hole of the Messier 87 galaxy is 500 trillion km.
The image of the black hole was captured with the Event Horizon Telescope, Event Horizon Telescope or EHT for its acronym in English, a network of eight telescopes linked together , and armed with the algorithm of Bouman.
Recognition
After the diffusion of the photo, the expert became an international sensation, with her name turned into a Twitter trend.

Copyright of the 

REUTERS 

image
Image caption 
In a tweet, US congresswoman Alexandria Ocasio-Cortez wrote that Bouman should have his " well-deserved place in history ."
"Congratulations and thanks for your enormous contribution to the advances of science and humanity," he tweeted.
Bouman was also recognized by MIT and the Smithsonian through social networks.
"Three years ago, MIT graduate student Katie Bouman led the creation of a new algorithm to produce the first image of a black hole," read the account of the Computer Science and Artificial Intelligence Laboratory at MIT. "Today, that image was released."
Left: MIT computer scientist Katie Bouman w/stacks of hard drives of black hole image data.

Right: MIT computer scientist Margaret Hamilton w/the code she wrote that helped put a man on the moon.

(image credit @floragraham)#EHTblackhole #BlackHoleDay #BlackHole pic.twitter.com/Iv5PIc8IYd

— MIT CSAIL (@MIT_CSAIL) April 10, 2019

But Bouman, who is now an assistant professor of computer science and mathematics at the California Institute of Technology, insisted that the team that helped her deserve the same credit.
The effort to capture the image, using telescopes in places that go from Antarctica to Chile, involved a team of more than 200 scientists.
" None of us could have done it alone, " he told CNN . "It was possible thanks to many people from different backgrounds."
Congratulations to Katie Bouman to whom we owe the first photograph of a black hole ever. Not seeing her name circulate nearly enough in the press.

Amazing work. And here's to more women in science (getting their credit and being remembered in history) 💥🔥☄️ pic.twitter.com/wcPhB6E5qK

— Tamy Emma Pepin (@TamyEmmaPepin) April 10, 2019