The accident of a passenger plane in Moscow caused the death of at least 41 people on Sunday, as announced by Russian authorities.
The Sukhoi Superjet-100 aircraft, belonging to the Aeroflot line, had to make an emergency landing at the Sheremetyevo airport in Moscow, after a fire on board was registered.
On board, 78 people were traveling, of which 37 were reported safe. Elena Markovskaya, from the Russian Research Committee, said that of the deceased 40 were passengers and one more was a member of the crew.
The plane had left Moscow at 18:02 local time (15:02 GMT) bound for the city of Murmansk, north of the Russian capital.
Videos taken from the terminal show how the passengers used the emergency slides to escape the aircraft when it stopped at the airport, while the back half of the fuselage was engulfed in flames.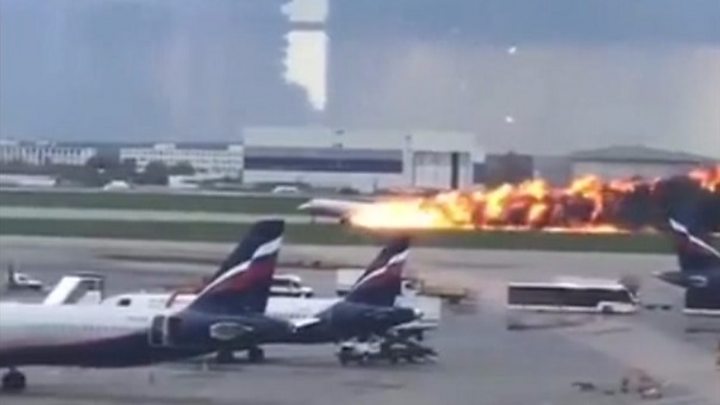 A witness of the event said it was "a miracle" that someone had left alive.
Russian President Vladimir Putin expressed his condolences to the families and loved ones of the victims, in addition to ordering an in-depth investigation into the catastrophe, presidential spokesman Dmitry Peskov said.
The Minister of Health, Veronika Skvortsova, said in a first report to the press that six people suffered burns and were hospitalized, three of them admitted to the intensive care unit.
Another 14 people received ambulatory medical attention.
Emergency in the air
Shortly after taking off from Sheremetyevo, the crew issued an emergency signal when "malfunctions" occurred .
After the emergency landing, the plane's engines caught fire, Aeroflot said in a statement.
The crew "did everything possible to save the passengers," who were evacuated in 55 seconds , according to the company.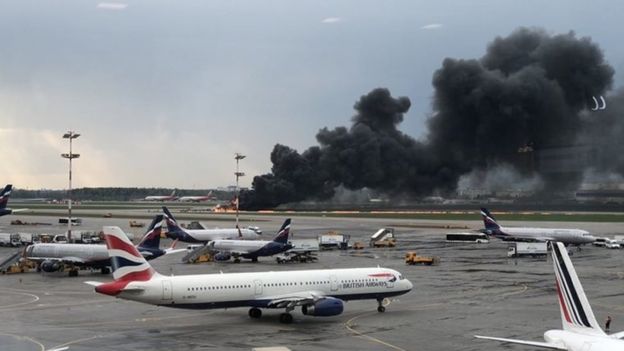 Copyright of the 

PA 

image

Image caption 
Data from Flightradar24, a website specialized in tracking commercial flights in real time, seems to confirm the information that the emergency landing occurred 30 minutes after takeoff.
Press reports indicate that the aircraft failed to land on a first attempt.
Moments of panic
Mikhail Savchenko claims that he was on the plane that was wrapped in a fireball on the runway. It published a video in social networks in which the passengers are seen running to be safe.
Another survivor, Dmitry Khlebushkin, told reporters that he is very grateful to the flight attendants: "Only thanks to the hostesses, I survived."
Meanwhile, Kristian Kostov, a singer who represented Bulgaria in the Eurovision contest, posted information on social networks claiming he had witnessed the incident.
He said that at the airport there were people "trembling" when they saw how the aircraft was involved in the fire and that other flights were not being allowed to take off.