Meghan Markle and Prince Harry, dukes of Sussex, revealed the name of their newborn son: Archie Harrison Mountbatten-Windsor.
The election took by surprise to those who bet by other names like Alexander, Arthur or Albert.
"I do not think any of us came with any of those names," said Joe Little, editor of Majesty magazine , which covers issues of British royalty.
According to Little, the name Archie has no connotation for British royalty .
Harrison is also a brand new name for the royal family.
Archie is a name of Germanic origin, meaning "genuine", "bold" and "brave", and is more popular in the United Kingdom than in the United States.
The original name is Archibald and was used in the Highlands of Scotland during the Middle Ages.
In 2017 Archie ranked 18th among the most popular names for children in England and Wales. That year, 2,803 children were called Archie.
Since 2003, Archie has remained among the 50 most popular names.
Harrison, on the other hand, is also more common in the United Kingdom than in the United States. This name, which was originally used as a surname, means "son of Harry" .
"It may be a name Meghan is familiar with and that's why they're using it," says Little.
"Archie has a more British touch , while Harrison is more American ."
"They wanted to do something a little different, and they did it."
Harry and Meghan decided not to use a royalty title for their son.
Mr. Archie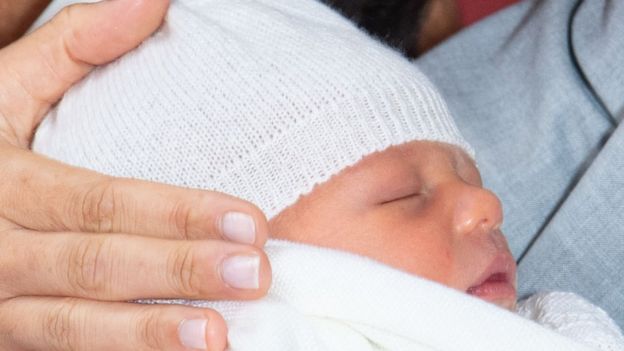 Copyright of the 

GETTY 

image
Image caption 
As the firstborn of a duke, Archie could have assumed the title of Count of Dumbarton, but instead he will simply be known as Mr. Archie (Master Archie, in English) .
Jonny Dymond, a BBC correspondent for royal affairs, said the election was "a strong indication that (the dukes) do not want to raise him as someone of formal royalty."
The surname of Archie Harrison is Mountbatten-Windsor.
In British royalty, the descendants of the queen who use a royal title do not need a surname, but if in a particular case they need it, that surname is Mountbatten-Windsor.
The surname Mountbatten-Windsor appeared for the first time in an official document on November 14, 1973, in the marriage certificate of Princess Anne and Captain Mark Phillips.
Richard Fitzwilliams, commentator on monarchy issues, said that the individualism shown by Harry and Meghan when choosing non-traditional names in royalty was "wonderful" and could "rejuvenate the monarchy."
"It's a unique choice, by a single couple who are doing things in a unique way."