The arena of Paris is his kingdom and he is not willing to let anyone dethrone him.
Spaniard Rafael Nadal triumphed again at Roland Garros, winning for the eleventh time in his career, beating Austrian Dominic Thiem in the final on Sunday by 6-4, 6-3 and 6-2 in two hours and 42 minutes.
The Spanish tennis player confirms that he is the current number one in world tennis and wins his eleventh Cup of the Musketeers, the trophy that recognizes the winners of the tournament that takes place every year on clay in the French capital.
At 32 years of age, the Manacor player has already accumulated 17 Grand Slam titles, which brings him close to 20 of Roger Federer, who has won more titles than anyone else.
Who has already equaled Nadal with victory today it is to the Australian Margaret Court, who won also 11 times the same Grand Slam tournament, where appropriate Open Australia between 1960 and 1973.
In the final played on Sunday in Paris, Nadal stopped his rival playing a tactical tennis and forcing him to return high balls from the back of the court, which counteracted the aggressive game and the powerful forehand of Thiem.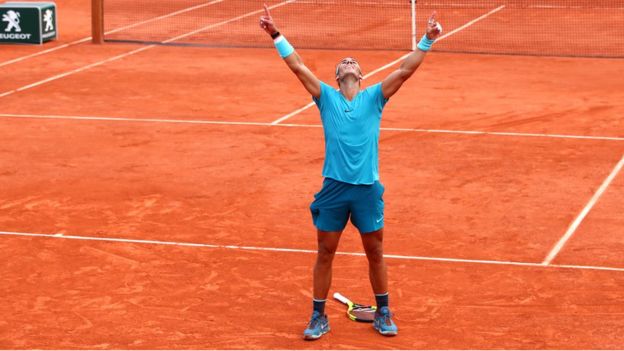 The Spaniard suffered some cramping in the left hand in the third set of the game, but he overcame and managed to finish a tournament in which he only let himself win a set.
"It was incredible, it is impossible to think something like that," said the champion after the game over the eleven corners of those who boasts his record.