With Ramzan finally here, apart from focusing on doing good and being holy, people across the country also put special focus on devouring all the delicious cuisines enticing taste buds of everyone around and helping foodies delve into the heaven full of delicacies are restaurants offering deals for Iftar and Sehri.
We have shortlisted a few for you that will spice up your Ramzan 2019 even more.
Barcelos Karachi:
Now is the time to fill up your stomachs to the core as Barcelos is offering a wholesome meal in a very reasonable price of Rs1,399 which includes one Espetada, one Crispy Burger, one Fries and two mint lemonades.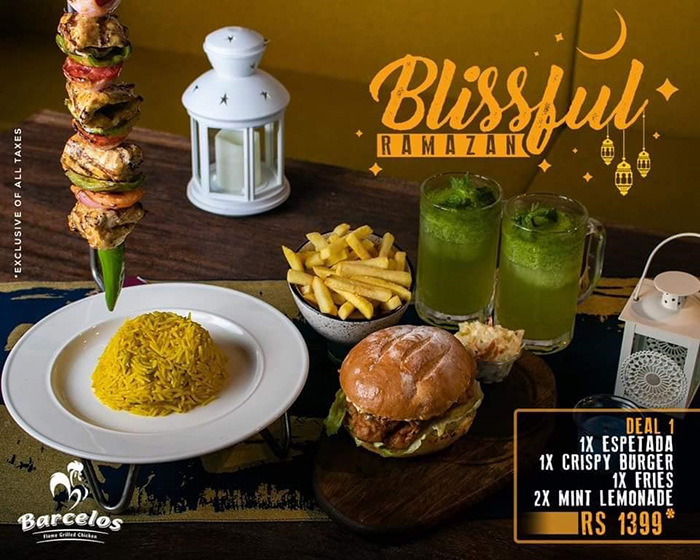 Nandos:
On the other hand, the offer put forth by Nandos is not one to miss for as their deal for only Rs1250 includes five Chicken Wings, five Peri Chicken Skewers, one regular Garlic Bread, one large Corn-on the-Cob and one Yogurt Dressing.
Kababjees:
The all-time to-go place for all things desi, Kababjees is offering a 15% discount on cash transactions for the first seven days of Ramzan which will be applicable on the first seven days of the month.
Bonsai:
Time to bring a change to your menu for Sehri by trying Pan Asian cuisine by Bonsai with this buffet offer put forth for a mere Rs999 per head from 10pm to 2am for a variety of cuisines.
KFC:
In the mood for some fast food for Iftar? Fret no more as our all-time favourite KFC is offering us our comfort food for two people, that too in only Rs795 including two Zingers a bucket of fries, two drinks, two Tropicana and one coleslaw.