Oil and Gas Development Company Limited(OGDCL) has drilled six new wells and made two discoveries during first half of the current fiscal year.
Out of the total new drills, three were exploratory/appraisal wells and three were development wells. While, the company's exploratory efforts yielded two new oil and gas discoveries namely Chanda-1 and Mela-5 in Kohat district of Khyber Pakhunkhwa province, according to the OGDCL's financial report available with APP.
However, finding oil reserves does not necessarily promise a wealthy economy. Here is why.
Oil is still today the main source of energy that makes the world we live in work.
And until the renewable energies fail to replace the so-called black gold , we will continue to depend on it.
In 2018, in fact, we consume more oil than any other year . According to data from the Organization of Petroleum Exporting Countries (OPEC), global daily consumption was 98.82 million barrels in 2018.
And the trend is to continue rising to 100.23 million barrels per day in the current year, according to estimates from the same organization.
Given its high relevance as a raw material, the sale of oil and its derivative products constitute a fundamental piece for foreign and commercial policy at the global level.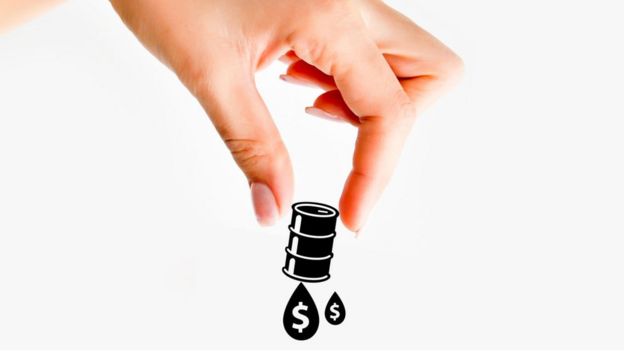 Copyright of the 

GETTY IMAGES 

image
Image caption 
Therefore, the States that have this precious asset in their subsoil have a privileged situation that, however, does not always translate into greater wealth for their coffers.
The countries with the largest reserves
Venezuela is, par excellence, the country with the largest oil reserves in the world. It has up to 309,000 million barrels of oil, according to statistical information from the Central Intelligence Agency of the United States (CIA).
The second is Saudi Arabia , with a reserve of crude oil of 266,005 million barrels and the third Canada with 169,000 million barrels in provisions.
Only two countries in Latin America appear on the list: after Venezuela, already named, is Brazil , with a much lower annual production of just 12,007 million barrels.
These are the main countries with the largest oil reserves worldwide.
Countries with the largest oil reserves in the world
| Position | country | Barrels of crude oil (in billions) |
| --- | --- | --- |
| 1 | Venezuela | 300.9 |
| 2 | Saudi Arabia | 266.5 |
| 3 | Canada | 169.7 |
| 4 | Iran | 158.4 |
| 5 | Iraq | 142.5 |
| 6 | Kuwait | 101.5 |
| 7 | United Arab Emirates | 97.8 |
| 8 | Russia | 80 |
| 9 | Libya | 48.4 |
| 10 | Nigeria | 37.1 |
| 11 | U.S | 36.5 |
| 12 | Kazakhstan | 30 |
| 13 | China | 25.6 |
| 14 | Qatar | 25.2 |
| 15 | Brazil | 12.7 |
Source: CIA World Factbook
The cost of production
But having black gold is not always synonymous with wealth.
One of the clearest examples is Venezuela itself, which ranks first in countries with larger reserves but is mired in an economic crisis that has caused up to 3.4 million Venezuelans, according to United Nations data, to leave their country.
The reasons for the Venezuelan case are several and very diverse, but in spite of the fact that nature has granted it important resources, the reserves of crude are only a factor that influences if the exploitation is really profitable.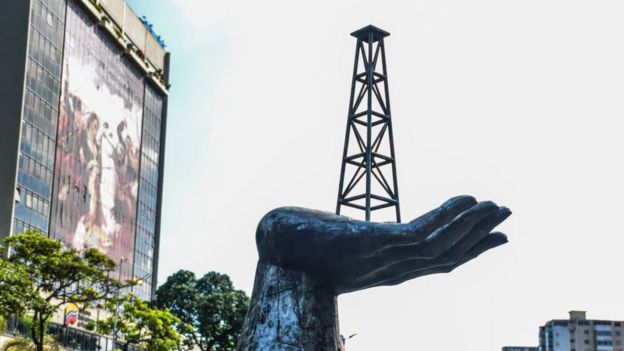 Copyright of the 

GETTY IMAGES 

image
Image caption 
Not always a country with extensive reserves can extract and sell all the oil it can.
In the case of Venezuela, geology has not made it all easy. Most of its oil is heavy(or from oil sands), which is more difficult and expensive to extract because it needs solvents to circulate it.
In addition, after the economic sanctions of the United States, Venezuela can no longer market its crude so easily and its network of buyers has been reduced considerably.
Canada is another example of a country with significant reserves of oil sands but whose extraction cost is very high because its oil is also mostly heavy.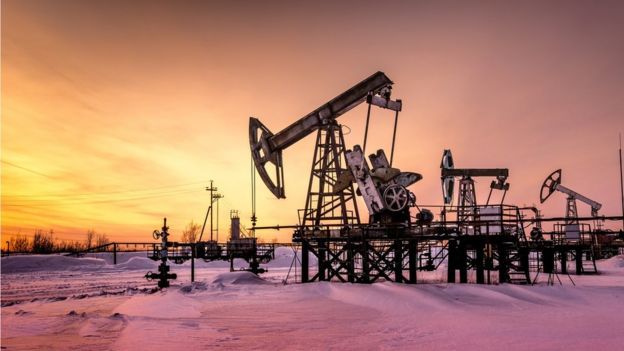 Copyright of the G

ETTY IMAGES 

image
Image caption 
Other countries have other restrictions when it comes to producing oil: high tax rates , as in the case of Brazil and the United States.
All this adds amounts to the cost of production and extracting a barrel of oil in Brazil costs almost four times more than in Saudi Arabia, for example, where most of its oil is liquid and easier to market.
The cost of producing a barrel of crude oil in the Saudi kingdom is less than US $ 9, according to OPEC data. In Venezuela and Brazil, according to the same source, it is US $ 27.62 and US $ 34.99 respectively.